For 24 months until March 2011, Sky Light Hospitality, a Robert Vadra-Maureen Vadra firm, claimed it owns land worth over Rs 15 crore at Manesar, an industrial town on Gurgaon's outskirts. However, the Rs 27,000 crore real estate giant, DLF, also claimed it owns these 3.5 acres. The company says it purchased it from Robert Vadra, son-in-law of UPA chairperson Sonia Gandhi, over 2008-09 and that it paid him Rs 58 crore for it. Sky Light Hospitality's accounts (released to the public by India Against Corruption's Arvind Kejriwal, who aspires to launch a political party) show it got a tidy Rs 50 crore from DLF as "advance against sale of Manesar land" in 2009-10.
In effect, both the land and the Rs 50 crore payment for it remained in the possession of Sky Light for at least two years after it should have changed hands. (It is not known if the land was transferred after 2011. And Vadra did not respond to e-mails or requests for interviews). But apart from the fact that he's a businessman married into the Gandhi family, this accounting detail matters to the world at large for other reasons too.
Auditors looking over the balancesheets of Sky Light Hospitality and statements issued by DLF say that when an asset, particularly land, is found to simultaneously belong to two parties, official scrutiny, such as by the income-tax department, often reveals that both parties have accessed bank loans on it. "This is the situation CAs jokingly refer to as 'Ek phool do maali'. There is every possibility that one or both parties have pledged this property to a bank and got money," says M.R. Venkatesh, a partner with GSV Associates in Chennai. The documents on Vadra's companies that have been made public by IAC do not establish that such a loan has been taken. But they do raise "possibilities that deserve to be probed".

Hilton Garden Inn Vadra uses DLF money to buy stake in their hotel in upscale Saket, Delhi. (Photograph by Tribhuvan Tiwari)
Why DLF entered into these deals with appreciable loss to its shareholders remains unclear.
The documents do establish that Vadra's companies and DLF Ltd had business ties on terms that proved very favourable to the former. Why DLF entered into these contracts without any apparent benefit, and indeed at appreciable loss to its own shareholders, remains unclear. However, finance minister P. Chidambaram has said that there is no quid pro quo, and hence no need for a probe into the contracts. But given the suspicion that some of the sweetheart deals Vadra's firms have attracted (he's built a sizeable real estate portfolio in just a few years) are because of his close relations with Sonia Gandhi, this makes for a fit case to investigate sources of income.
As Kejriwal points out, between 2007-2010, Robert's companies acquired properties worth over Rs 300 crore, largely due to DLF's apparent largesse (and thanks to a sizeable overdraft from Corporation Bank). IAC estimates that the value of Vadra's properties has, by 2012, zoomed to over Rs 500 crore. Vadra's own books place their value at Rs 70 crore (approximately). According to the IAC, the total share capital of these companies (owned by Vadra and his mother) was just Rs 50 lakh and they had no income from any legitimate business activity, except by way of interest derived from interest-free loans obtained from DLF. "Whether there is a quid pro quo or not should be probed by the government," Kejriwal told Outlook. "How can the government demand proof from us or ordinary citizens?"
Of course, there is no direct link established between the concessions extended to DLF by Haryana's Congress government and the loans extended to Vadra. Whether land transfers, including of panchayat land, were for the sole benefit of DLF, whether floor-area ratio requirements were lowered for DLF to unprecedented levels and well in advance of the government's own deadlines for doing so, apart from other breaks and concessions (which the company denies it got out of turn), only a probe will establish. In fact, there are numerous instances where DLF has a symbiotic relationship with B.S. Hooda's government in Haryana (see box).
One of the DLF advances, for `15 cr, simply disappears from Sky Light's books. Was it repaid?
Experts argue that since the disclosures relate to two different sets of transactions—one involving Vadra getting benefits from DLF and the other where benefits allegedly accrued to the latter from the Haryana government—only a detailed probe will yield evidence that will hold in court. "If Vadra indeed sold land worth Rs 15 crore for Rs 58 crore to DLF, he made a cool Rs 43 crore profit. Taxable at 25 per cent, the lowest rate, this profit should have yielded Rs 7-8 crore to the coffers. Considering the distinct possibility of tax evasion in such transactions, a probe is worthwhile in this case too," says Venkatesh.
DLF's transactions with Robert's firms raise corporate governance concerns too. Both firms were working at cross purposes to each other. As buyer of the Manesar land, DLF loses when Vadra fails to hand it over to them free of encumbrances. DLF loses again after it pays for land it fails to possess/develop. The Rs 50 crore on Vadra's company's books, if it fetched interest at 10-11 per cent, would have yielded at least Rs 5 crore to DLF. Interestingly, it's Vadra who generates the interest income from advances he received.
On any given day, therefore, DLF should be reluctant to do business with Vadra. Yet, what happens next is the reverse. In 2009, Vadra used the 'advance' of Rs 50 crore from DLF to purchase 50 per cent equity in another DLF business, Saket Courtyard Hospitality. Thereafter, DLF gives him even more money (and all of this is interest- and collateral-free), Rs 10 crore, as another 'advance', which figures on Sky Light's balancesheet until 2011. Yet another advance, this time to the tune of Rs 15 crore, also came in the same year. Sky Light held on to this money for a year until returning it after a proposed deal fell through. (This Rs 15 crore simply stopped showing up as an outstanding loan in Sky Light's documents and no interest seems to have been paid).
"Such sums—a few crores—may be a pittance for DLF but they amount to the only source of income for Vadra's companies such as Sky Light. This is a fit case for examining at least for the tax implications," says Praveen Nigam of Amplus Consulting in Delhi. A close look at Vadra's enterprises doesn't reveal the hectic pace with which his businesses have grown. For instance, Blue Breeze Trading (in the aircraft chartering business) owned agricultural land worth roughly Rs 69 lakh on March 31, 2010, and the sole other transaction was a depreciation claim of Rs 1,641 on a mobile phone worth Rs 10,940. Incidentally, aviation industry insiders aver that Vadra has for long wanted to get into the lucrative sector. (Eight months ago, Vadra visited the Farnborough airport near London where he was said to be studying the feasibility of investing in a Fixed Base Operation (FBO), a service centre for aircraft.)
Given that both DLF and Vadra vehemently deny any wrongdoing, and the government is running shy, the matter is hanging in a limbo. Everyone knows that big real estate deals in the country are murky—more the reason why answers are required as to why a firm whose indebtedness is the talk of the town loaned crores, interest- and collateral- free, to a firm owned by the country's No. 1 son-in-law.
---
Wheels, Deals And Mr Vadra
A scrutiny of the balancesheets of Vadra's companies has thrown up many accusations, many more denials
The Manesar Land Deal
What: Vadra buys 3.5 acres of land in Manesar for Rs 15.38 crore in 2008—and sells it to DLF for Rs 58 crore the next year after getting an LoI from Haryana to develop the land
Why: DLF says the money was an "advance" for the property, which was duly transferred to their 2008-09 books
What Next: Dramatic appreciation and the fact that property stays on Vadra's books for over two years needs further probe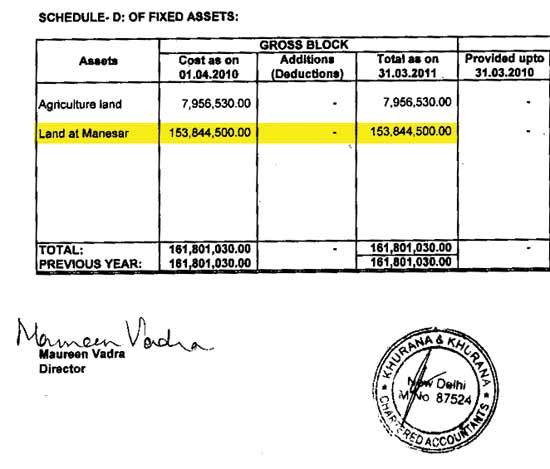 Overdraft by Corporation Bank
What: Bankers doled out an overdraft of Rs 7.9 crore to Vadra's Sky Light Hospitality (paid up capital Rs 1 lakh).
Why: Terms, conditions unclear. There was no apparent loss or gain because bank recovered money within a year.
What Next: Bank sources say that this was a branch decision; clearly unusual for Vadra to get so much unsecured cash in hand
Faridabad Land Deal
What: In 2008-09, Vadra approached DLF for a land deal in Faridabad. DLF says it advanced Rs 15 crore to his company.
Why: The deal subsequently fell through and Vadra refunded the money to DLF
What Next: Needs probe as there is no mention of interest earnings or payouts on Vadra's books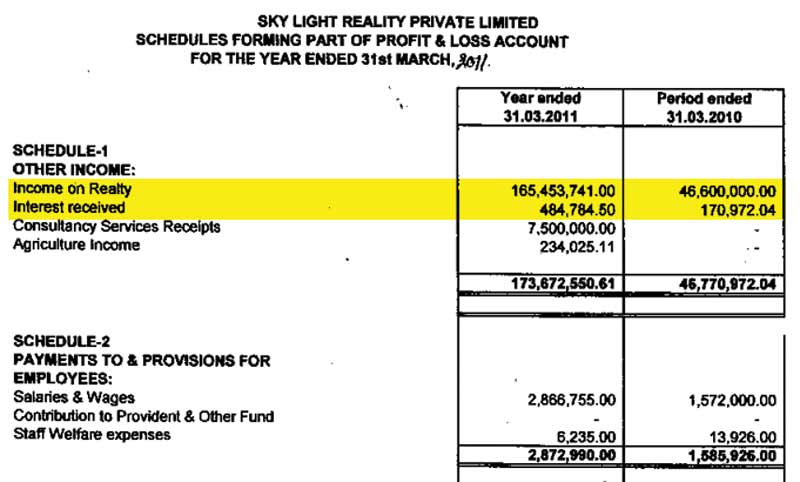 Aralias and Magnolia
What: Vadra buys premium luxury apartments from DLF; one in its Aralias complex and seven in Magnolias.
Why: Seems like Vadra paid only Rs 89 lakh for Aralias; later b/s shows additional payment of Rs 8.57 crore
What Next: DLF cites standard industry practice, but it also shows close relationship between DLF and Vadra
DLF SEZ
What: Vadra was part of an SEZ JV with DLF in 2008
Why: He claims he exited the business a year later at the same valuation of Rs 2.5 lakh
What Next: Unclear on his role in the JV, more details needed