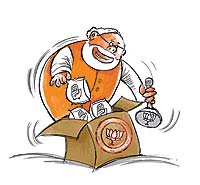 1. Skills, Anyone?
Former finance minister P. Chidambaram took a jibe at the government's skill development scheme, saying in a tweet that it will be "...relaunched, I repeat, relaunched by the PM tomorrow under a new name. It will be acchhe din for the NDA. Should we applaud?" Congress leaders regularly accuse the BJP of rinsing and repeating total sanitation and old-age pension schemes as Swachch Bharat and Atal Pension Yojana. But the Modi sarkar resolutely ignores them. It has even watered down the additional skilled labour target. It's obviously impossible for one government, in one term, to double the numbers. Maybe that's why Amit Shah issued a new jumla: 25 years of BJP rule.
2. Citizen Rao
India's most expensive film, the multilingual blockbuster Bahubali, marks the return from the shadows of Ramoji Rao, the Telugu media baron and mover-shaker. The founder of the Eenadu newspaper, who also owns the eponymously named Ramoji Film City, has been a movie producer of long standing under the Usha Kiran banner. The battles of the Margadarsi chit fund front with the previous YSR government—which saw Rao sell off much of his stake in his TV channels to Mukesh Ambani of Reliance Industries—had seen him take a backseat in movie production. The buzz in Hyderabad is that besides allowing S.S. Rajamouli to shoot at RFC, Rao may have picked up a quarter of the movie's Rs 200 crore budget.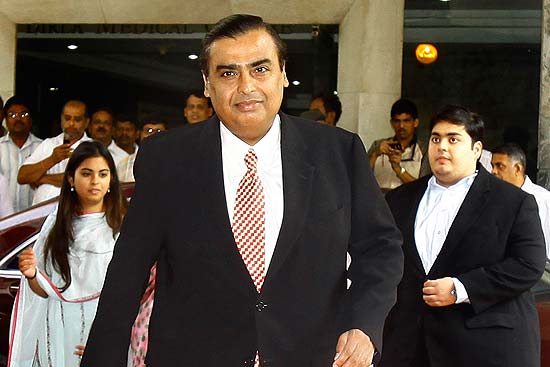 3. Mukesh Ambani's Private Army
Private armies run by business houses may seem like something out of a movie plot, but then we live in strange times. A recruitment ad by India's largest corporate, Reliance Industries, last week sought applications from 20-24-year-olds for the job of manning security at the group's companies. Clearly, Reliance isn't looking for security guards but people with intellectual traits. The candidates would be subject to mental and physical tests. Selected trainees would have to run through 25 weeks of classroom and on-the-job training. The job brief includes risk assessment, serious frauds investigations, forensics, ethical hacking and more. Stern stuff.
---
Math
140 km The daily speed at which the world's "economic centre of gravity" is shifting eastwards, to central China
The New News Sources
Percentage of services' users who get news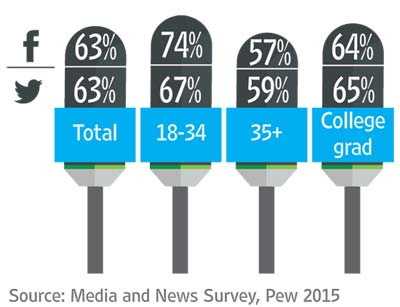 Mobile nation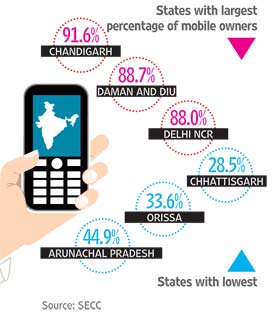 Tweet that matters
The best kind of economic development occurs not by the pursuit of lucre but as a byproduct of creativity, the arts & the sciences.

— Kaushik Basu (@kaushikcbasu) July 11, 2015
---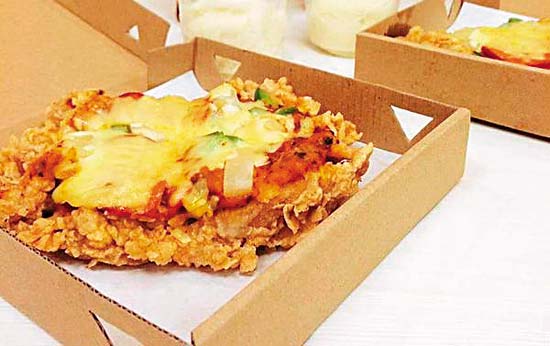 Mojo
KFC's new Chizza has pizza purists up in arms
Fast food aficionados are pulling their hair out over KFC's latest offering that claims to be a pizza. The Chizza, as it is called, has a crust and base made out of chicken with standard variety of pizza style toppings on the top to give it the touch and feel of a traditional pizza. USA Today called it an "unholy mash-up of fried chicken and pizza".
---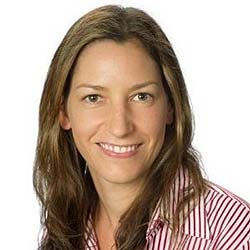 Mind
This week we learnt about…CONTRARIAN DIRECTORS
A paper written by MBA student Siobhan Sweeney has advocated that public companies should appoint a "contrar­ian director" whose role would be to challenge management recommendations. The prize- winning idea was inspired by the Catholic Church's devil's advocate of 1587 but modelled-after the advocate-general of the European Union. While there is opposition to the idea, many feel companies seeking better corporate governance might be open to such a proposal. They say that it reminds cozy boardrooms that success is not preordained. So will we see a law that mandates them?