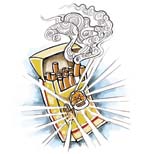 1. Halfway House For Tobacco Lobby
PM Modi has asked health minister J.P. Nadda to increase the pictorial warning on beedi and cigarette packs from 40 to 65 per cent. That's a watering down—from April, 80 to 85 per cent of cigarette and beedi packs were expected to be the pictorial warning. The PMO's directive comes after BJP MP and beedi baron S.C. Gupta, who headed a panel on tobacco package warnings, scorned scientific research linking tobacco with cancer and asked the government to reconsider the proposal. Modi has asked members with a conflict of interest to step down from the committee, but has not fully met health experts' and anti-tobacco lobbyists' demand either.
2. Doing Business In Hindi
In response to the government's call to encourage small industry, and to acknowledge the growing power of regional-­language media, the Federation of Indian Chambers of Commerce and Industry (Ficci) has started issuing press releases in Hindi as well. The business chamber believes this will help it reach out more effectively to its target audience—small businesses—in "Rajkot and Meerut, Jhansi and Jaipur". More languages will be included soon. At least for now, there are no plans for Sanskrit releases.
---
Math
0 The amount of new Arab FDI into India since the Narendra Modi government took charge
Degrees Of Top Hundred Billionaires
Source: DADAVIZ
Top 5 Investors In Dubai Realty
Source: Knight Frank
Tweet That Matters
Seen in movies, billionaires smoking using dollar notes. Somehow feel that's what some of the successful e- commerce companies are doing.

— Harsh Goenka (@hvgoenka) April 10, 2015
---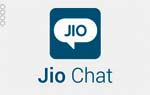 Mojo
So, finally landing lights for Jio
After over three years and Rs 70,000 crore investment, Reliance Jio's first offering is Jio Chat, a chat app for Android and iOS. It comes into a fiercely competitive sphere and will have to take on market leader WhatsApp. Soon to come is Jio Play, a TV app.
---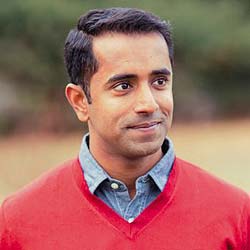 Mind
This week we learnt about… Desi philanthropy
Three Indo-Americans have made it to the top philanthropists of 2015 list compiled by Town and Country magazine. Adarsh Alphons (top), 30, foun­ded 'ProjectArt,' which teaches art to NYC's troubled students in public libraries. Their works are displayed in galleries thereafter free of cost. Then, 38-year-old Reshma Saujani initiated 'Girls Who Code,' to teach computer skills to girls from poor economic backgrounds. Finally, Shaila Ittycheria, 31, is the co-founder of 'Estitute', which straightaway integrates "digitally inclined and debt-averse" students into paid tech apprenticeships, bypassing college.
---
This Biztro has been edited