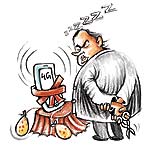 1. Mysterious Delay in Reliance's 4G Offering
Over four years after the announcement of its grand plans, India is still awaiting Reliance Jio's 4G offerings. Despite being the only company with a pan-India licence and 4G spectrum, Reliance Jio has lost its early mover advantage as many other companies have started 4G services in the country. The comp­any has hired people and tied up with tower companies and undersea linkages for its services. Now, it is also participating in the forthcoming spectrum auction even as it awaits security clearance from the government on its multi system operator (MSO) licence. The mood in the market has turned from anxi­ety to doubts about whether the industrial giant is in a position to start its services soon.
2. Maruti Case Finally Takes A...