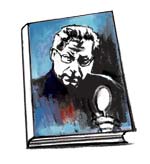 Professor Intrigue
Lead Tin Yellow by Doug Gunnery is the latest thriller in town. It's about Robin Miller, a journalist who is chasing his father's killers through Massa­chu­setts, the American Midwest to Quebec. The clues are hidden in Robin's father's collection of Renaissance masterpieces, a bit like The Da Vinci Code, but this is a hardboiled detective novel. The author is described as an academic, who has also worked in an audit firm, a fashion house in France and in a central bank.
But who is Doug Gunnery and why should we be interested in one of many crime writers America sprouts? Well, it's time to hold your breath. The author is none other than Dipankar Gupta, eminent sociologist and author, formerly at JNU, and now with Shiv Nadar University! J.K. Rowling made news recently by revealing her nom de plume, writing detective fiction as Robert Galbraith. There have been others, notably in this context, like novelist John Banville writing crime stories as Benjamin Black. Stephen King wrote books as Richard Bachman because his publishers told him his fans can't take more than one King novel a year. Issac Asimov wrote children's books as Paul French. But Gupta must be a first in India. Go grab a copy of Lead Tin Yellow to find out how sharp the professor's detective skills are.
---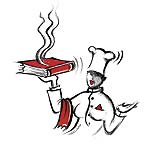 Eating After Ibis
Amitav Ghosh is done with the final book of the Ibis trilogy, Flood of Fire, and he flew down from his abode in Goa to Delhi to regale his friends and fans. Old friend and celebrity chef Ritu Dalmia cooked up a fantastic menu at her new outlet Diva Spiced, with dishes from Canton to Calcutta, tracing the journey of Ibis. The much-awaited book will hit the stands May-end.