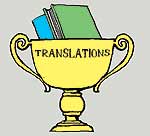 Gist From The List
Just when we thought translations were breaking out of the ghetto, with three translations in the Hindu literary prize shortlist, the jurors voted to go back to separating Indian fiction into two classes: original writing in English and translations. The Rs 5 lakh prize went to Rahul Bhattacharya's debut novel-cum-travelogue, The Sly Company of People Who Care, but the jury argued for a separate and equal prize for translations as, thanks to poor quality, "they can't match up to smartly written novels in English". The problem is what appears to be a caste issue: writers with good English would rather attempt to write bad novels of their own than translate good Indian language ones.
---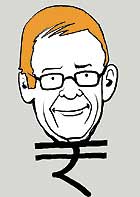 MS In A Bubble
David Godwin had a dream run in India till London literary agency Aitken Alexander Associates came to India in 2011. All he had to do was to swoop in twice a year and scoop up the pick of the manuscripts submitted by aspiring authors hoping for foreign publishers. Instead, the MSs came right back, bought by publishers for several times the advances than the ones that would be offered if Godwin wasn't the go-between. Authors are now discovering what an agent can deliver, besides the big advance: a much-needed cushion between couldn't-care-less publishers and their hypersensitivity.
---
Golden Barb
Who says bad reviews don't have their uses? Ask Mark Tully. When his first book, No Full Stops in India, came out, a reviewer described it as a "very shameful book." Tully's co-writer Gillian Wright liked the description so much she suggested they use it as a blurb on their book jacket!