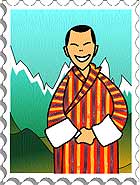 Going Ha Ha!
Bhutan takes happiness seriously. Everyone wears GNH (Gross National Happiness) on the sleeves of their gho or kira, the national dress 'men and women are expected to wear in public in daytime', according to Driglam Namzha, the dress code. With nods from economic heavies like Joseph Stiglitz and Amartya Sen, and the Bhutanese premier making a presentation at the United Nations, there is a move to quantify GNH with nine domains and 72 parameters. But is this what the fourth king of Bhutan wanted when he first talked about GNH in 1972? No, says one of his four wives, queen mother Ashi Dorji Wangmo Wangchuk. He had meant it more as a philosophy, not an economic model. And on the ground, is the average Bhutanese happy? Well, they have a town called Haa. There's only one ATM in Thimpu. No one honks. And when at a high-end hotel you ask housekeeping if they could please iron a shirt crumpled by the baggage being thrown about due to the rough landing at the turbulence-prone Paro airport they say sure and a lady knocks on the door with an ironing board and an electric iron and when you ask if she'll be ironing it here in the room she goes into a fit of giggles and says, 'No, sir, you will be.'
But as we drive to Punakha, the old capital, from Thimphu, first a winding climb through the densest oak, rhododendron, magnolia forests to Dochula and then down dusty roads leading to tintinnabulating little streams, are the families of farmers standing in knee-high water planting paddy any more or less happy than farmers anywhere else?
---
Getting Heard
Democracy is only four years old in Bhutan. As it grows, it's begun sampling its goodies. There are seven English newspapers, two TV channels and a radio station unearthing scam after scam: contractors overinvoicing road projects, builders' mafia usurping villagers' land. The petite and firebrand Sonam Pelden of Kuensel, Bhutan's oldest and largest circulated daily, is a celebrity reporter for her exposes on unscrupulous drug traders. The nation's annual audit report came out recently; it couldn't account for Rs 509 mn. That may sound like petty change in a seasoned democracy like ours, but at a population of about 7.5 lakh, that's per capita slush money of over Rs 600. (Numbers are tricky here. At one dinner, someone asked the army chief the size of the force. "10,000 men," he said. "But we're the world's largest standing army with one soldier for 75 citizens.") The young leader of the Opposition and popular blogger Tshering Tobgay says they never tire of raising these issues of corruption and graft. And he has to be really loud, for it's an Opposition of two, of which he's the leader, in a Parliament of 40 MPs.
---
Revered Manhood
You've heard the story, you've seen the pictures and yet when you see male genitalia drawn on house entrances along with the thunder dragon and other Buddhist motifs, or an old woman sitting with a hand-held prayer wheel under a huge wooden phallus, what strikes you is the graphic detail with which the penis is depicted. It's not symbolic like a lingam, an obelisk or a minaret, but painted and carved anatomically with hair, foreskin and all. Here's the story again. Drukpa Kunley or the Divine Madman, a 16th-century Buddhist saint, wanted to challenge Buddha's somewhat boring middle path, unshackle the religion from its rigid rules and chose wine and women to the road to divinity. This may make him sound like a lot of men around you, but Drukpa Kunley also possessed superpowers and performed miracles. Legend has it that the well-hung saint tamed a deadly she-demon with his organ. He has a temple dedicated to him in Punakha. And the Bhutanese paint his "thunderbolt of wisdom" on shops and houses to ward off evil spirits. GNH here is then not such a new concept, the Divine Madman was trying to spread happiness centuries ago.
---
Bhangra Don't Dance Here
Cigarette smoke swirls around to be sucked up by the exhaust ducts, strobelights catch a young girl in a sharp haircut laugh out loud, a beer glass crashes on the floor and shatters noiselessly, soaked in the music from the carelessly arranged speakers as The Baby Boomers, an all-boys' band sing Light My Fire as if in a trance, eyes closed, bodies high-strung. Mojopark is an underground dive a fair drive from the city centre, in the basement of an office-showroom complex, at the corner of a low-ceiling, yet-to-be-occupied hall, used right now for storing plumbing and electrical material. "There are many bands in Thimphu. They just come and jam here," says Supe, radio host, journalist and impresario-at-large. There's a request for a Hindi song. A moment's silence. The band members whisper to each other and some notes of Dum Maro Dum waft through but soon give up. Bhangra has not yet arrived at Mojopark.
---
Do not enter...
Bhutan's king Jigme Khesar Namgyel Wangchuck is a keen photographer. Above is a photo from his book, Through the Lens of the King, an artfully done phallus on a village house door to keep evil spirits off
---
Satish Padmanabhan is Features Editor at Outlook; E-mail your diarist: satish AT outlookindia.com
Edited on July 8, 2012 to correct typos.