The inside of the thatched hut is pitch dark. Blinded by the harsh sun, the eyes take a while to identify the people inside. Slowly you see outlines taking shape. There's a woman pounding grains on the floor and a baby near her playing with the grains. When they step out, you realise how malnourished the child is: she is frail with a bloated stomach and phlegm caking around her mouth. The girl and her mother are members of the Bonda tribe, one of the country's many "primitive tribal groups" (PTGs), and an important link in our history as Indians.
These groups—75 in all—are essential to understanding the India story. After humans stepped out of Africa to come to India about 50,000 years ago, population groups coalesced in different parts of the country. Over centuries, each one of them developed unique identities. The Bondas, with a present population of about 6,000 in Orissa's Malkangiri district, are one such group. D.K. Bhattacharya, retired Delhi University professor of anthropology, says, "These tribal pockets comprise people who, unlike us, refused to adopt to the changes forced upon us by agriculture. They chose instead to live in harmony with nature."

But as India celebrates its 60th republic year, what's become of these "first citizens"—these people who live pretty much the way our ancestors did when they first came to India? Is there a way to give them the benefits of modern civilisation while, at the same time, helping them retain their ancient identity and culture?
The Bondas have fiercely resisted—perhaps more than any other tribal group—all attempts by the state to "develop" them. Nowhere is this more apparent than in the way their women dress, something now attributed to an episode in the Ramayana. They believe Sita, when in exile, was bathing at a pond in the Bonda hills. Seeing her naked, some Bonda women sniggered. This earned her wrath and she cursed them to a lifetime of ignominy whereby they would remain naked and have their heads shaven. The Bonda women pleaded for mercy. Taking pity, Sita tore off a piece of her sari and gave it to them. It's a pat account for the fact that Bonda women shave their heads and wear around their waist only a tiny piece of cloth called ringa, covering their torsos with strings of stunningly multicolored beads.
On the other hand, the abundant metal rings used to cover their necks and the bangles adorning their arms are more functional. The Bondas are a people who largely rely on their women for survival. They wander in the forest for food, work in the fields and even hunt. The ornaments, therefore, are shields that protect them from possible injuries and attacks by wild animals.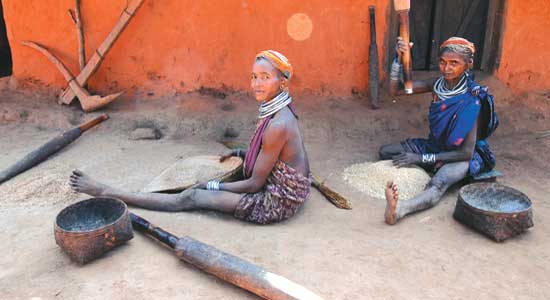 What's for lunch? Bonda women outside their homes in Podaiguda village, Malkangiri
Marriages among Bondas are linked to the influential position that their women have. Bonda girls traditionally marry boys at least five years younger to them, sometimes even 10. This arrangement allows the girl to look after her husband while he grows up and then, in turn, he cares for his elder wife. Some believe this age gap is partially responsible for bringing their population down. In 1961, it was at its lowest at 4,667. But as Bondas increasingly shun this tradition, their numbers have gone up marginally (6,008 at last count).
The men, on the other hand, spend a lot of their time brewing and drinking liquor from rice, palm and the mahua flower. Alcohol addiction among the Bondas is unsurpassed by any other tribe. This has also made the men one of the most violent and has increased the fratricide rate. "They have many bad habits. They are addicted to alcohol and short-tempered. Anyone can fight but the Bondas will fire off an arrow at the slightest pretext. They get used to arms at an early age," says Laxman Mandra, a 55-year-old Bonda whose father migrated to town in search of better fortunes.
The state's main arm of intervention here is the Bonda Development Agency (BDA). Its mandate is to "reform" their culture and develop their society. "My vision of the Bondas is that they should be members of the civil society just like any other, wear normal dresses, keep their houses clean and stop consuming food that is just boiled," says Jagannath Soren, the BDA project leader. "This doesn't mean they have to forsake their traditions. Every year, we organise a festival of Bonda culture in Bhubaneswar to help preserve it." Since its inception in 1977, the BDA has spent Rs 6.5 crore but has made little impact on the Bondas.
Many Bondas have migrated to nearby towns to work as labourers and as peons in government offices. Gopinath Nayak left his village in Mudulipada for Malkangiri 29 years ago. He doesn't want his sons to return to where he came from. His grandmother was the last to wear the ringa and beads in his family. His neighbour, Sukri Chalan, remembers giving up her traditional dress several years ago after the district collector handed out saris. It is this approach that riles researcher Govardhan Panda. "We propagate the idea that they are naked. It is wrong. We force our views on them. Instead, we should educate them and let them make their own choice," he says.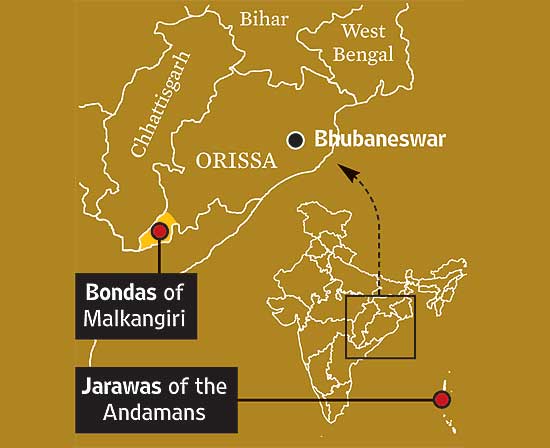 A lot of the indigenous knowledge of the Bondas—like the use of the rhizome from a plant, 'black turmeric', to induce abortion—is at stake as the government forces its development programmes on them. Even Remo, an Austro-Asiatic language that they speak, is endangered under this onslaught. Most Bondas now speak, if not Oriya, a pidgin that has evolved from it. And the state has pushed Remo further into extinction by not evolving a text for the language that can be used by Bonda children. "A textbook will surely help preserve our language, essential if we want to protect our traditions," says Kuji Kirshani, a sari-wearing 23-year-old Bonda girl. Without a structured manual, she can now teach her students Remo for only about a year.
Dambaru Sisa, 29, is one of the Bondas who live the way we do. With a postgraduate and a BEd degree, he's dressed in T-shirt and tracks complete with sunglasses and riding around on a motorcycle the day Outlook meets him. Sisa even fought the last assembly elections in Orissa on a BJD ticket, losing by just 178 votes. "Sure our traditions are important but we also must take what is good from others and give up what is bad. And education is a must to make any informed choice," he says. Sisa runs an ngo for the development of the Bonda people among who only about 10 per cent are literate.
A major impediment has been that few government officials who work for them speak the Remo language. Talking of the disconnect, Paresh Rath, a Jeypore-based tribal researcher and journalist, recounts this anecdote: "Some officials met with the Bondas where the latter asked that the state arrange for a 'gadi'. The officers returned and made provisions for a vehicle, only to realise that 'gadi' in Remo means a water channel for irrigation." And so the story goes.
---
By Debarshi Dasgupta in Malkangiri, Orissa; Photographs: Jitender Gupta