On July 2 this year, the vigilance bureau of Jharkhand filed an FIR levelling serious charges of corruption and money-laundering against Madhu Koda during his tenure as chief minister from September 2006 to August 2008 and his cabinet colleagues Kamlesh Singh, Bhanu Pratap Sahi and Bandhu Tirkey. Investigating the charges, a team of income-tax officials, led by additional director (investigations) Ajit Kumar Shrivastava, found itself poring over thousands of pages of documents. Buried among these were eight pages with handwritten entries suggesting possible linkages of top national politicians to the scam.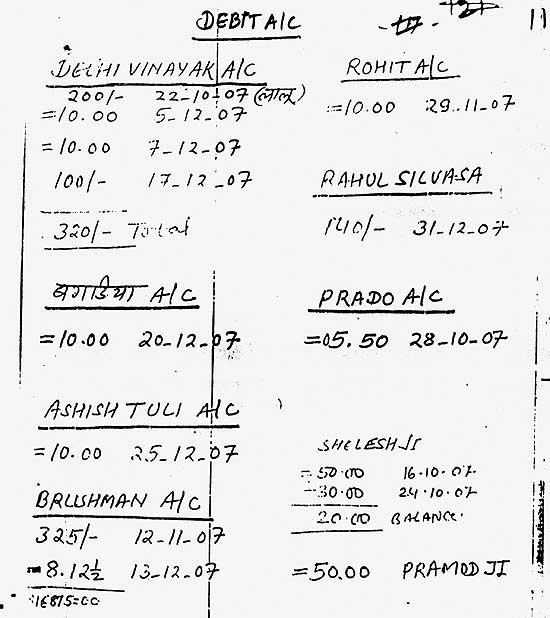 Fine print: One of the eight handwritten pages of accounts that has Laloo's name
Among the first entries to catch the attention of the I-T sleuths was one that showed Rs 3.2 crore being transferred between October 22 and December 17, 2007, in the 'Vinayak A/c'. A separate noting in Hindi had the name 'Laloo' written alongside, perhaps an indication that the money had gone to the former Union rail minister.
The conduit of the slush money was perhaps Koda's key aide and private secretary in Delhi, Vinayak Sharma.
The BJP was the first off the block to allege that the money had been transferred to RJD chief Laloo Prasad Yadav, considered by many to be Koda's mentor. While Laloo was quick to dismiss the charge as "ridiculous", I-T officials narrowed in on a Vinayak Sharma, who was a Delhi-based private secretary to Koda. Operating out of Jharkhand Bhawan, he is suspected to have been Koda's key aide in the capital who liaised with other national-level politicians. Was he also the conduit for the slush money being shared with key politicians in Delhi?
Similar entries point to other politicians and a Union minister. Officials suspect that the 'Atul A/c' refers to the nephew of a current Union cabinet minister with close links in Ranchi. This minister from the Congress, who was a minister of state with independent charge in the earlier UPA council of ministers, has not been named anywhere. The nephew, though, is considered to be a key conduit for most mining deals in Jharkhand.
Other accounts possibly belong to two hawala dealers: a 'Singhji Lucknow A/c' and another apparently referring to Ranchi-based 'B.K. Singh'. Both dealers are known to be close to a member of Parliament who is also part of the Board of Control for Cricket in India. In fact, investigators suspect that this MP was part of at least three cliques operating in Delhi and collecting slush funds from Koda and his associates. These cliques, say investigators, would meet regularly at a house in Delhi's Aurangzeb Lane to periodically review their investments abroad.
Finally, there are several entries under the 'Kripashankar A/c'. While Maharashtra's former home minister Kripashankar Singh continues to deny any links with the Koda scam, his detractors point out that his son was married to one of the daughters of a former MLA and Jharkhand minister, key accused Kamlesh Singh. Officials are now looking into the details of the lavish wedding, which allegedly saw the use of several chartered planes to transport guests to Ranchi. The fact that several of the key hawala operators alleged to be involved in the scam are also Mumbai-based doesn't help Kripashankar's case.
Incidentally, few were willing to take the eight pages of handwritten entries seriously until the I-T and later Enforcement Directorate officials began conducting a series of raids across the country. Following an entry that showed huge payments made to a certain 'Srivastav' of IVRCL Infrastructures and Projects Ltd, the ED conducted raids earlier this month on the residence and office of D.K. Srivastav, a general manager with the company in Lucknow, and apparently unearthed evidence to show that Koda and his associates invested in the company and helped it bag orders worth hundreds of crores.