The Big Q: Does Hindutva Deliver?
Confusion over whether Hindutva agenda (Ram temple, Article 370, Uniform Civil Code) has any carry
After 1999 win, BJP seat share on constant downswing: from 182 in 1999 to 138 in 2004, to 116 seats in 2009
Voteshare has dipped, from 22.16% in 2004 LS election to 18.8% in 2009, in every state, except HP, Karnataka
BJP's seat tally in Hindi heartland state Madhya Pradesh has fallen from 220 seats in 1990 to 143 in 2008
It has fared miserably in Uttar Pradesh post-Babri: falling from 221 seats in 1991 to just 47 in 2012
After Kandhamal riots, BJP won just six seats in 2009 Orissa poll, 26 fewer than what it had before riots
Four south Indian states with 140 seats amongst them looking out of bounds. Karnataka debacle looms.
Modi's draw under question: in 2009, BJP won 37 seats in 300-plus rallies he addressed; Rahul Gandhi 75 of 102
BJP's aggressive Hindutva stand isolates nearly 15% of the electorate who are Muslims. And Christians.
Hindutva also repels possible allies like JD(U) who may prove crucial if the BJP finds itself short
Recent statewide opinion poll in Karnataka shows awareness of Modi is 43% against 77% for Rahul Gandhi.
***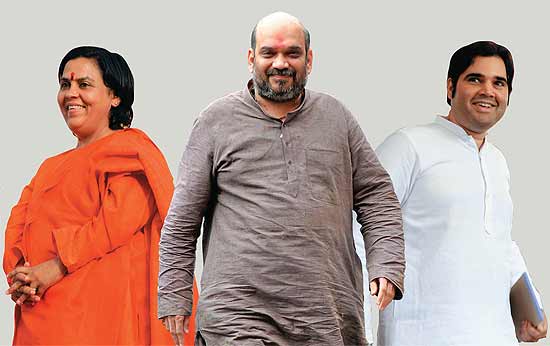 Photographs: Tribhuvan Tiwari, Mayur Bhatt
The Three Mascoteers
Reconstitution of BJP parliamentary board is seen as a delicate balancing act to keep RSS and various factions of party happy
Inducting Narendra Modi became an imperative following groundswell of support from BJP cadres across the country
Besides his much-ballyhooed inclusion, Modi's only visible takeaway was the induction of his Man Friday Amit Shah despite the cloud of charges
L.K. Advani's late push for Madhya Pradesh CM Shivraj Chauhan seen as RSS's open rebuff to the Loh Purush for derailing Nitin Gadkari's second term
The accommodation of Rajnath Singh's Man Friday (Sudhanshu Trivedi) in the BJP team means the new president seen to have been given some elbow room
Inclusion of Hindutva mascots Uma Bharati and Varun Gandhi pressure points to blunt Modi's 'development' plank and obstinacy in wanting a role for Amit Shah
VHP meet in Ahmedabad on the same day as Modi's elevation, with Praveen Togadia rubbing shoulders with RSS chief Mohan Bhagwat, seen as a taunt to Modi
Change of editorial heads at RSS mouthpieces, Panchjanya and Organiser, after they splashed Modi's reelection
***
Is this a deliberate double-dose of Hindutva for 2013-2014? The new team announced by BJP president Rajnath Singh has a cast of characters that symbolises the anti-minority hardline face of the party. This, despite the hype about a new-age BJP being all about development. Even if a section of India would argue that Narendra Modi is a force for modernity and he does not personally face criminal charges, there are three individuals who have all violated the criminal code of India but have now been given the charge of leading the national opposition party into the immediate future.
To begin with, there is Uma Bharati, the spent force of the Ramjanmabhoomi movement, who famously screamed "ek dhakka aur do" as the Babri Masjid was being demolished and jumped on to Murli Manohar Joshi's shoulders in celebratory joy when the deed was done. Although she made a spectacular exit from the party after publicly abusing the entire top leadership and her campaign in the last UP assembly poll was a failure, she now returns as vice-president. In this Hindutva redux, she perhaps symbolises Ayodhya and Ram lalla.
Elevated to the more powerful post of general secretary is Varun Gandhi. He has been rewarded even though he played truant during much of the Assam assembly elections last year of which he was in charge. Besides being born in a particular family, he has the distinction of making speeches targeting a particular community. Hence, in the ideological world of the parivar, Varun emerges as the anti-Muslim Nehru-Gandhi.
Not to be ever taken lightly is the out-on-bail honcho/henchman of Narendra Modi, Amit Shah, who too has been handed the powerful post of general secretary in Delhi. Never mind that he is largely believed to have ordered several encounter killings in Gujarat. The trail that led to him also landed several police officers in jail for the Sohrabuddin She­ikh-Kauser Bi executions. Yet there he is in the BJP's national team, all powerful under the benevolent gaze of his mentor. To quip, Amit Shah is in the Hin­dutva pantheon for 'executing' orders.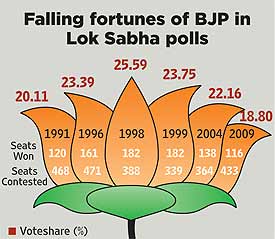 But these are the bit players. The central figure is that of Narendra Modi, who will presumably lead the BJP to the great battle of 2014. Modi moved a significant step towards realising the great expectations of his fans and his own great ambitions when he got a leg into the Delhi apparatus of the BJP and was inc­luded in its pre-eminent decis­ion-making body, the parliamentary board.
It would be instructive at this point to pause and rewind to recent history. The same Rajnath Singh who has brought Modi back into the central structure of the BJP had removed him six years ago. On January 29, 2007, during his earlier stint as president, Rajnath dropped Modi from the parliamentary board and simultaneously removed Arun Jaitley as chief spokesperson. Creating a minor ripple then, it was seen as an action endorsed by the Sangh, annoyed at how Modi was cutting down other ent­ren­ched groups of the parivar in Gujarat.
It's something that hasn't changed, and the RSS leadership (as opposed to its cadre) and traditional Delhi-based BJP leaders are still wary of Modi. Currently, however, they have no choice but to appear to capitulate before the mighty man from the land of the Sabarmati. Adding the final touches to Modi's triumph may well be the fact that the party president will break with tradition this year when the BJP celebrates its foundation day on April 6. Instead of the usual ceremony at the party's Ashoka Road headquarters in Delhi, Rajnath will travel to Ahmedabad for the event. As an insider quips, "Seems like the BJP headquarters have shifted to Ahmedabad."
But it's not quite as simple as that. There is almost breathless anticipation in some sections of the media and urban India about the imminent reign of Narendra Modi. They see him as the strong leader who makes his destiny and whom destiny awaits; the Mr Fix-it who'll sweep away all the complications in the way of growth. The opposition, it is presumed, is coming from a nervous Congress and fearful "secularists".
In reality, pockets of resistance to Modi remain within the party and parivar. The selection of controversial figures in the new team is, in fact, linked to moves to counter Modi. For instance, Bhaiyyaji Joshi, the second-in-comm­and at the RSS, is said to have told Modi that if he insisted on pushing Amit Shah into Rajnath's new team, then the headlines would be about Shah and not Modi. Yet Modi was adamant. A party source com­ments: "Shah is the man who fixed all his rivals from the VHP/RSS/BJP in Gujarat and Modi probably needs him to handle rivals in the national party. But it's not the same thing. The government is not in his hands and India is not Gujarat."
So, once Shah was in, sources say that Sushma Swaraj and L.K. Advani backed the proposal to bring in Varun Gandhi. The logic being: if a man charged with encounter killings can get in, why not someone who had faced a lesser charge of hate speeches? Meanwhile, the Sangh had long been pushing Uma Bharati's case and it got Advani's backing too. As a senior leader says, "This is not Modi's team. He used up his quota in pushing for Amit Shah and blocking Madhya Pradesh CM Shivraj Chauhan." As a result, at a time when Modi would have preferred being positioned as a development man, he is on a team that showcases some retrograde, unwholesome faces.
There is also a contradiction between what Modi wants to be and what he means to the cadre. The strategies for a Modi onslaught outside Gujarat also involve preparing the Hindutva cauldron and pressing those subliminal buttons. The thinking is: the development pitch may have worked for Modi in the small stage of Gujarat, but the groundswell of support from the cadre across India is for his Hindutva strongman image. "He will have to balance both," says an MP. "He recently ducked the Kumbh Mela event because he is still playing into the image that the TV studios and middle-class urban India want to see, but when you operate in regions that are more rural, you have to have a more ideological, emotional appeal."
The question isn't whether Hindutva can work in this day and age. Indeed, many would argue it is a self-limiting exercise. Yet the nature of the party and parivar is such that it is the language and grammar they know best. In a sense, Project Modi is also a test of how far such politics can be pushed.
The strategy is being honed for Uttar Pradesh, in particular, and to a lesser extent, Bihar. "These are states," says a party strategist, "where if a Hindu wave gives us momentum, the potential for a groundswell is great." In UP, a spate of small communal skirmishes has already polarised communities in towns and semi-urban areas. Meanwhile, the entire traditional leadership of the BJP in the state is now older than 75 and being phased out: Kalraj Mishra, Lalji Tandon, Kalyan Singh. Rajnath may still be aro­und, but who is expected to kick up the storm in the state that has 80 Lok Sabha seats? Modi, and maybe even Varun.
However, as another party leader says, "Modi and his backers in the media have projected so much support for him, and it is to some extent true in urban areas in the Hindi heartland. Yet, please bear in mind that in Gujarat the population of Dalits is just 6 per cent and Muslims, 8 per cent. In UP, he will be confronting minority and Dalit populations in double digits." Similarly, in Bihar too, the Modi appeal that a section of the state BJP leaders believes will work has to transcend the growth and prosperity dyn­a­mic that urban pockets favour. "He has to appeal to emotional issues that can also involve the rural people. Issues of identity must be played on," says a leader.
However, before Modi unleashes his persona on the Hindi heartland, there is the question of Karnataka, where the BJP faces a conceivably losing battle in May this year. Sources in the party say that at a time when Modi is crafting a national image, he would be reluctant to plunge into a losing contest. "He'll put in an appearance in Karnataka," says a source close to Modi, "but it will be limited as it is an assembly election. It's in the Lok Sabha that he can be expected to swing into action in a big way."
Currently, the BJP/RSS see Modi as a medium holding the possibility of power. So they are giving him a long rope and allowing him to be projected as the main face of the BJP campaign for 2014. How­ever, there is also the belief that post the election, the game could cha­nge, dep­ending on the numbers. Should they be at an awkward figure where Modi could be become a hindrance to power, different strategies could emerge. An individual like Advani could still have a hand to play, either projecting himself or pitching for someone like Sushma Swaraj. The BJP/RSS would certainly not like to submit to Advani, so it would be interesting to see if Modi would back another leader in such a scenario. Would the RSS pitch for Rajnath who's been bending over backwards to appease the man he once threw out of the parliamentary board? The game has only just begun.