The Big Q: Does Hindutva Deliver?
Confusion over whether Hindutva agenda (Ram temple, Article 370, Uniform Civil Code) has any carry
After 1999 win, BJP seat share on constant downswing: from 182 in 1999 to 138 in 2004, to 116 seats in 2009
Voteshare has dipped, from 22.16% in 2004 LS election to 18.8% in 2009, in every state, except HP, Karnataka
BJP's seat tally in Hindi heartland state Madhya Pradesh has fallen from 220 seats in 1990 to 143 in 2008
It has fared miserably in Uttar Pradesh post-Babri: falling from 221 seats in 1991 to just 47 in 2012
After Kandhamal riots, BJP won just six seats in 2009 Orissa poll, 26 fewer than what it had before riots
Four south Indian states with 140 seats amongst them looking out of bounds. Karnataka debacle looms.
Modi's draw under question: in 2009, BJP won 37 seats in 300-plus rallies he addressed; Rahul Gandhi 75 of 102
BJP's aggressive Hindutva stand isolates nearly 15% of the electorate who are Muslims. And Christians.
Hindutva also repels possible allies like JD(U) who may prove crucial if the BJP finds itself short
Recent statewide opinion poll in Karnataka shows awareness of Modi is 43% against 77% for Rahul Gandhi.
***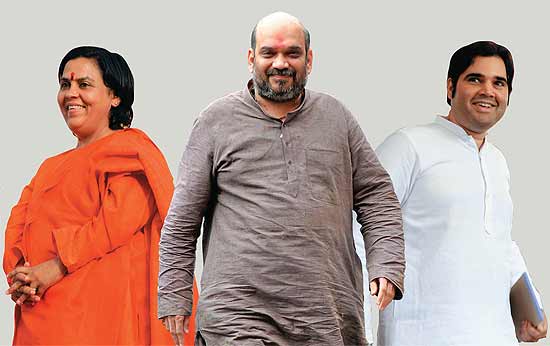 Photographs: Tribhuvan Tiwari, Mayur Bhatt
The Three Mascoteers
Reconstitution of BJP parliamentary board is seen as a delicate balancing act to keep RSS and various factions of party happy
...