In a basement office-cum-showroom off Green Park in south Delhi, a demo is in progress. "Recording time is 12 hours, the images and sounds will be so clear you can see and hear everything," offers the sales assistant. The customer, a man in his 40s with dark-circled eyes, is convinced; the deal is sealed. In an hour or so, the digital table clock he just bought should be sitting on his bedside table; hopefully, worth every penny of the 12,000-odd rupees he spent on it.
The innocuous clock is in fact a spycam, bought to combat "domestic abuse" in his bedroom, he confesses, even as he advises us on the best cam for our job. There are, after all, plenty of options: caps, wristwatches, sunglasses, buttons, pens, belts, pendants, photo-frames, iPhone lookalikes, cola cans, even chewing gum packs, each fitted with pinhole cameras and tiny recording devices to be your eyes and ears when you need it to be.
For anything from Rs 1,500-Rs 30,000 or more, you can play detective with a lifetime's supply of spy devices available off the internet, in discreet shops, or through smses peddling the snare ware. A request to an online directory for details of shops selling spyware like pen cameras throws up nine addresses in south Delhi alone. No wonder Bhavna Paliwal, director of Tejas Detective Agency, has had to reluctantly ditch the pen camera as a work tool because it is "so common now". Clearly, spyware has stealthily attached itself to the underbelly of urban relationships, with spouses, partners, friends and colleagues relying increasingly on guileful gizmos to catch their kith and kin in the act.
Mueen Pasha, founder of the Bangalore-based Spy Zone, has been selling spy gadgets for eight years, but it's only now that his business is truly thriving—he sells at least a hundred gadgets a month, in the price range of Rs 4,000-Rs 15,000. "Sales have gone up, and in the last two years, family problems have come to the fore. These days working hours are so long that one doesn't know what is going on at home and some people will go to any lengths to find out."
In Mumbai, Mahmood, a salesperson in a spyware shop he didn't want named, says, "Most often people buy these gadgets when they suspect their partners of infidelity. Many discuss their problems in detail, so that we can suggest the best gadget. Others claim they want to fix cameras in their shops or homes after a theft, or to keep an eye on their domestic helps, but we can tell they are lying."
He has seen enough customers to know that the real reasons may be very different. Sanjay Singh, director of Indian Detective Agency, doesn't hesitate to call the use of spycams a 'trend'. "People going for business meetings try to sneak in devices to record conversations. Many who come to us have already tried these DIY spykits," he says. One woman, he recalls, approached him to help her bring her husband to book. The gentleman in question, she alleged, was enjoying the company of other women behind her back. "I was surprised by the knowledge she had about spy devices!" Singh says.
Paliwal too has had clients trying to cut costs by doing the digging themselves instead of hiring a private eye. "Very often they fail," she laughs, recounting how a newly-married man tried hiding a tiny camera in the air cooler. Only, he hadn't factored in his wife's keen eyesight. "As it turned out, he had no reason to suspect her," she says. Another client, a professional working in a multinational company, made a mess of "investigations" trying to record his wife entering her office. "Their divorce case was under way, and if he could prove she had got herself a job, he wouldn't have to shell out maintenance money," she explains.
So common are these devices, and so diverse their customers, that Devendra, from Anand India's sales team, finds it difficult to sketch up a client profile. "Aajkal to bahut chal raha hai," he concedes, counting journalists, lawyers, doctors, wives and husbands among his customers. One popular product, he says, is the spy bug—a matchbox-sized device fitted with a SIM, which can be yours for Rs 3,000. "Once you put the sim into the device, and call that number, you can hear whatever is going on around that device." If that sounds difficult to pull off, it isn't. Arun (name changed) vouches for it. His "friend", he claims, had once hidden this spybug in his girlfriend's handbag when she went to meet a former classmate. "He suspected the two of them were more than friends and figured that listening in on their conversation would clear things up." Obviously, the girl's word that there was no funny business going on wasn't enough.
Paliwal feels shows like Emotional Atyachaar, where cheating partners are spied upon and confronted, sparked the dubious inclination to peep into our own bedrooms. This inclination has been fuelled by easy access and low prices. Singh says, "Five or six years ago, we would buy pen cameras for Rs 15,000-Rs 20,000. Now Chinese versions of it can be bought for Rs 1,500 or less."
That cannot be good news for unsuspecting subjects at the receiving end. As Singh cautions, misuse is an obvious danger. "I know of teenagers using these gadgets, they are so tech-savvy anyway. People know all about these gizmos; even leading dailies run advertisements for them. Girls often bear the brunt, being filmed without their knowledge and viewed by hundreds once the video is posted online."
Even if the footage is for the eyes of the "spy" alone, the act itself is an invasion of privacy, a breach of trust. As Paliwal asks, "Will a wife who knows that her husband tried to record her activities on the sly ever trust him again?" Whatever the answer to that, it is a risk not a few are clearly willing to take.
---
Spy Camera
Belt Rs 7,500 Pinhole camera inside clasp with one hour battery back-up
Watch Rs 5,500 Two-hr battery back-up, 4 GB internal memory,
5 MP camera

---

Silk Necktie Rs 11,000 Pinhole camera in pattern. 4 GB internal memory.
Photo Rs 35,000 Can record for 2 months. Has an HD camera.

---

Canvas Cap Rs 7,500 4 GB memory, 1 hr back-up, 3 m microphone range
Chewing gum Rs 5,000 Can record 90-min video and take photos with 5 MP camera

---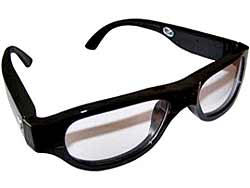 Glasses Rs 12,500 Can record audio-video with 2-hr battery back-up.