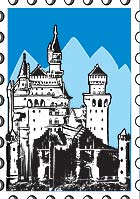 Ayurvedic shrink
In Schliersee, a small town of 6,500 people located on the banks of the eponymous lake in Miesbach district of Bavaria, I was surprised to see an Ayurveda centre. I'd been expecting a centre for homoeopathy, an authentic German invention. Looks like homoeopathy is Germany's Buddhism, destined to thrive only outside its place of origin. Besides a hotel in the sleepy town, some 53 km from Munich, the capital of the state of Bavaria, is a chakra resort run by the Karma Group. The spa there offered, among other therapies, a 'Man's Retreat', promising to redeem whatever of your manhood you've lost to stressful urban life.
I struck up a casual conversation with a Bavarian lady in her mid-40s near a frozen lake in picturesque Spitzingsee, just a short drive up the Alps from Schliersee. When I told her I was from Kerala, her face brightened. "I am a specialist in Ayurveda. Although I have never visited India, I get all my supplies from there," she disclosed, handing me a rather tastefully designed business card. Among the epithets listed against her name on the card was 'Ayurvedic Psychologist'. Never knew such a profession existed!
In faraway Stuttgart, the birthplace of one of Germany's greatest philosophers, Georg Wilhelm Friedrich Hegel, an old friend from Jawaharlal Nehru University (JNU) lamented that he did not have even a Ramayana or a Mahabharata to criticise in Germany. Ruing the absence of anything pre-modern in Europe these days, he said, "What one badly misses in Europe is traditions and festivals which lend such colourfulness to society as a whole. Life is so ruthlessly atomised on the one hand and the element of spontaneity is totally banished on the other."
---
Nimbupani putsch?
Munich is a city that is eternally apologetic about its past. It is where Adolf Hitler launched himself and his evil politics in the 1920s. Here he also met and clandestinely bonded for the first time with Eva Braun, who was 23 years his junior and remained his companion in life and death. A visit to Hofbrauhaus, a huge beer hall, eerily reminds one of that meeting on its second floor in which Hitler presented for the first time his Nazi party programme to a spell-bound audience. You overhear the name of the Fuhrer in conversations in multiple languages around you. I imagined the RSS holding a chintan bhaitak there, with grim-faced volunteers seated on the massive wooden benches, sipping nimbupani.
As I entered on a rainy day the Dachau Concen­tration Camp, the first Nazi concentration camp established in March 1933, a sense of deja vu overwhelmed me. The sprawling compound of nondescript buildings saw some of the worst atrocities ever committed in modern history. The ultimate laboratory of evil is preserved intact, with audiovisual aids to help you relive the defining horrors of the 20th century. In the bunker in which theologian Martin Niemoller was incarcerated as a special prisoner in the last years of the Third Reich, a tour guide was heard explaining how privileged the special prisoners were compared to ordinary inmates.
---
Locked in faith
The Schliersee Farm Museum, the restoration of a Bavarian village from three centuries ago, is a rare cultural exp­erience. It transports you back in time and lets you savour life before the industrial revolution. At the elegant village cathedral, meant for a congregation of less than 20 people, we found ourselves locked in. A Bavarian family, however, answered our shouts for help after a few tense moments. Trapped in a place of worship, albeit an ancient one, would have been quite a test of faith!
---
Compass to East
The Munich airport authorities went out of their way to please Arab Muslim tourists with Arabic signs pointing in the direction of the prayer rooms at the terminals. The absence of prayer facilities for people of other faiths in the airport struck me as unfair. Is it because the tyranny of time weighed more heavily on the Muslims than the practitioners of other religions in terms of prayers?
---
A choice of gods
After enduring the sight of sex shops at every nook and cranny,­ including one named 'Sex World' right next to our Munich hotel, and in the wake of numerous visits to breathtaking cathedrals of varying historical and aesthetic significance, one was amazed at how well these two types of institutions coexisted. Can one naively conclude that worship took multiple forms and that Europe and America offered you several choices to opt from?
---
My pal, dampening my spirit...
"Most of Germany's lush forest cover is artificial, with har­dly any biodiversity in there. Everything here is so prim and proper, even the woods."
---
Abu Dhabi-based Shajahan Madampat is a writer and columnist; E-mail your diarist: shajahan98 [AT] yahoo [DOT] com