Rarely has a ready grin disguised such ruthless ambition. For almost a decade, Sri Lankan President Mahinda Rajapaksa has run Sri Lanka as his fiefdom. He has been doling out favours to siblings, family members and friends by offering them key portfolios and lucrative government positions while pursuing policies that have helped him to corner much of the national wealth and isolate his political opponents. In addition, he also varnished his image by projecting himself as the leader who not only ended the ethnic war with the LTTE but also as one who can ensure the country's safety from internal and external threats.
But by the time you read this report all that might change. [As indeed it has; please see: Sirisena Ends Rajapaksa's 10-Yr Rule, Sworn In as Prez - Web Ed]
The January 8 presidential election in Sri Lanka—one of the most crucial elections in its history—in which Rajapaksa's attempt to seek an unprecedented third term is being challenged by the united opposition candidate, Maithiripala Siri­sena, could bring about that change. Its significance and extent will depend largely on the outcome of the poll results due to be out on Friday evening. But all indications are that one way or the other Sri Lanka is about to undergo a transition that could well put it on the path of becoming a true democracy after years of Rajapaksa's autocratic rule.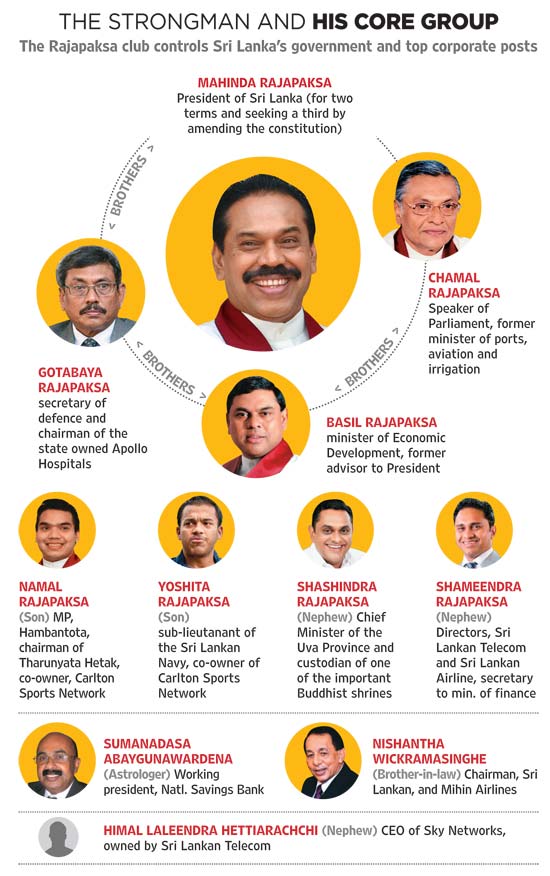 There are three distinct possibilities. One, Rajapaksa may be defeated by Sir­isena, ushering in regime change in Col­o­mbo. Two, Rajapaksa may yet again win but could be forced by colleagues in his ruling Sri Lankan Freedom Party-led coa­lition to undertake meaningful political reforms, curbing the influence of his family and friends on the government. And three, after winning, Rajapaksa could become even more autocratic and unleash a series of measures to marginalise the opposition and dissenters both within and outside his government.
His detractors, however, do not rule out a fourth possibility where Rajapa­ksa, fearing loss and ouster from office, may be tempted to make a deal with the top brass of the armed forces to put the country under martial law.
Interestingly, for much of his 10-year rule Rajapaksa had remained the darling of Sri Lankans, enjoying widespread support from the Sinhalese majority population. His autocratic streak, evident from the time he came to power in 2005, had been glossed over by most Lankans, since they saw the threat posed by Prabhakaran's Tamil Tigers as a much bigger one. His political opponents who only managed to emit muted criticism around this time largely fell silent since 2009, when he succeeded in brutally ending the ethnic war by killing Prab­hakaran and much of his cadres.
It may, therefore, be a valid question to ask: why has the mood in Sri Lanka changed so drastically that it has made Rajapaksa so vulnerable now?
"For years, we could not have a normal life. The ethnic war with the Tigers hung like a dark cloud over our heads," says a Colombo-based Sri Lankan diplomat, expressing his gratitude to Rajapaksa by acknowledging the difference he made by bringing an end to the war.
When Rajapaksa amended the constitution, aiming for a third term, it was a turning point in how Sri Lankans saw him.
But the gratitude that many Sri Lankans had towards Rajapaksa started wearing off over the years as they got fed up with his autocratic style of functioning. As the Sri Lankan diplomat points out, "What he had done to end the ethnic war is now a thing of the past and we cannot continue to live in a state of emergency." Much of this mood is shared by many others, who have resented Rajapaksa's decision to bring in his family members and friends in the government and other important national enterprises.
What was earlier glossed over during the civil war soon turned into a popular topic of debate once the Tamil Tigers ceased to be an existential threat. He also continued with policies meant for a time of national emergency, such as the muzzling of the press (outspoken reporters and editors have always been soft targets), using them to perpetuate his hold over power and snuffing out dissent. Typically, former army chief Sarath Fon­seka, whom Rajapaksa defeated in the 2010 polls, was later jailed for seeking to implicate the government in war crimes. Things came to a head when Rajapaksa, in his desire to remain in power, got the constitution amended to allow himself a third presidential term.
According to many observers, this pro­ved to be a turning point in perceptions about the president, though signs of Raj­apaksa's waning popularity were evident in last year's provincial elections. One major surprise that came Rajapaksa's way, they say, was when Sirisena, a former general secretary of his party and a former health minister in his cabinet, defected to become the candidate of the united opposition parties. A number of senior leaders and MPs have joined Sirisena over the months. Apart from the main opposition, the United Nat­ional Party, the smaller regional parties, including those in the Tamil-dom­inated north and Muslim-dominated east as well as sections from the Sinhalese-majority south, have also thrown in their lot behind the opposition candidate.
UNP spokesman and former Sri Lanka foreign minister Mangala Samar­aweera sounded confident when he told Outlook that, "The whole edifice of Raja­paksa which seemed unshakable is now about to crumble. With each passing day a lot of opposition is gathering against him."
This could well be true, and incidents of violence in the run-up to the election as well as reports about Tamil and other minority voters not being able to vote in the north and other parts of the country clearly shows the growing nervousness and vulnerability of Rajapaksa and his supporters. But if he finally loses and is ousted from power, it will provide an opportunity for Sri Lanka to embark on the path of true democracy and make all nationals a stakeholder in its progress and development. Not only that, it will also serve as a hard lesson for all other 'tough' leaders in the region.
The Sri Lankan development shows how easily public anger and resentment against an oppressive regime can overnight turn a very popular leader into a vulnerable politician.
---
This piece was published before the results of the election were out: Sirisena Ends Rajapaksa's 10-Yr Rule, Sworn In as Prez