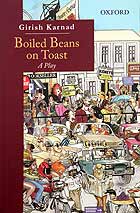 Bangalore, as the lore goes, got its original name Benda Kaaluru after King Veera Ballala survived a long night in the jungle thanks to a plate of boiled beans. Playwright, filmmaker, actor Girish Karnad used this myth to cast his 2012 play, Benda Kaalu on Toast, in a wholly contemporary skin. Now comes an Eng­lish translation, Boiled Beans on Toast (Oxford), inviting a new audience to a subtle study of the dichotomies of changing cities. In a chat with Neha Bhatt, Karnad exhorts Bangalore's detractors to take a more nuanced view of the city that he believes is as chaotic as fascinating.
Advertisement opens in new window
Boiled Beans on Toast is a contemporary view of Bangalore but doesn't indulge in nostalgia like one would expect, as how most city pieces are.
Indian writers just haven't caught the essence of the city and explored the megalopolis as it has exploded. Most Kannada writers in Bangalore such as U.R. Ananthamurthy or S.L. Bhyrappa are nostalgic about their native villages and can't write about Bangalore. There's not a single play or novel about the city in Kannada. Even in English, there is very little written about it, other than stories around call centres, where Bangalore is seen in terms of identifiable markers, rather than what's happening in the various layers of society.
"Most Kannada writers in the city like Bhyrappa or Ananthamurthy are nostalgic about their villages, not Bangalore".

I'm fascinated by the vitality, energy and chaos of the city, where there is no single narrative. Some people manage to deal with life in the city, some perish. I wanted to write about this explosion, and the people who have come here, most of whom are rootless. Most of our plays are drawing-room dramas, a tradition we have inherited from Shaw and Ibsen. As the curtains open, there's a sofa, people sitting on it and chatting. I wanted to break away from that and step outside the home and into the beaming city, where stories happen and don't alw­ays have a conclusion. Some are actually based on true incidents.
Advertisement opens in new window
What are your memories of the city?
When I came here in 1990, I scouted around for a plot and built my house under a tamarind tree. The tree was gone within 10 years. I have included that bit in the play. I'm one of the people who make Bangalore, a city with no past, where everyone is an outsider.
You talk about how the city has lost coherence, is it a moralistic stand against its fragmented development?
Whether you are moralistic or not, the fact is that it is happening, and it is opening up a whole lot of possibilities for people from smaller towns and villages, and that is not to be sneered at. A more organised city would have been welcome. But the explosion of the city took even the town planners by surprise. The fly­overs in Bangalore are ugly, but they do keep the traffic moving. Yes, city corporations have been inefficient, even out of date. Look at the Namma Metro tracks across Bangalore that have pillars that look like elephant's legs. All over the world, you have beautiful tubular support. My play, however, is not about what should have happened, but the human experience of what has happened.
Advertisement opens in new window
The play can be adapted seamlessly to other cities that have seen such growth, like Pune or Ahmedabad....
Yes, the play has been brilliantly adapted in Marathi as Uney Purey Sheher Ek by young director Mohit Takalkar and it captures the whole chaos and vitality of the city, which is Pune in his version. It fits like a glove, as it would Chennai or Ahmedabad—all small, nice, traditional cities till 20 years ago, where the entire culture has changed.
So where do old-time Bangaloreans fit into the scheme of things?
Well, old-timers have to go to where they will be happier. The future will move in its own direction. It's inevitable in any city. The sweep of the city, the money and power involved is such that no one has control over it anymore.
Has the very middle class that created the new Bangalore also destroyed it?
Advertisement opens in new window
"The only people who matter to city planners are those in cars. Houses have been demolished, roads widened, all for it".

There is a new middle class that has replaced the old order, one with a starting salary of Rs 25,000-30,000. To expect the city to stick to the old middle-class sensibilities in this scenario doesn't work. Cities like Bangalore, Pune could be earlier identified as cantonment areas, which had a certain character. So residential areas like Indiranagar, Basa­vanagudi had a distinct cultural ethos. It has all changed now because the whole city is one flow. The only people who seem to matter to the city planners are those in cars. Houses have been demoli­shed, roads widened, all to accommodate more and more cars. You may call it reprehensible, but that's how it is. We don't know how to control the growth.
Bangalorean scientist C.N.R. Rao talked of a time when a cup of coffee and a masala dosa at Vidyarthi Bha­van kept you happy. Has that culture of simplicity been lost completely?
Advertisement opens in new window
There's a scene in the play where I write about a meeting between two characters specifically fixed at Cafe Coffee Day, bec­ause that is where they are comfortable having a conversation. The point is that old-time spots such as Adiga's or dosa centres were not meant as places where you could hang around for hours. Cafe Coffee Day, on the other hand, being a local brand, is exactly geared to the needs of the young. Those are the dem­ands of the new Bangalore. Gone are the days of Kamat Lodge where you could order a masala dosa and sit for hours.
Do you see the city's intellectual growth dimming? What about its long-time bond with science?
I think the IT industry has, in fact, sha­r­pened the city's intellectual growth, but in different directions. The IT companies have offered a different kind of future, a departure from the earlier professor-doctor job culture. In the process, our scientific institutions, such as Indian Institute of Science and Raman Research Institute have receded in imp­ortance. It's symptomatic of the state of scie­nce in all of India. Young people will go where there's encouragement and money.
Advertisement opens in new window
How well is theatre doing in Banga­l­ore? You've said no one wants to step out of home after returning from work for a play due to the traffic.
This is true for all performing arts. It's a nightmare stepping out in the evening. If you want theatre to flourish, you need more spaces like Ranga Shankara, Jagriti in all corners of the city.
Is there a sense that Bangalore is now a city purely for the youth?
Cities are always for the youth, because they need energy. But in the good old days, you could buy a flat with your ret­irement money. Now you have to ret­ire to the countryside or live with your children in small flats.
Do you see yourself continuing to live in Bangalore?
Yes, of course. My roots are in Dharwad, where I go every now and then. But I daresay I'm going to be in Bangalore till the end of my life.