Aveek Sarkar tells us that as a rule he does not give interviews. Therefore we are unable to know, at least not from the man himself, why he decided to fold up what was once one of India's most popular newsweeklies—Sunday. Nearly two-and-a-half decades after its last issue hit the stands, it still remains a mystery in the world of Indian magazine journalism. Sunday, with its nationwide influence, is the one name which crops up inevitably in any discussion about magazines that the ABP Group has churned out over 80 years since 1933.
That was the year that Desh Patrika was launched. Desh, the Bengali literary and current affairs weekly (now a fortnightly), has been called the 'New Yorker of Bengal' and has the distinction of being the only magazine for which both of Bengal's Nobel laureates, Rabindranath Tagore and Amartya Sen, have written, albeit separated by over half a century. Over eight decades, its contributors have included practically all of Bengal's literary and intellectual icons.
One of India's most influential media barons, Sarkar, however, helpfully, suggests a few names who may throw some light on the unsolved mystery. He asks me to talk to Vir, Akbar, Ninan, Uday Shankar. That's Vir Sanghvi, M.J. Akbar, T.N. Ninan and of course Uday Shankar, four of India's high-profile editors, all of whom have edited one or the other of ABP publications. Ninan was editor of BusinessWorld, the business magazine which, much like Sunday, Aveek Sarkar suddenly dec­ided to sell off. Akbar was Sunday's first editor and Sanghvi its second and last.
In his blog about magazine journalism, Sanghvi writes, "I asked Aveek Sarkar, my old boss, one of whose magazines I once edited (Sunday), about this (how upmarket magazines still do well). Sarkar's view is that in India too, upmarket magazines (those that cost Rs 100 or so per copy) will find it easier to survive than those that cost less and aim for wider circulation. He gave me the example of the Indian edition of Fortune, which his company produces, which he said is not only profitable but expects to do even better in the months ahead. Sunday, contrarily, was a low-cost, aim-for-­wide-circulation newsmagazine."

Country-Made Desh has been called the New Yorker of Bengal
Other than ABP's three dailies—the high-circulation Ananda Bazaar Patrika, Ebela and The Telegraph—currently there are close to a dozen magazines and periodicals that gallop out of the ABP stable, each boasting of circulations that at least touch, if not cross, the six-figure mark. Noteworthily, not a single one of them fits the description of the 'low-cost, wide-circulation' general interest magazine. Whether Sananda, a popular women's fortnightly started in 1986; Anandamela, the children's literary periodical or the celebrity news magazine, Anandalok, all belong to the 'niche' category and target-specific readerships. Indeed, in 2004, around the time when the phrase 'young adults' started being bandied about, Aveek Sarkar decided to launch Unish Kuri (Nineteen-Twenty), a magazine that slipped right into the slot.
"Aveek Sarkar's biggest strength," says ABP Delhi editor Jayanta Ghosal, "is his ability to constantly update himself and his organisation through changing times and advancements in technology. He once pointed out to me that one of the reasons the Communists lost power in West Bengal was because of their inability to adapt. If you go to the CPI(M)'s headquarters on Calcutta's Alimuddin Street, for instance, you will still find Stalin fixing you in a stern gaze, as he has been for the past many decades." The ABP office on Prafulla Sarkar Street is an old building, but it has undergone a complete overhaul and is today one of Calcutta's most modern buildings. "Aveek Sarkar has the ability to manipulate and live in the moment. His magazines are a reflection of this part of his personality," says Ghosal.
This is evident in how he didn't so much as bat an eyelid before 'tinkering' with the 'purity' of Desh, an iconic symbol of Bengal's literary tradition since the time of his grandfather Prafulla Kumar Sarkar and father Ashoke Kumar Sarkar and made major changes in its format and content, such as including more non-fictional, analytical pieces on current issues. All in order to bring it up to date. "Aveek Sarkar is India's most sophisticated newspaper proprietor," Nicholas Coleridge, president of the global magazine publishers, Conde Nast, wrote in his book Paper Tigers, which documented Sarkar as one of the three most powerful media barons of India. In comparison with Samir Jain and Ramnath Goenka, owners of the Times of India and the Indian Express groups, Sarkar comes out looking the least driven by monetary profit.
It is through drawing upon this sophistication that Sarkar can clothe—camouflage even—his 'profit driven-ness' under layers of intellectual and cultural refinement.
While ensuring Aparna Sen's services as the first editor of Sananda, which was, at least editorially, expected to exude a classiness representative of the ABP group's magazines, she was nevertheless given a lowdown on the marketing aspects. "Aveek told me that there were something like 200 advertising brands that were in need of a vehicle and that Sananda could be that vehicle," Aparna Sen, told Outlook. Sarkar himself exudes this amalgamation of opposites and is therefore an enigma. Coleridge observers, "He is known to having strong opinions about most issues but refrains from bringing most of these to his business and editorial meetings." And as far as his professional dealings are concerned, he rarely makes an exception to this self-imposed role of a silent, uns­een, behind-the-scenes operator.
Sen recalls how she came to be editor. "Actually, even though it was Aveek Sarkar who was editor-in-chief, it was Arup Sarkar (Aveek's brother, who looks after the business side of ABP's ventures) who approached me. He came over to my home and invited me to be the editor of this new magazine that they were planning to launch. This would be sometime in 1985 and I joined soon after. The first issue of Sananda came out in July 1986." Sen remembers that her first reaction was, "But, I've never edited any publication in my life!" And Arup Sarkar's counter: "Before you made your first film, you hadn't directed a film either! Why not give it a shot?" (When asked why she left Sananda, Aparna Sen says, "I felt that the company did not want me anymore.") Those who know Aveek Sarkar insist that he would rarely be seen scouting for top personnel.
Insiders say that Aveek Sarkar nurtures hopes of reviving Sunday. One editor points out that he hasn't still sold the rights of that magazine.
Yet Sarkar is not entirely shrouded in mystery, or beyond reach. Unlike Goenka, who is not known to have come down too often from his penthouse (a veritable 'ivory tower') on the 25th floor of Express Towers, once Mumbai's tallest building, Sarkar is regularly spotted ambling along on the slippery marble floors of the swanky abp office in his crisp, white dhoti. Once when one of his editors slipped and fell on the steep stairs and broke a leg, Sarkar quipped, "For all these years I've been walking around in a dhoti and never once tripped, how could you manage that fall wearing trousers?" When he is forced to wear western clothes, like when travelling abroad, people have spotted him in airports in a pair of brown corduroy trousers, helplessly trying to extricate a huge duffel bag from the conveyor belt until someone comes to his rescue. Clearly, the bhadralok, steeped in an Anglo-Bengali aesthetic, is more at home in a dhoti.
Finally, the matter of those magazines. One of Sarkar's former editors spoke on the inexplicable closure of Sunday, as well as the hugely successful Sportsworld. "Aveek Sarkar is more comfortable being a big fish in a small pond. There was a time in the late '80s and early '90s, when India experienced a magazine boom, when Aveek Sarkar's magazines could have captured the national market. He had what it takes. He brought in star editors. Mansur Ali Khan Pataudi edited Sportsworld, for instance. But he opted out of the national space. Now he has a virtual monopoly in the east, not counting the almost insignificant competition offered by the Times of India group. But these magazines are not known outside its region."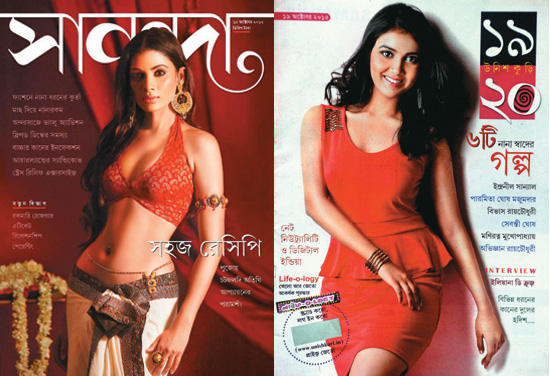 Take A Mag ABP's Sananda, for women, and Unish Kuri, for teens
Yet those who know Sarkar closely find it difficult to accept that he would care one whit about whether he was a big or small fish anywhere just as long as was enjoying life to the fullest. "He reminds me more of a freewheeling bird, soaring high, taking in every exhilarating mom­ent," says Uday Shankar, who was handpicked by Sarkar to lead ABP's first television newschannel, Star Ananda—a joint venture with Rupert Murdoch's Star—as its CEO and news editor. While admitting that his is not the definitive answer to why Aveek Babu would want to abandon two of his most successful projects midway, Shankar states, "I think Aveek is someone who is not obsessed with building or maintaining a mega empire. He doesn't get his joy from huge profits or an increase in circulation or television rating points. He doesn't have the killer instinct, nor does he care to have it. He is not the ruthless media tycoon who would want to crush his competitors at any cost. If he wanted to, he could have, because he is exceptionally savvy and capable. But at one level he is totally detached."
What Sarkar is well known for is his love for the good things in life. Good food. Great wine. High-quality cigars. Vintage cars. Exotic vacations. If he is passionate about anything, it is about living exquisitely. And he is insatiably curious about the smallest thing. In the middle of a business meeting, his attention may be drawn away by a quaint work of art, a new book, even some fashion trend. He also possesses an unerring eye for high quality content. "I think for him the journey is more important than the destination. And it is the variety of the initiatives that he takes in this journey rather than the value that he is getting out of it which drives him. And so this path cannot be a linear one," adds Shankar.
Sarkar has certainly not tread a straight path. It has had twists and turns. Long stretches and abrupt stops. What appears inexplicable to others may make perfect sense to him, maybe because he alone sees the pointlessness of the pursuit for mammoth profit. His propensity to start a venture, then stop it in medias res, is not determined so much by market forecasts as by his own diminishing interest.
In the mid 2000s, the then deputy editor of features of The Telegraph, Gouri Chatterjee, announced after a meeting with her boss that a particular comic strip was being taken off the 'Leisure' page from the very next day. It was a popular comic, with a suspenseful storyline which had built up to a climax. The next few instalments were awaited by many. But the decision was made. Mercurial imposition as it may seem, Aveek Babu has an uncanny ability to convey his lack of int­erest to others without speaking a word.
Insiders reveal that Sarkar still nurtures hopes of reviving Sunday. "Did you know that he hasn't sold the rights of that magazine," one of his editors lets on, asking a rhetorical question. "It's the one magazine he is very sentimentally attached to. The decision to call it quits was not a happy one." The real story of the shutdown of his favourite magazine may be caught up in a web of speculations. But at a time when magazine journalism is said to be on the decline, coupled with Aveek Sarkar's purported reservations about the success of 'general interest' magazines, can it be that he is planning to relaunch Sunday? Sarkar is known to do the unexpected. Who knows, the dormant weekly may wake up to life one Sunday morning.