Wing Tips
Jet deal to fuel Abu Dhabi's plans for global aviation hub by routing Indian traffic to US, Europe
India needs FDI from Abu Dhabi, but latter worried about investment protection. Setbacks in Etisalat, ports project, Dubai Aluminium and Emaar case tarnished India's image.
Jet deal precursor to India-Abu Dhabi signing investment protection pact and Indian PM's visit to the UAE later this year
**
Air Pockets
Approving an increase of over 36,000 weekly seats for Etihad, which will seriously hurt Air India
Will state allow Jet's plan to fly from 23 more Indian cities, connect them to Abu Dhabi at the cost of desi carriers, Delhi, Mumbai hubs?
Unresolved issues like total amount of FDI which according to DIPP exceeded the maximum limit
Can a change in shareholder agreement guarantee that control will remain with Jet?
***
Some intense powerplay, diplomatic manoeuvring and policy subterfuge—that's the formula the UPA used to clear the deal between India's largest private sector airline, Jet Airways, and Abu Dhabi's national carrier, Etihad Airways. On July 29, India's Foreign Investment Promotion Board (FIPB) gave the nod, despite several questions raised by key ministries and market regulator SEBI as well as objections from parliamentarians who said this will not only kill Air India but also make a mockery of India's policy to develop aviation hubs in Delhi and Mumbai.
Although the FIPB said it was a conditional clearance, it is clear that Jet Airways has been given a longer-than-usual rope to put things in place. The regulatory heat and dust has conveniently taken the focus away from the primary objection to the $379-million deal: that it was signed shortly after the Indian government offered a conspicuously lavish gift to Abu Dhabi by increasing the weekly seats or bilaterals by over 36,000 seats.
Yet, sources say of the many str­ings tied to the two agreements, some are expected to benefit India. For one, there is a promise of inv­estment worth billi­ons of dollars from the UAE, particularly from cash-rich Abu Dhabi (which had, only a few years ago, bailed out Dubai from its financial crisis). With the UAE now being one of India's largest trade partners, the implications were weighty.
However, Abu Dhabi, still nursing its wounds from India's 2G telecom scam (its mobile operator, Etisalat, had to exit India, writing off over $820 million last year), has made it amply clear that investment would come only when India showed some seriousness about protecting overseas investors. In recent times, three other big-ticket initiatives from the UAE have faced problems in India. This includes Dubai's project to construct five ports in India, including one in Gujarat which ran into trouble; Dubai Alum­inium's proposed plant in Jharkhand that was scrapped; and construction major Emaar which has been dragged to the courts in India in several cases.
During recent talks between the commerce ministers of the two countr­ies, Abu Dhabi had promised to consider investments of $2 billion in India. While this is an indicator of their overall sanguine outlook, it is also a fact that the younger generation of Emir­a­tis, unlike their fathers who were accu­stomed to the Indian system, is more comfortable doing business with the West. So, wary of Indian bureaucratic delays, the Abu Dhabi government made the bilaterals and the Jet deal conditional to future investments.
They also put a July 31 deadline for all hurdles for the deal to be cleared. "We didn't want the deal to be cancelled. If this deal was not pushed through, it would have put a question mark on future deals and inflow of investments," says a senior official at the PMO.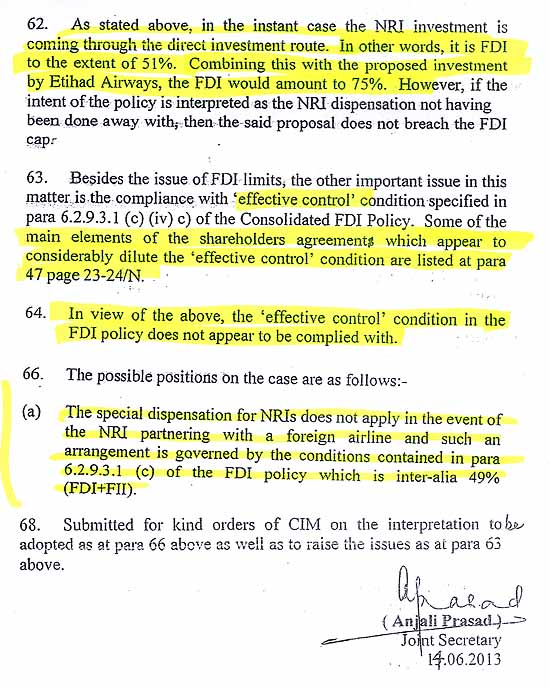 The DIPP note raised objections to Jet-Etihad deal, said FDI in project was up to 75% against policy-permitted 49%.
Abu Dhabi's keenness stems from its desperate attempts to make its airport an international hub, much like fellow emi­r­ate Dubai. Also, Abu Dhabi has huge aircraft orders and needs to make its long haul operations profitable. The Indian bil­aterals and the increased number of cities will be crucial for this. For instance, Etihad's tie-up with Aus­tralian carrier Qantas has resulted in a 45 per cent inc­rease in Aussie traffic to Abu Dhabi. Says Gulf-based com­mentator K. Raveendran, "The deal's been used to bar­gain/pressurise India but the greater game is access to the Indian market and traffic bet­w­een India and the US, Europe."
While India has one of the fas­test growing air traffic situations in the world, the Gulf, because of its loc­ation, is a strategic fit. As of now, as many as 1,100 flights fly into India from the Gulf every week, half of which come from the Emirates. Sources say Dubai airport is targeting 65 million passengers this year. Abu Dhabi, in contrast, is at a bit over 10 million passengers currently and is looking at a modest 15 million. "Given that the deal, in essence, will bind two of the world's fastest-growing markets, a lot of effort will be made by both the buyer as well as the seller to ensure the deal goes through," says Dubai-based aviation consultant Mark D. Martin.
But there may still be some hiccups. For one, Jet's sale of the Jet Frequent Flyer Pro­gramme to Etihad has come on the radar of FEMA and its sale of parking slots in London for $70 million is also being probed. These could bring in some nasty moments for the government. Says BJP MP Nishikant Dubey, "The government had given the slots to Jet as a designated carrier and has the right to withdraw that right. Jet cannot sell that right."
There is also ambiguity on the issue of treatment of NRI investment. The department of industrial policy and promotion (DIPP) had raised objections to the deal, saying that the total FDI in the project amounted to 75 per cent against 49 per cent permitted under the new policy. Says Kapil Kaul, CEO, Centre for Asia Pacific Avi­a­tion (CAPA), "The manner of allocating bilaterals reflects poorly on how we govern India's aviation system. Treating NRI equity in JVs as non-FDI seems to be another major concession."
There is also no guarantee that the "resolved" issues, including effective control, would actually make a difference. Kaul cites the example of W.L. Ross and Co which, despite having less than 15 per cent share and just one board seat in SpiceJet in 2008-09, had played a significant role in the carrier's strategy and future direction. "I see Etihad having a major role in Jet's operations and management going for­ward even though the shareholders' agr­ee­ment has been revised," he says.
But it is expected that like now, these objections to the deal too will be stea­m­rolled and forgotten as soon as more diplomatic and bilateral moves follow. India and Abu Dhabi are in the process of negotiating a Bilateral Inv­estment Protection Agreement (BIPA). The UAE foreign minister is scheduled to visit India and the Indian prime minister the federation of Gulf states later this year. India exp­ects a lot of investment deals to happen then. It's also when we will know whether the UPA's aviation rope trick will deliver returns.
---
By Arindam Mukherjee and Pranay Sharma