Soil Theory
Why soil from sex workers' doorstep is necessary for making Durga idols:
To make otherwise ostracised members of society feel included
Clients visiting 'houses of vice' leave their virtues outside the door, making the soil here virtuous
To purge prostitutes of their "sins"
As a fertility ritual
To honour 'courtesans', traditionally famed for their proficiency in the arts
***
Long before it became politically incorrect to call sex workers by any other name, it was considered inauspicious to worship the goddess Durga without seeking out the
blessing of courtesans, even if they were otherwise stigmatised and ostracised by society. Thus originated the little-known, age-old custom of collecting a handful of soil (punya mati) from the nishiddho pallis of Calcutta, literally 'forbidden territories', where sex workers live, and adding it to the clay mixture which goes into the making of the Durga idol.
"It is an integral ingredient of the holy mix, which also includes mud from the banks of the Ganga, cow dung and cow urine," says veteran potter and idol-maker, Ramesh Chandra Pal of Kumartuli, home to Calcutta's biggest clay idol manufacturing community for over 300 years. "It is a vital part of the ritual of Durga Puja," agrees pujari Haru Bhattacharya. The 30-year-old, fourth-generation pujari goes personally to Sonagachi, Calcutta's biggest red light area, "on an auspicious day" about a month before the onset of the festive season, around the time when potters begin to start work on idols, to collect what he calls the "virtuous dust from the doorstep of beshhas (prostitutes)".
This process is so sacred, explains Bhattacharya, that on the morning of the visit he takes a holy dip in the Ganga and chants mantras from the scriptures all through the soil-collection process. He says, "The most auspicious method of collection is to beg it from a prostitute and have her hand it to you as a gift or blessing. If it is taken from the ground, the pujari must know the correct way of doing it, including knowing which mantras to chant and how to position the fingers in a yogic mudra while scooping up the soil."
But this year, all that pious knowledge went for a toss when pujaris and potters met with stiff resistance from sex workers while trying to collect soil from different brothels across Calcutta. "Many potters faced angry women who refused to allow them to take even a pinch of soil," says Pal. "I had to practically steal the soil," says a priest who does not want to be named, adding, "We cannot do without it." One potter even shamefacedly admits to having "impersonated a client to be able to enter the premises and collect soil". Not everyone was as enterprising, so in the end, many of the Durga idols immersed last week lacked the "essential" ingredient.
I used to feel honoured. But they can't make goddesses out of us once a year and call us whores for the rest of the year."
The intriguing question is, why did sex workers suddenly turn against an age-old tradition? As Outlook discovered during a visit to Sonagachi, sex workers have an answer, and an eloquent one: "We've gradually come to understand this so-called sacred custom is a load of bull," thunders Sheela Bose, a 55-year-old former sex worker who now runs a brothel inside the squalid red-light area. "Once, I used to feel honoured when priests asked me for dirt from my doorstep. They told us Ma Durga would be displeased if those who worship her do not take our blessings. But over the years, I've begun to ask, what are we getting out of it? They can't make goddesses out of us once a year and then call us whores for the rest of the year."
Our conversation with Bose takes place at the entrance of her tiny two-room 'business area' on the mosquito-infested ground floor of a crumbling multi-storey cement building. "Look at the way we live," she hisses, pointing to the surrounding filth. The open drains running alongside the narrow congested galis are swarming with flies. "We're treated like these flies, dirty and unwanted. So why should we only give and not receive anything in return?"
Chimes in a thirtysomething sex worker who goes by the name Anamika. "We have some demands—don't treat us like criminals, we're not here out of choice. Poverty has forced us to be here. Let society do something for us and then we'll willingly give the soil."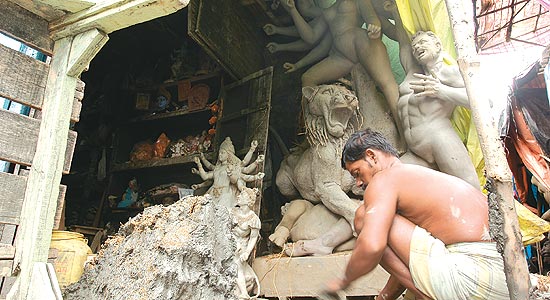 A Durga idol being made at Kumartuli
The sex workers are touchingly anxious to explain they are as pious as any middle-class Durga worshipper. Says 28-year-old Seva, "We pray all the time to our gods to deliver us from this sinful life." She grabs me by the arm and takes me into her room and points to a wall that is plastered with framed pictures, photos, posters and paintings of spiritual leaders and gods and goddesses representing a range of religions. "Here Hindus, Muslims, Christians, Buddhists all live harmoniously," she says, with pride.
The most auspicious method of soil collection is to beg it from a prostitute and have her hand it to you as a gift or blessing."
Her point is not an irrelevant one: One of the theories explaining the soil collection is that all religions are represented in the sex worker community, making their involvement in the ritual a fitting tribute to the all-encompassing Durga.
The 'non-cooperation', as one priest calls it, was not confined to Sonagachi but spread, word-of-mouth, to other red-light areas across Calcutta. Admits Nepal Bhattacharjee, the local priest in Kalighat, which houses several of Calcutta's brothels, "It's getting tough to just walk in and walk out with their soil, and this year has been especially tough."
Neither priests nor potters are inclined to challenge the sex workers. "We could of course take the soil by force but that would defeat the purpose," said one priest. Shopkeepers, however, have smelt a commercial opportunity. Since the protests, establishments selling items of religious worship have begun to stock 'pros-quarter soil' as one store owner calls it, ranging from Rs 1 for a pinch to Rs 20 for a bagful.
Taking the complaints of the sex workers on board, and addressing them is, sadly, not an option.