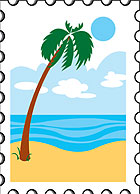 Water of Life
The day after the Capo de tutti capi was sworn in as prime minister, I found myself sleeping with the fishes. Well, I'm a married man, so swimming with them would be a more accurate description. Having written off the snorkelling option as something for landlubbing sissies, wet-suited 'n' flippered with my own can of oxygen, I travelled some 12 metres (39.3 feet) down into the realm of the Bay of Bengal. Far from the dirt bubble of Delhi, I was finally at sea.
With our bodies immersed as if we were happy atheists at the Kumbh, Remco Sneij, our Dutch scuba-diving instructor at Barefoot Scuba on Havelock Island, led us in. It is impossible to guess how much life the water we were standing in just a few moments ago is brimming with. Inside the giant, clear amniotic fluid, a new world bathed in an eerie light erupted all around me. Apart from the corals, schools of various fish went about their business as if it was an underwater South Extension crossing during peak hour.
One of my fellow divers saw a 'huge' fish swim past her. I was later told it was a Humphead Parrotfish, some four feet long and with its big front teeth partly covered by its lips. I checked its photos out on the internet. It's got teeth even bigger than Uruguay striker Luis Suarez's. And mine.
---
Kala Paani
I visit the Cellular Jail a day after the 131st birth anniversary of Vinayak 'Veer' Savarkar who was incarcerated here from 1911 to 1921 and after whom Port Blair's airport is named.
Despite a healthy number of visitors late afternoon, there's something haunted about the place. As I pass a long whitewashed corridor of a ground floor prison wing, I look into the cells, dank and 693 of them, all measuring 13.6 ft by 7.6 ft. The presence of ghosts becomes overpowering as I enter a shed with three yellow nooses hanging. But the place that really hums with quiet horror is a small, bare, single tube-lit room below the gallows. This is where the bodies of prisoners hanged to death would drop after the hatches under their feet were sprung open and later collected.
A short walk away from this shack of death, a flame marks the Swatantra Jyot. On a visit to Port Blair in August 2004, then petroleum min­ister Mani Shankar Aiyar had got a plaque with Sav­arkar's quote—Ki ghetale vrut na he amhi andhatene (we haven't embarked on this mission blindly)—rem­oved. Veteran BJP leader Ram Naik has now demanded it be restored. As I watch a crowd of tourists outside the wall of the jail line up for fresh coconuts at Rs 20 a pop, I think it's a fair demand.
---
Barefeet Up
Havelock is some 57 km northeast of Port Blair. It's a cluster of five villages framed with paradisical beaches. As one zips across the roads on a hired scooter, one sees in its radiant green landscape a mix of rural Tamil Nadu and Bengal. Nature looks southern, habitation eastern in this island overwhelmingly inhabited by Bengali settlers who came after Partition.
It's hard to imagine lying back on the sand with a log as a pillow on the isolated 'Beach No. 7' in the western coast of Havelock that the Andamans was not always a tourist heaven but a British penal settlement since 1858. History is somewhat obliterated by beauty and the message in the bottle I take chugs from in front of the roaring sea.
This inter-galactic spot is the beach property of Barefoot Resorts. Barefoot is run with hippie-martial efficiency by general manager Sanjit Biswas, a homeboy from Port Blair who, after a few Andaman Whiskey Sours down, is a mean machine on the karaoke. "I, on my part, have never been so shaken and stirred as I was while drinking the Smoky Martinis—gin and whiskey in lieu of vermouth—concocted by bartender Gaurav Dwi­vedi every morning. Did I just say morning?!"
Barefoot is the dream-made-timber of Susheel Dixit. With his delightful Swiss wife Ulli by his side, he tells me how his father moved from dusty Kanpur to take up a school teaching post in the Car Nicobar Islands in the '50s. "He told my mum, 'Let me take you to this paradise.' On reaching there, my mother was aghast. This middle of nowhere is your paradise?!" Ulli orders another round of drinks and tells me how the Jarawas, the indigenous people of the Andamans, can thank their lucky stars not to have encountered me. I think she was joking.
---
Ignoble Savages
I found three middle-aged tourists staying at Barefoot pissing on three different trees. The bathroom was 30 seconds away. "They're from Delhi," a staff member said. Then there were five Tamil tourists who came on the beach, spread their lunch, ate, and left their gravy-smeared plates flapping about on the sand. What the 2004 tsunami could not do, boors from the mainland are likely to succeed in doing.
---
There's only one way...
You can stop the waves in the Andamans: by facing it and playing Led Zeppelin's The Ocean on your headphones on full volume.