"I woke up at the crack of dawn to fry all these delicious kochuris for you hungry children," Dolly Pishi would declare cheerily whenever she dropped in on the Mitra household, placing large containers crammed with the savoury on the dining table. "Have them hot with the alu dum," she would suggest (as if she had to), unpacking bowls of small, boiled potatoes cooked in spices. For decades, Dolly Pishi's routine went unchanged. Though she's still sticking with tradition, her husband let out a dark secret recently—for a while now the kachoris come from a local eatery. "She's getting old and no longer has the energy to rustle up complicated meals," he told the Mitras with a conspiratorial smile. But thanks to the sudden eruption of new restaurants in Calcutta serving 'barir khabar' (homemade food), Dolly Pishis throughout the city wouldn't have to darken a loved one's door empty-handed.
Advertisement opens in new window
Starting in the last few years, eateries serving Bangali ranna (cooking) now generously speckle the city. Their ubiquity is noteworthy—from quiet residential blocks to busy business districts, all with catchy names straight out of everyday Bengali confab, aiming at embodying the homely cosiness of its cuisine and ambience. They stand out from the older restaurants, which go by exotic, even arcane, names such as Oasis, Mocambo or Peter Cat, insp­ired by the cuisine they serve—Mughlai, Chinese, Continental, Lebanese....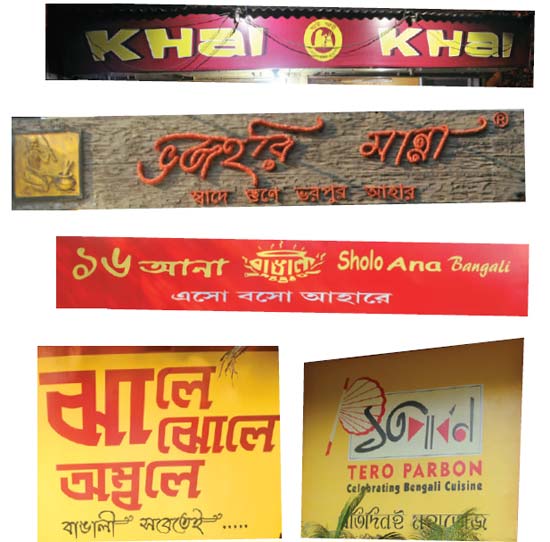 In comparison, sample the casually quotidian nature of some of the new foody monikers: Khai Khai (an informal word conveying that constant, moreish pang that so afflicts us, and the title of an iconic Sukumar Ray poem); Fish Fish (phonetically, the Bengali word for 'whispering'); then there is Sholo Ana Bangali (one hundred per cent Bengali—both a compliment, and an age-old, mock-serious defence when accused of being 'Anglicised'). There is also Jholey Jhaley Omboley (a Bengali idiom sig­nifying omnipresence); Tero Parbon (the phrase for the nth number of festivals in the Bengali calendar); and Bhuri Bhoj and Pet Pujo (both Bengali terms for a grand feast). The list goes on.
Advertisement opens in new window
Most interestingly, the rash of restaurants zeroing in on the marketability of Bengali cuisine in Calcutta has been attributed less to tourists and 'non-Bengalis' out to sample local food—the craving for authentic Bengali ranna seems to stem from Bengalis themselves.
From the unique needs of those like Aunt Dolly, who want hands-free acc­ess to traditional Bengali dishes (some of them fiendishly complicated and time-­consuming to prepare) for an occ­asion, to those large numbers of working, middle-class Bengalis, esp­ecially women, ­­who no longer have the time or inclination to cook, yet drool at the very thought of bhapa ilish, mochar ghonto, bhetki paturi and muri ghonto with fish head. Rajeev Neogi, director of the restaurant chain Bhojo­hori Manna—a trendsetter of sorts in serving traditional delicacies when it started in 2003—explains: "It is difficult to pinpoint exa­ctly why a trend catches on. It could be the catchy name (culled from a hit Manna De Bengali song from the '60s, where the eponymous 'Sree Sree Bho­jo­hori Manna' brags and sings of his adv­entures and ach­­ievements as a chef in various lands). It could be the fetching ambience, the quality of the food or the affordable pricing too. But the fact that today few people have the time, not to mention the expertise and help, that our mothers and grandmothers have always had to prepare elaborate meals plays into it."
Advertisement opens in new window

Shorshe ilish
"There are so many choices today that it's mind-boggling, but I'm not cribbing," laughs 39-year-old Dipali Mukherjee, who quit her job as a sales executive in a multinational when her son was born ten years ago. "It was a nightmare in those days. I was working. Returning home at night, I would have to cook and clean up. My husband and I both love Bengali food and so do my in-laws." So, it was a relief when the eateries started appearing. "We not only got into the habit of eating out, but whenever my in-laws or even friends visited we would order in. I have become a housewife but I have completely stopped cooking," she chuckles.
The new places have priced themselves for the middle segment of the market, below the existing upper end restaurants, but much above the 'pice hotel' or street kiosks—for long the only places one could get basic Bengali fare. The 'pice hotel' has been very popular for decades in Calcutta, with some 2,000 cheap, hole-in-the-wall joints all over the city, usually catering to the lower segment. But in these new eateries that offer home-cooked food, you can have a hearty meal for, say, a reasonable five hundred rupees.
So, for those like Dipali, today it's less about what to cook than where to drop in for the next meal. Will it be 'kola pata' (banana leaf) for lunch? And for dinner, can she gorge at Podda Parer Ranna Ghar (the kitchen on the banks of river Padma)?