I was barely 21 when I broke the Bhagalpur blindings story, which is considered a milestone in investigative journalism in the country. It won me a United Nations media award, and the barbarity in Bihar—poli­cemen pinning down law-breakers and pouring acid into their eyes, blinding them permanently, to curb a soaring crime rate—became a national and international talking point, cementing Sunday's position as India's No. 1 newsmagazine.
Iron Lady Indira Gandhi, who was the prime minister then, broke down in Parliament after confessing that she felt sick at the brutality. Arun Shourie, who was then still a closet Jan Sanghi masquerading as an editor, followed up my own exp­ose with a series of articles in the Indian Express. The scoop also inspired the Bollywood movie Gangajal, which retold the tragedy many years later, in 2003.
Today, students as young as I was when I broke that story in 1980 dissect its significance at journalism schools across India. Sometimes I visit mass communication colleges where youngsters pick my brains. These aspiring journalists bring back memories of my Sunday days because everyone in Sunday was young, including its iconic editor, M.J. Akbar. And I was the baby of the team; I had not even started growing facial hair properly—I would shave twice a day just to grow a beard quickly and look older.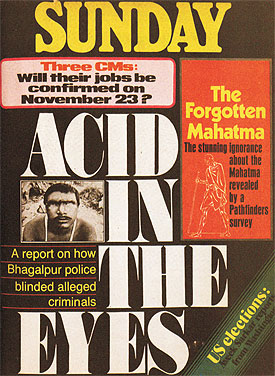 Once my moustache came of age, I went to the Sunday office with it nicely groomed. My senior colleagues, David McMahon and Nirmal Mitra, looked at me and gasped: "Abdi, no one is allowed to sport a moustache except the boss. Can't you see we are all clean-shaven? You must take Akbar's permission for that moustache of yours." The gullible greenhorn that I was, I went and knocked on Akbar's door. He was typing away furiously as always when I sought his sanction. He sized me up, arched an eyebrow and shot back: "They are ragging you—of course you can!"
It was a very small team that brought out Sunday. There were barely 10 of us. When I joined in 1979 (while still studying at St Xavier's College, Calcutta), besides Akbar, David and Nirmal, Tirthankar Ghosh, Saumitra Banerjee, Malavika Bhattacharya and Shubhadra Urmila Majumdar were already there. Subir Roy and Tushar Pandit came in soon after. There was no reporter/sub-editor division; we were all-rounders. Each one of us went out on reporting assi­gnments, wrote our own stories, edited others' stories, read proofs and supervised designers who made the magazine's pages in the art-room in those primitive, pre-computer days.
Sunday lifted the morale of the print media that was shattered during the Emergency. It pushed back the frontiers of journalism with a vengeance during the short-lived Janata Party government and subsequent Congress rule. Our pathbreaking stories from all corners of India were a reassertion of the public's right to know and the journalist's duty to shine a torch on areas of darkness. We didn't spare anyone or any institution. We were the typewriter guerrillas combating injustice and corruption on behalf of the common man.
The Bhagalpur blindings story did won­ders for Sunday's reputation. But I could not have done the expose without the une­xpected help of the Superintendent of Bhagalpur Central Jail, Bacchu Lal Das. A god-fearing officer, he deserves to be decorated as India's first whistleblower who stuck his neck out in the Bihar badlands long before Rohini Salian's display of raw courage in the relative safety of Mumbai.
I remember the blind undertrials, each supported by another, sitting on the floor, with deep wounds where their eyes should have been.
The 20 petty criminals systematically blinded by the men in uniform were still lodged in jail when I came to know about the savage extra-constitutional deter­rent Bhagalpur's policemen were resor­ting to. When I first met Das, I was sceptical about his cooperation. But in our very first meeting, he openly declared his intention to do anything to expose the guilty policemen who were the real criminals as far as he was concerned. He summoned the blind men from their wards and allowed me to interview them for hours, fortifying us with endless cups of tea and snacks.
I distinctly remember the blind undertrials entering Das's office, each supported by another prisoner, and sitting down on the floor. It was a pathetic spectacle. Their eye sockets were sealed. They did not know why I was asking them so many questions and whether it would do them any good at all. Each one was poor and ignorant. Perhaps they were also bandits and killers as the police claimed. But sitting there in a zigzag row, with deep incurable wounds where their eyes should have been, they presented the most depressing sight I had come across. Twenty blind men, each blinded by the police, intentionally, knowingly.

Blind Men Of Bhagalpur A primitive justice, executed by men in uniform. The historic shoot. (Photograph by Krishna Murari Kishan)
Das, in fact, gave me a blank cheque. After recording the victims' detailed acco­unts in my notebook, I sought his permission to send for a photographer from Patna. He readily agreed. Two days later, he assembled the blind men once again in his office for a full-fledged photoshoot by the one and only Krishna Murari Kishan who is no more. But we desisted from publishing the pictures lest Das, who had bent so many rules for us, got into trouble with his superiors.
All of us, particularly Akbar, were ecstatic at the impact of the expose. Akbar threw a party in his sprawling Calcutta flat in my honour to celebrate the scoop the whole country was talking about. But he called me a Bihari in a piece Sunday carried with my picture on the UN award which upset my family as we belong to Uttar Pradesh, which is considered a notch higher in the popular imagination!
My first cover story in Sunday bailed out Father Rosario Stroscio, an Italian missionary belonging to the Don Bosco order, who was served a deportation order by the Indian government in 1979 for allegedly converting tribals to Christianity in Nadia district of West Bengal. It turned out that the priest was framed by the administration at the behest of a rich landowner of Krishnanagar—who also happened to be the district stringer of Anand Bazaar Patrika, flagship of Sunday's publisher, Anand Bazaar! Father Strocio's crime was that he urged tribals, who were being oppressed and suppressed by the rich landlord, to unite and demand their rights.
In the light of Sunday's findings, the government withdrew the 'Quit India' notice served on Father Stroscio. He came to the office with a box of sweets to thank me and Akbar. Because he managed to avert the expulsion, Father Stroscio enjoyed the distinction of performing an exorcism on Mother Teresa in 1997 because of fears that she was being attacked by the devil. I interviewed him for a story in the South China Morning Post, Hong Kong's leading English daily, on the Nobel Prize-winning nun's duel with the devil.
Soon after the blindings expose, I travelled to my home town Varanasi, where I came across another instance of policemen employing extra-constitutional deterrents to keep criminals in check: by simply breaking their legs. We interviewed and photographed a dozen victims on crutches. My cover story, Broken Legs, created a storm in Uttar Pradesh and was even reprinted along with the Bhagalpur blindings piece, in Sunday's 10th anniversary issue which was a compilation of the magazine's 10 best stories.
I closely observed Akbar, who loved wearing a red shirt with a pair of black trousers to office in those days. I'm yet to see another editor work as hard. He came to office even on Sundays. Interestingly, he didn't have much faith in subbing (sub-editing); he rewrote stories from top to bottom. Sometimes he rewrote half-a-dozen 1,000-1,500 word magazine stories in a single day, pounding away at his Olivetti typewriter. Like inc­ome tax, Akbar was a great leveller; he rewrote everyone's copy—from assistant editors to mine—in his inimitable style. In the bargain, some of us managed to learn the craft of writing—a professional skill I have used for over three decades to earn a decent living.

Mentor, Editor, Guide M.J. keeps a sharp eye on the writings and goings-on at the offices of Sunday in Calcutta. (Photograph by Anandabazar Patrika)
In some societies, men teach boys how to fish so that they never starve. Akbar taught us the equivalent of fishing in a specialised urban setting so that we could live comfortably with our heads held high. As an exceptionally gifted teacher, he is entitled to guru dakshina from men and women who owe him a debt of gratitude.
The story was very well-received. But Akbar called me a Bihari in a piece on my UN award which upset my family, as we are from UP.
Significantly, we led pretty spartan lives. My salary was Rs 750-800; we were perpetually broke in those days. The Statesman paid even less—it had offered me Rs 250-300, which made the Sunday salary look princely. Akbar was paid a lot more of course—and rightly so. A bit of sleuthing revealed that the company spent four times my salary on the rent for Akbar's flat. The rent, in fact, was substantially more than the salary drawn by Gour Kishore Ghosh, the Magsaysay Award-winning Bengali language journalist then working for Anandabazar Patrika. What it showed was how much Ananda Publishers valued Akbar.
None of us in Sunday had a car except Akbar. He had a chauffeur-driven company car, he didn't know how to drive. One day when his driver didn't turn up, he called one of us who knew how to drive and asked to be picked up and taken to office. Feeling proud of the honour bestowed on him, the lad dressed up smartly, applied his best cologne and arrived at Akbar's house. He climbed in behind the wheel of Akbar's car while the man himself got into the rear seat.
On reaching office, the 'driver', flush with excitement, told us what happened en route. As Akbar's car waited at a traffic light, a father and son drove up next to them. The father, app­arently a driver himself who wanted his son to follow in his footsteps, looked at Akbar's 'chauffeur', turned to his son and said: "I told you to become a driver. See how smart and handsome young men from good families are taking up driving as a career."
The 'driver' episode, funny as it may sound, sums up how the Sunday team hero-worshipped Akbar. We all longed for a little bit of the stardust that he exuded to cover us as well. History is bound to record Sunday's contribution to nation-building. And Akbar, I'm sure, will be remembered for his school of journalism rather than his tryst with party politics.
---
S.N.M. Abdi has worked in three mags—Sunday, Illustrated Weekly, Outlook—and two papers—Khaleej Times and South China Morning Post. He's writing a book on the '62 war.