A stroke of bright yellow sauce next to a perfectly cooked piece of salmon crisped to a sizzling golden brown shine on the outside, topped with delicate leaves of radish greens, served on a sparkling white plate...what was earlier a Masterchef dream, is no longer a rarity. And the vegetable confetti that adorns the masterpiece—microgreens—has taken the culinary industry by storm. Ranging from one to three inches, microgreens are an early stage in the plant's growth, when its first leaves appear. These tiny plants are cut close to the root and then used as it is, essentially for the aesthetic, decorative appeal that they offer, their value as pockets of nutrients and flavour yet to reach full utilisation. "We use microgreens in almost all the dishes served at our restaurant. The deep purple, maroon and green leaves make any dish pop out and look great," says Manish Mehrotra, owner and head chef of Indian Accent, a modern Indian restaurant.

All vegetables are microgreens in their growth process, though there are only a few that are used in this nascent stage in cooking or plating. Some which are great as microgreens are mustard cress, spinach, carrots, alfalfa, radish greens, basil, coriander, fennel, arugula, lettuce, cabbage, beet greens and kale. "There are about 15 microgreens that are grown and used across the country," says Achintya Anand, a research and development chef at Olive, Delhi, and owner of Krishi Cress—a producer of microgreens.
Growing greens is a lucrative business opportunity with a market which is on a rise, combined with a dearth of people supplying it on a regular basis. The lack of availability has led many chefs to grow them in-house. Varun Arora, kitchen executive at Leela, Bangalore, says they grow microgreens themselves as it ensures a ready supply of quality products. Hotels like Taj Vivanta, Bekal and Hyatt Gurgaon also have their own microgreen gardens.
Microgreens have a growth cycle of 5-10 days depending on the type, do not necessarily require soil and can easily be grown in coconut husk, although constant attention is a must. Controlled light, air and water supply is important and anything given in the slightest variation can harm the plants' growth. "Each microgreen has a different requirement and therefore farming them is a tedious, time- and labour-consuming process," says Nithin Sagi, a microgreens farmer on the outskirts of Bangalore, and owner of Growing Greens. There is a need to monitor each plant, make records of the date and time of sowing and understand when best to take it out in the sun and for how long, and when to water it and how much of it to give, says Anand.
An international trend, microgreens are a new phenomenon in India and are being used mostly in fine dining restaurants that dish up international or fusion cuisines. "Microgreens are delicate and exclusive items that need to be used with the right pairings for best results. Indian cuisine is about spices and cooking, cooking and more cooking, which would tend to kill the flavour profile of a microgreen," says Mehrotra. "Plus they are too expensive to be used in the large quantities which Indian cooking requires."
Of course, classy exclusivity costs a pretty penny. These diminutive versions of vegetables can be five to 15 per cent higher in value than the full-grown article easily available at a vendor's. For instance, coriander leaves which are available in the market at an approximate price of Rs 30 for 250 grams are sold for Rs 200 for 40 grams as a microgreen. Other microgreens range from Rs 150-250 for 40-50 gram packets.
So how then does one use this almost exquisite piece of vegetable for optimum value utility? "There's a lot you can do with it. The key is to exploit its freshness of flavour and texture. Chefs use it largely as a topping to add aesthetic appeal to the dish along with creating flavour pairings, such as shrimp with mustard greens, fish with radish greens...but you can also use them in salads, as toppings, or make them into dips, dressing and sauces," says Adam Szczechura, head chef at Hyatt Gurgaon.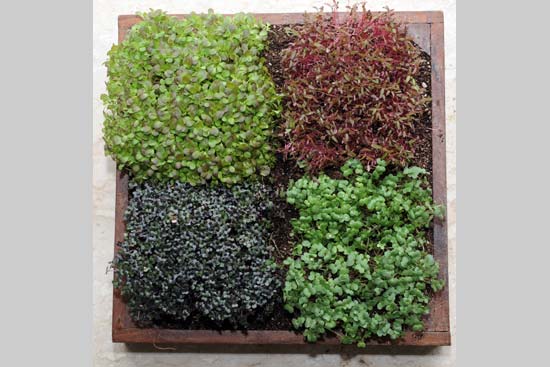 Assorted microgreens from Krishi Cress. (Photographs by Jitender Gupta)
Chefs like Mehrotra also use microgreens in desserts. "The sweet lemony flavour of atsina cress tastes great in desserts," says Mehrotra. Not only professional chefs but aspiring home chefs gorging on TV food shows are also lining up as consumers of microgreens. Sagi says, "We largely cater to professional kitchens but home kitchenettes are also gaining interest in microgreens and make one per cent of our distribution."
But not all are fans. Food critic Marryam H. Reshi doesn't seem to care too much for these vegetable Thumbelinas. "The nutrient value in them counts for nothing with the little that is put on a plate and the claimed flavour pairings I am yet to experience. As for the aesthetic value, do I care as long as the food is great if I have a plate dotted with greens? No," she declares. For Reshi, decoration is just part of the culinary game and microgreens is just another thing after julienned peppers, broccoli florets and thinly sliced radish, carrots and such.
The demand for microgreens, however, say many chefs and cooks, is creeping up. Anand delivers approximately 30 boxes each day in Delhi alone and Sagi, along with his partner, supplies to over 75 restaurants across the country. "The demand has picked up and is likely to increase further," says Anand. What is next in the ever-changing culinary world? Microgreens growers are now also diversifying into growing edible flowers like pansies, dianthus, nasturtium and more. As Mehrotra puts it: "They will just add the drama needed."