Is This Rhetoric Against Modi From Back Then Holding Film Up?
Transgender candidate Kamla Kinnar saying of Modi: "A man who can't look after his wife, how can he look after the nation?"
Kamla Kinnar: "56 inch se badi chhaati to hamari hai."
Ordinary people talking of Modi as
a) "Madari (juggler)"
b) "Adani/Ambani ka mukhauta (the mask/front for Adani/Ambani)"
Muslims saying "We are not his enemy, then why is he attacking us?"

A reference to the supposedly Arabic origin of the word Modi and how Modis used to be ration suppliers and contractors to the military
****
For a film that has fallen victim to the merciless scissors of the censor, purportedly for showing Prime Minister Narendra Modi in bad light, Kamal Swaroop's documentary Dance of Democracy—Battle for Banaras has a rather scholarly inspiration: Nobel laureate Elias Canetti's book Crowds and Power. It is, as Swaroop puts it, "an anthro­pological look at the nature and behaviour of crowds" and dwells on concepts like open and closed crowds, invisible crowds, crowd freedom and crowd fear. What better occasion to understand crowd dynamics than an election, thought Swaroop. So he trained his cameras on Benares, where Modi contested, during the 2014 Lok Sabha elections. "I wanted to understand better what I had read. It was an opportunity to apply theory to actual crowds. To look at voters, candidates and the media through Canetti's lens," he says.
His intentions, however, were dera­iled last week when the film was denied a censor certificate outright by a four-member board. It felt suggesting cuts would not be enough. Censor board chairman Pahlaj Nihalani, who hadn't seen the film himself, said the members found it "inflammatory". Swaroop says, "No one wants any trouble." Seems like a throwback to how Aandhi and Kissa Kursi Ka were stalled during the Emergency.
Before this, maverick FTII grad Swaroop was best known for Om Dar Ba Dar, a 2008 cult classic and bible of every Indian indie filmmaker. It reached the cinema halls in 2014. He recently shot another film—an abstract documentary called Banaras: Rangbhoomi—on the time Dadasaheb Phalke spent in Benares and his involvement in theatre during this break from cinema.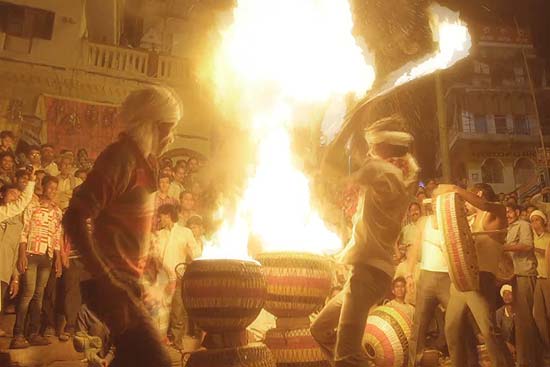 Swaroop's interest in crowds runs to the time he was crowd manager for Richard Attenborough's shoot in India for Gandhi. "I have great interest in mass movements, and have also done work on the Pushkar fair," he says. Elections, for him, are a festival of madness and campaigns are like battles in which the end is defeating the opponent through democracy, not killing him.
Swaroop used a two-camera set-up to capture the Benares campaign over 40 days—from April 10 to May 20 last year. There are no straight interviews, no commentary. The cameras just move past party offices, leaders and capture how they organise rallies and how workers fan out to bring in the votes. Swaroop's camera frames mediapersons too, as they talk to their TV cameras. Swaroop says he wasn't taking sides, just documenting an important election. The last 20 minutes are about the jubilation at Modi's victory. And he asks the vital question: "Why would I include that if my intent was to malign Modi?"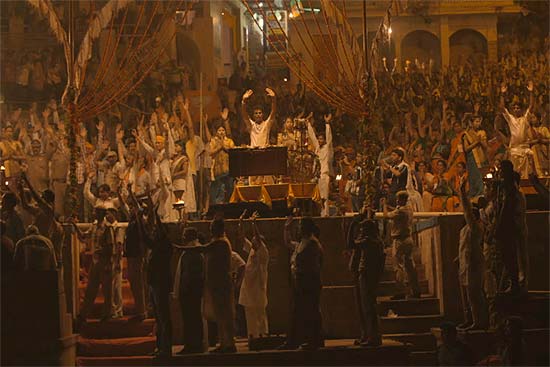 But what does come across quite clearly in the film, without being overtly stated, is the manipulation of the masses: this, Swaroop thinks, may have thrown the board off gear. There's another matter. The rhetoric that was taken in stride during the elections seems now superficial—and troubling too. "You find parties and candidates accusing each other like kids," says Swaroop. The most worrisome comments, of course, would be those made against Modi. For instance, there's a transgender candidate, Kamla Kinnar, asking how a man who hasn't looked after his wife can claim ability to look after a nation well. Kamla also declares that it's she who has a "56-inch se badi chhaati". There are ordinary people frivolously calling him "madari", "Adani-Ambani ka mukhauta" and so on. Modi himself is not shown talking much, only indulging in name-calling once when he talks about "maa-beta at the Centre" and "baap-beta in UP". Or how the earlier government prevented him from communicating with the people in Benares but he had forged a connect with them in the silence.
The film also makes a reference to the supposedly Arabic origin of the word Modi and how Modis used to be ration suppliers and contractors to the military. What could have led to trouble for the film is the way it lays bare the polarisation during electione—a split more religion-based than caste-based. There are Muslims saying, "We are not his (Modi's) enemies. Why is he attacking us?"

Ground zero Director Kamal Swaroop (in blue kurta) during the shooting of his film on the Benares Lok Sabha campaign
But wasn't all this getting communicated during the 360 degree television coverage anyway? Swaroop thinks television makes for fragmented viewing. "When 40 days of shooting and experience gets concretised in two hours, you see things crystal clear," he says, calling it a special kind of temporal experience. The big-screen impact gets augmented by the fact that Dance of Democracy has been an expensive documentary, pegged at over Rs 30 lakh, largely because of the state-of-art equipment used. Special lenses were used to shoot from a distance and the sound equipment had to be just as sophisticated. The background score is the high point. "I have used Wagner's music," says Swaroop. "It has that massy, spectacle feel. I have also used the sound of weaving, integrated it with that of the crowd to create a sound like an army is marching."
The film has till now been screened once at FTII, Pune and at the Montreal film festival. It has also applied for the Mumbai International Film Festival. The filmmakers were willing to take as many cuts as suggested by the board but, having been denied that chance, they have now decided to move the Film Certification Appellate Tribunal (FCAT). Till then it'll be wait, and not watch.