This poll season, the situation at Subhash Rai's six-member household in Varanasi, the arena of a battle royale most extraordinary, got a little more complicated than usual. Rai, 35, a real estate agent, is a recent convert to the Aam Aadmi Party. His elder brother Sanjay, 44, a small-time businessman, is steadfastly holding on to his BJP loyalty. Their wives, Roshan and Anjana, are voting Congress and BSP due to old fam­ily ties, like the two senior Rais are going to go with the Trinamool Congress and local party Qaumi Ekta Dal. If this is the most polarised election India has seen in recent times, the split seems to have reached right into homes.
Advertisement opens in new window
"My brother and I were both BJP loyalists, but the dynamics have changed so dramatically this year. I have become a big fan of Arvind Kejriwal and the stand he has taken against corruption. And after he decided to contest from Varanasi, I switched camp," says Subhash, who has been following Kejriwal around on his campaign trail for a while now. Dinner table conversations at the Rai home in Sunderpur have thus been slightly strained, with the younger brother trying his luck at convincing his brother to switch camp too. "It didn't work. My brother is too taken up by Modi, as I am by Kejriwal. The situation might become more tense at home if Modi wins," says Subhash, only half-joking.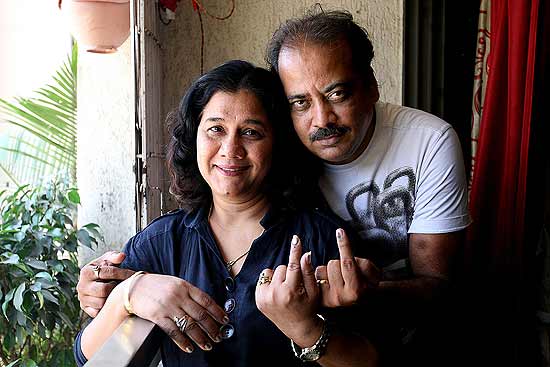 Photograph by Amit Haralkar
Advertisement opens in new window
The one thing these Mumbai PR professionals agree on is AAP's on a weak wicket. Arati's family is pro-Congress, Suhas's BJP.

Family ties have always been a bit of a strange business—tested time and again by many winds of change—and now you may as well add cutting political attitudes to that. Families once bound by similar ideologies and political agendas are sud­denly grappling with raised voi­ces and split votes. If familial splits while choosing candidates during election season have always been the norm in some families, the divide seems a lot more vocal now. "Heated arguments about voting for and against Modi have become routine in the last few months. My mot­her-in-law and brother-in-law are willing to forgive and forget the Gujarat riots, and prefer to go with the Supreme Court order that gave Modi a clean chit. My husband and I, on the other hand, still think he has blood on his hands and the development model he talks about has too many loopholes," says social entrepreneur Ekta Jaju, who'll vote on May 12 in South Calcutta. She is yet to make up her mind on whether she will press the NOTA button or go with CPI(M), but whatever she decides, the votes at home will be split two or three ways.
"This time the media coverage and the popularity of political discussions on the social media has been so larger-than-life that everyone has an opinion. The tone is more aggressive and extreme," feels merchant navy man Vipul Srivastava, another Varanasi resident who's turned a Modi supporter but whose parents, retired lecturers, won't budge from their half-a-century-old Congress loyalty. Family members are also more connected than before to the surplus of information out there through myriad channels: high-pitched exposure on television and traditional print media, rabid virtual networks, glorified political campaigns, which may dictate personal choices, dwarfing the 'family' view.
Advertisement opens in new window
If there's one political view that Mumbai public relations professionals Arati and Suhas Salgaonkar agree on, it's that AAP is on a weak wicket, and "nobody becomes a politician overnight". Says Arati, "My husband and I have grown up with different political ideologies; my family has always been pro-Congress, his relatives are long-time BJP supporters. Initially, we would have a lot of debates at home during election season and were reluctant to see the others' point of view. Over the years, though, we have softened, the tone isn't as negative as it used to be." Even so, this time round the split vote issue seems to have become magnified with polarised candidates and the whole Modi vs Rahul posturing, says Suhas. There are, of course, other subtle factors at play. In parts of rural north, the sense is that the first-time voter wants to break away from caste politics. In sections of urban Gujarat, youngsters admit to being enthusiastic about the newness of AAP, unlike their parents and grandparents, but are hesitant to come on record about it. Not all voters though are being coy about their preferences, even if it means breaking the cordial code among relatives. "It helps that my brothers, both SP supporters, don't live in the same house with us, so confrontations are few," says Shabiyanjum Tyagi, 25, a school teacher in Meerut, who recently joined the local Congress women's wing. "Voting has always been such a personal choice for me, I can't be influenced by what someone in my family says. We're all different individuals, after all, with different careers, different life choices, each with a strong opinion. It's hard to have a consensus on one party anymore," she says.
Maybe a consensus isn't as vital for a happy coexistence, says Vibha Batra, author and copywriter in Chennai. She's impressed with Modi's Gujarat model, as is her husband Sumeet. Her father-in-law Sarat punched NOTA in a moment of disillusionment while her mother-law Anita found an alternative in AAP. "A split vote in one home is okay so long as you're careful about what you say," says Anita. "I for one avoid getting entangled in long political debates with family." Or, as perhaps any wise person should, take the shouting matches with a pinch of salt.