At first glance, 87-year-old Navjivan Khosla, a former bureaucrat, appears to lead a fairly regular retired life in laidback Panchkula. You can catch him reading papers, tending the plants in his sprawling garden, organising classical music concerts and blood donation camps, and chatting leisurely with friends in his parlour. But hand him the keys to his Mercedes minibus-turned-caravan and you come face to face with an energetic youngster, living on the edge and loving it.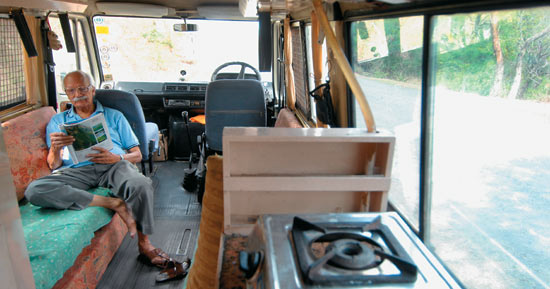 Navjivan Khosla - 87
Panchkula, Haryana
He converted his Merc minibus into a fully-fitted caravan and sets off whenever wanderlust strikes. "When I was young, I had no time. Now I have all the time."
Defying the constraints of age—fading eyesight and hearing, creaking bones—Khosla takes off in his personally assembled "rath" (complete with folding bed, water tank, cooking gas, fridge and toilet) whenever it strikes his fancy. His driving trips have taken him from the Nepal border to Rajasthan, MP, Gujarat, Goa, Karnataka and Maharashtra.
We meet him on his return from a strenuous, week-long trip to Himachal's Kinnaur and Sangla valley, where he drove for miles on dangerous, zero-error, single-lane mountain roads. Khosla calls his spirit of adventure an "inherited dream"—almost a hundred years ago, his father had hired a tonga to tour the entire Kashmir valley. "There is so much to see, learn, understand and appreciate," says the man who refuses to let his advancing age come in the way. Ask him why he couldn't have done this in his youth when the body would have been more willing, and he loses not a moment to comment: "There was no time then and there is all the time in the world now." The only concession he makes to his age are not driving at night, travelling with a basic medical kit, and taking a driver and any "like-minded, madcap companion" along.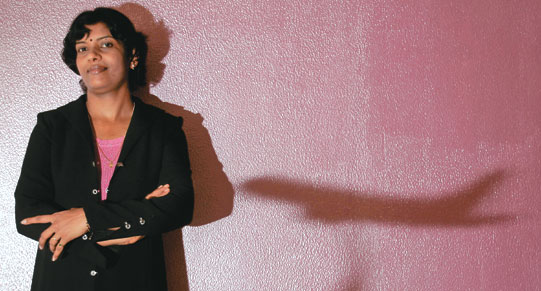 Judith Bharati - 41
Bombay
Having got married and had a child young, she waited till she was 38 to fulfil her ambition of becoming a pilot. She is now a first officer with a private airline.
He wears the attitude on his sleeve, but the legend also screams out from the unobtrusive hat-stand in his house: "Those who love are always young." Thanks to his genes, fitness comes naturally to Khosla—his father died at 96 and mother at 103. At an age when people start counting days to the imminent finale, Khosla remains a diehard optimist. "I live for the future, look forward to the new day," he says. Next on his horizon: a trip to the Northeast.
At 27, Anthony Thottungal is separated from Khosla by six long decades, but shares the audacious streak with him. If Khosla decided to take up what he couldn't in his youth in his old age, Anthony isn't waiting to reach retirement age before reaching for his heart's desire. After working for two years in a plum job as production manager with Yahoo India Movies in Bangalore, he called it quits early this year. At a time when his colleagues are chasing success, building a big corpus and paying off EMIs for a housing loan or a fancy car, Anthony has decided to opt out of the rat race and tour the entire country, to do a photo-documentation on the working life of Indians. What's more, he is putting in his own savings to pursue his dream. "The monthly pay cheque does bring a sense of security, but I wanted to do something close to my heart and decided not to push it away for later," he says.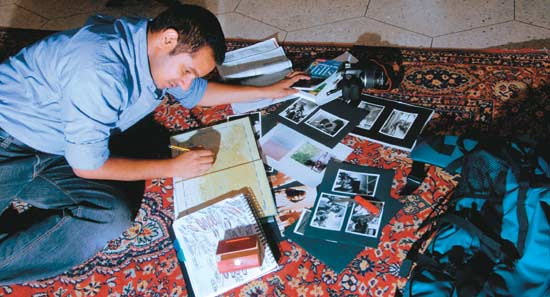 Anthony Thottungal - 27
Bangalore
He quit his secure, well-paying job and used up his savings to go after his long-cherished desire to photo-document the working lives of people in the country.
Khosla and Anthony have been pushing the boundaries of age, doing things that people their age are "normally" not supposed to do. For long, our society has defined what should or should not be done at different stages in life: get married in your 20s, have kids in your 30s, retire in the 60s and so on.... But all that is changing now. The media has for some time been declaring that "40 is the new 30, 50 is the new 40". We often hear of people not "looking", "behaving" or "living" their age. Notions about what's appropriate for a particular age are now becoming far less rigid and far more negotiable and flexible.
Sociologist Shiv Visvanathan draws a parallel here with what happens when an agrarian society turns industrial. "The old cycles and rhythms of the seasons are not the governing forces any more," he says. "The machine has become the metaphor for the body, and notions of time get rearranged accordingly. That's why age is now becoming a far more amorphous entity."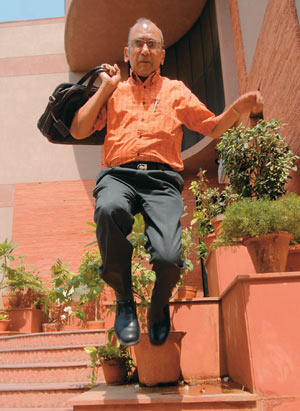 B.M. Vaish - 70
Gurgaon, Haryana
Too busy setting up a factory for a joint venture with a German firm, this entrepreneur is not hanging up his boots yet. The golf and grandchildren can wait
So while Anthony may have given up a steady income and a secure job in his 20s, B.M. Vaish refuses to hang up his boots at 70. He would rather set up new factories than play with his grandchildren. Having launched his own business in 1967, just five years after passing out of Roorkee Engineering College, with little capital and two kids and a wife to look after, his life has been driven by seeking new challenges. "I love setting up new projects, never worry about risks or failures," he says. These days, he is shuttling between Gurgaon, Haridwar and Dehradun, setting up a manufacturing plant for a joint venture with German firm Gruner, spending gruelling hours getting clearances. "I thrive on the adrenaline rush, I would die if I were to spend my days playing golf," he says. Besides his several businesses, Vaish also runs an education and vocational training NGO called The Restoring Force and is soon launching a community radio station.
Like Vaish, 78-year-old Bangalore-based Yamini Mazumdar also loves challenges. When her husband passed away in 1993, the housewife decided she wasn't going to just sit and mourn for the rest of her life. She took to organic farming, and later became a partner in a drycleaning and laundry business, Jeeves. When her partner quit after three years of losses, Yamini took over completely and single-handedly turned around the business. Today Jeeves makes profits. "I like to keep myself busy and not while away time in gossip or bhajans and satsangs. I'll die with my boots on," she says.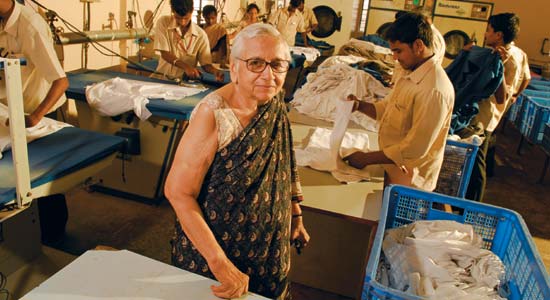 Yamini Mazumdar - 78
Bangalore
After her husband died, she first took to organic farming and then got into a drycleaning and laundry business. Jeeves is a very profitable venture today.
Often, a clear sense of purpose and a desire to explore one's full potential can come to people late in life. At 86, Calcutta-based Bokul Chatterjee, taking her BA first-year exams, is a good 70 years older than her classmates in South City College. She has hearing problems, her hands shake while taking down notes, and she is called Thakuma (grandma) in class. But that hasn't stopped her from chasing a long-cherished dream that she was denied while she was growing up in a conservative family. In fact, she began formal education only after 35. "Age is of no consequence if you have the spirit," she says. Dr Sucharu Haldar, also of Calcutta, nods his head to that sentiment. The 69-year-old skin specialist plunged into politics for the first time this year, and won his Lok Sabha seat on a Trinamool ticket. "There is no right or wrong age to do anything; these limits are man-made," he says.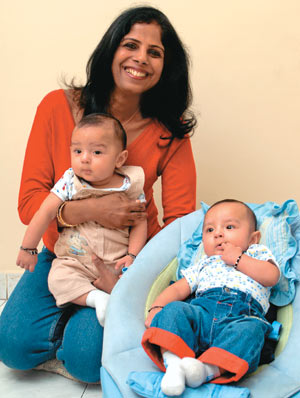 Savitri Thapar - 49
Delhi
She married at 44 when she felt she was ready to handle family responsibilities and became a mother for the first time at age 48 when she gave birth to twins last year.
Age is playing out in interesting, unconventional ways in family and personal relationships as well. Savitri Thapar, who married at 44, became a mother for the first time at 48, when she gave birth to twins last year. "Age doesn't matter if you're healthy and financially sound. And I don't feel older than 30," she smiles. Her idea was that you have one life to live, so live it to the fullest before you settle down and commit. "We have had all the fun, so can now devote ourselves entirely to the kids," says Savita. The fact that her kids would be just 12 when she turns 60 makes her all the more determined to take care of her health and fitness.
Savitri exemplifies the growing trend of women postponing marriage and kids to fulfil career and other aspirations. "There is so much more to life than marriage, babies and the kitchen. It's easy to find couples having their first kid in their late 30s nowadays," says mediaperson Semanti Mehra. Semanti, 50, is a good eight years older than her husband, but says this makes little difference to their relationship. "Perhaps because I look much younger than my age," she says cheekily. But it's more to do with breaking the stereotypes of a relationship, forming new equations wherein marriage becomes more a friendship of equals than an age-defined power play.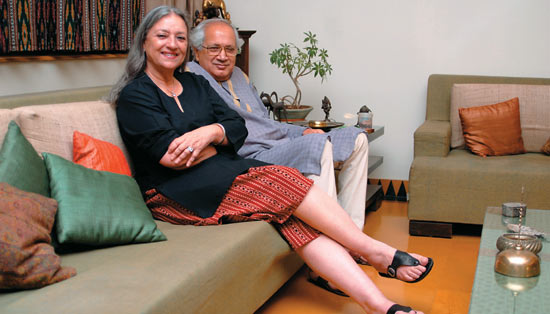 Nalini Tyabji - 60
Delhi
She divorced at 55 because she thought she was "younger" in her thinking. Her present husband, Hindal, is nine years senior but the same mental age.
So Nalini Tyabji decided to divorce at 55 after more than 25 years of marriage. "I reached the decision on the day my son got married," she says. She and her ex-husband were the same age but, as she explains, "I was much younger in my thinking while he seemed to belong to an older generation." Her second marriage, to Hindal Tyabji who is nine years her senior, comes with no such baggage. "It is mental age that matters in relationships, not how old or young your bodies are," she says.
Sociologist Mala Kapur Shankardass sees the crumbling of age stereotypes as a consequence of the rise of individualism, with individual choices becoming as significant as social expectations, especially for the urban middle class. People are trying out new things with confidence and courage, no longer held back by societal inhibitions or expectations. "It's all about the 'Do It spirit', believing in yourself and sticking to your convictions," says Shankardass. And society too is changing, becoming less judgemental and more accepting than before to accommodate individual aspirations. "The control of normative pressure groups like the neighbours, community and the family is shrinking," observes Shankardass.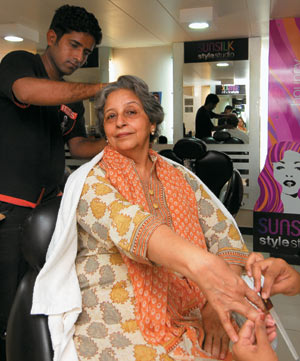 Veena Barua - 66
Bombay
Having led a regular life as a schoolteacher, she wanted to do something different and exciting. A casual audition later, Veena Barua took to modelling and has done several campaigns now.
"The old structures of expectations and responsibilities are also crumbling," says Visvanathan. "Children are getting independent much earlier, which becomes an opportunity for senior citizens to indulge themselves." With her kids married and settled, Veena Barua, a retired schoolteacher, found time on her hands. "I could have started giving tuitions, but wanted to do something different, and I didn't want a 9-5 routine," she says. A casual audition got her into modelling. The 66-year-old grandmother has been facing the camera now for the last four years, and appeared in products like Airtel and Sunfeast. "It is fun, and just 2-3 shoots get me the kind of money that I was getting as a whole month's salary earlier. And I live on my own terms, I'm not answerable to anyone now," she says.

Health, fitness and longer lifespans have also helped upturn old stereotypes about age. "It seems silly to retire at 60 if you're likely to live till 90," says Visvanathan. And with greater awareness of health and fitness, people are looking younger than their age. "There is a desire to look good and shape up for it," says Shankardass. This also helps bridge the generation gap—kids and parents are sharing the same social space, having coffee in the same Barista, frequenting the same parties and pubs, wearing similar clothes. The internet has been another key tool of influence. On social networking sites a la Facebook, a 70-year-old might be communicating the same way as someone who's 17. "They're engaged in the same issues, share the same lingo and jokes," remarks Semanti. "So where does age come into it?" A question Khosla and Anthony, Thapar and Tyabji and all the other age-defying lovers of life don't even ask.
---
By Namrata Joshi with Dola Mitra in Calcutta