By some tacit convention, the word 'sex' is associated with the idea of being young. Sex for the older folks is a category that traditionally goes unnamed—if at all, only in terms of an age where you begin to experience a plateau or a tapering-off of desire. Myths, however, need have little to do with facts, as our opinion poll among middle-aged urban Indians shows. It not only reveals a sexually active generation, but a contented one: 93.9 per cent reported being 'satisfied' or even 'very satisfied' with their sex lives. Indeed, sex seems to get better with age: over 90 per cent of those polled said sex is just as good, even better. Rather than any sign of the ardour cooling (over a third said they have sex between 11 and 20 times a month), the sexual canvas is widening—over 70 per cent feel more open to experimentation than they were five years ago. Inhibiting factors—children, work, health—persist, but a new wired world has opened doors.



92% in Ahmedabad said they are satisfied with their current sex life, only 1% said they are "very satisfied". No one said he or she is dissatisfied.
73% in Jaipur said they were "very satisfied", the highest number. Patna had the highest number of "very dissatisfied" at 9%.
11-20 times a month is the most common frequency, with the highest number (33.4%) of respondents saying that's how often they have sex.
8% in Patna—that's the highest number for a city of those who have sex less than once a month. Patna also has the highest number (8%) of those who have sex more than 30 times a month.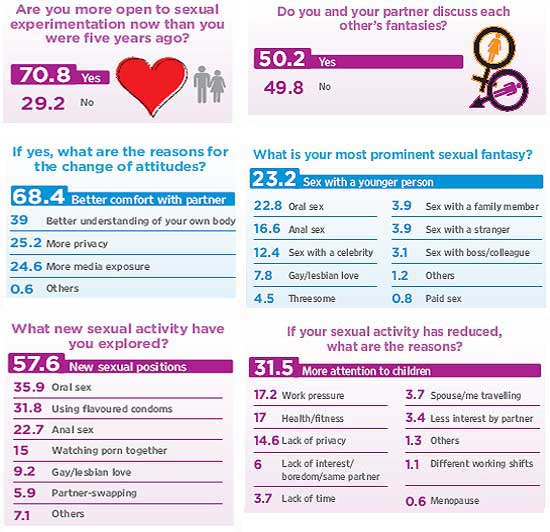 48.5% is the highest number of respondents, in Kochi, whose partners suspect them of infidelity, followed by Mumbai (47.6%). Ahmedabad (12%) had the most trusting partners.
85.3% in Bangalore are open to discussing each other's fantasies. Ahmedabad, at 13%, was the least open to the idea.
86.5% females have never had sex with someone other than their spouse; for males, the figure is 62.5%. In Ludhiana, 53.9% have had sex with someone other than their spouse. In Patna, only 4% have had sex with someone other than their spouse.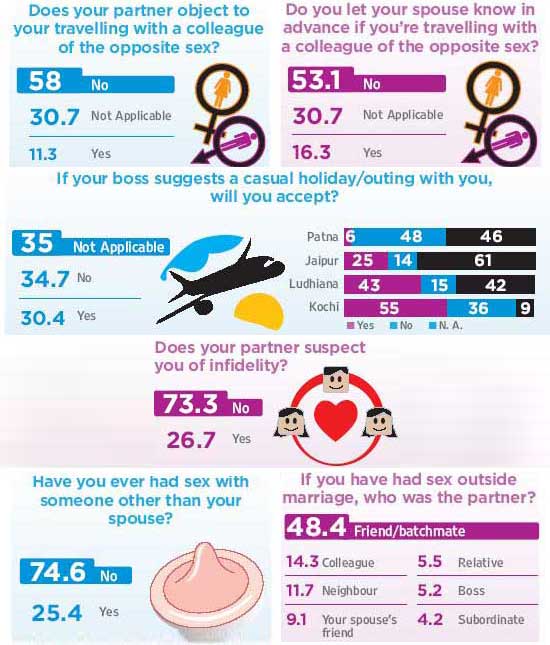 99% in Kochi, 98% in Ahmedabad and 96% in Calcutta are more open to sexual experimentation now than they were five years ago. As against this, only 34% in Delhi said yes.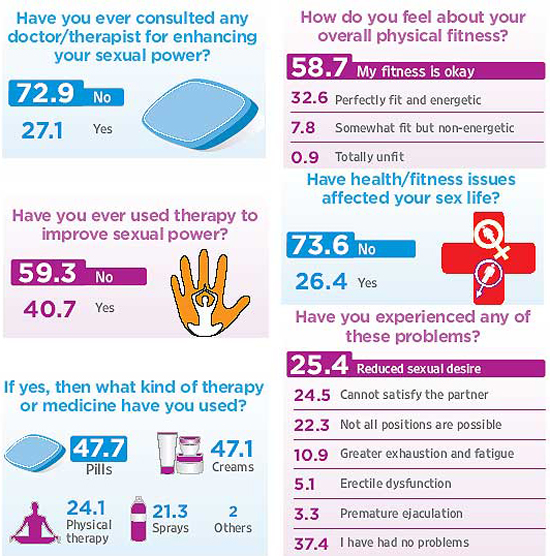 25.2% men have had cybersex with someone they've never met as against only 8.7% women. In Jaipur, 37% have had cybersex with unknown people, none have done so in Kochi, Mumbai.
58.3% have got physically intimate with people they have met online. All respondents in Chennai replied in the affirmative.
24.5% men have been intimate with friends, as opposed to only 9.4% women. In Ahmedabad, 45% respondents have had sex with friends, none in Patna and Chennai have done so. In Kochi, 93.1% have used medication/therapy to enhance sexual pleasure.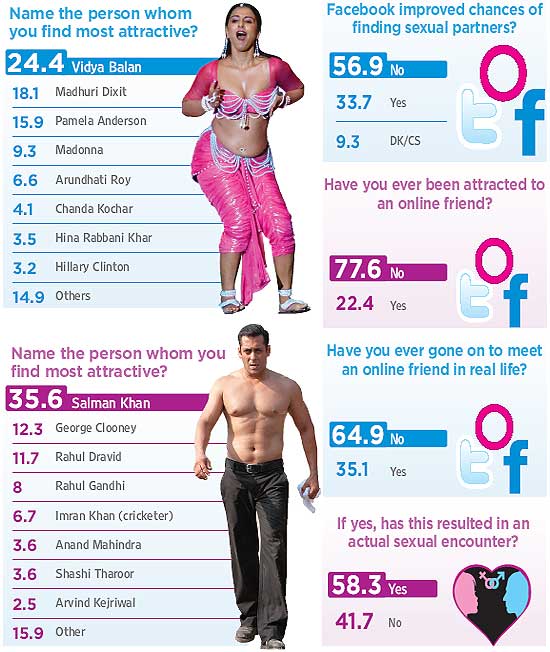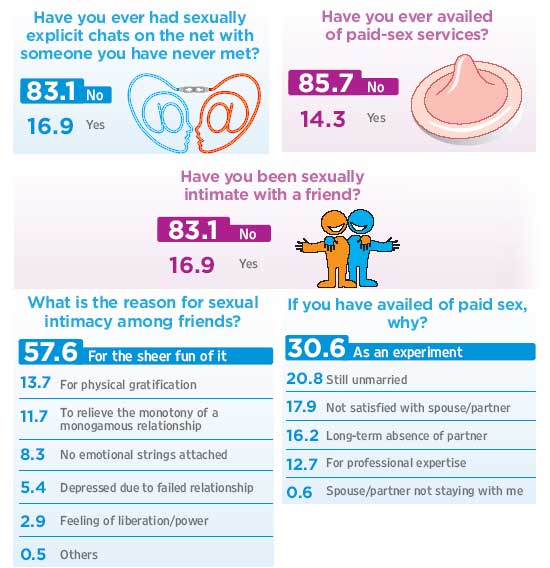 Methodology: The Outlook-Durex survey was conducted by market research agency MDRA. A structured questionnaire was presented to a random selection of 1,212 respondents across 12 cities: Delhi, Mumbai, Calcutta, Chennai, Bangalore, Hyderabad, Pune, Jaipur, Kochi, Patna, Ahmedabad and Ludhiana. The respondents included an equal number of men and women in the 30-45 age group, across Socio Economy Class A, B and C. The survey has an error margin of 2.8 %.