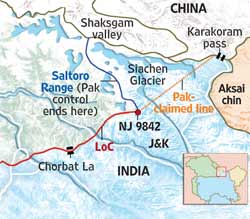 Clad in a white snow jacket, Pakistan's most powerful man, army chief General Ashfaq Pervez Kayani, gazed helpessly at the snowy wilderness of what used to be a battalion headquarters in the Gayari sector on the Saltoro Ridge near the Siachen Glacier, where 139 of his men lay buried by an avalanche on the night of April 7. There was little hope of recovering their bodies.
"If we have to take out this mountain, we will do that. It is not time-bound. We are not going to give up on this," declared a sombre Kayani. This latest mishap in snowbound Siachen had renewed criticism of the "senseless folly" of India and Pakistan sending soldiers not to face enemy action, but extremely harsh polar climate. What stared Kayani in the face was the fact that this white wasteland had seen the deaths of 8,000 soldiers from both sides since April 1984, when the first soldiers arrived.
Though a ceasefire has held in Siachen for some years, the tragedy elicited notes of conciliation—of a more formal sort—from the army chief. In what is being termed as the 'Kayani doctrine', last month he called for demilitarising the Siachen glacier as he urged the Indian leadership to discuss the issue. It's practically a volte face from the position Kayani's predecessors held on Siachen, when resolution of the Kashmir issue was put as a precondition to even talk with India.
"No army chief has ever stressed the primacy of self-sustaining economic growth as a must for national security."
"The world knows why we are in Siachen...this conflict should be resolved," he told the media that had travelled up with him. "How it is done is to be decided by the military and civil leaderships of the two countries. Sometimes we get close to a resolution, but then issues come up. We in the army understand that there should be a very good balance between defence and development...ultimately security does not only mean secure borders, but welfare of the people. We would like to spend less on defence; any country should do the same thing," Kayani said. Even environmental concerns were not far from his thoughts: "This is the glacier that feeds our rivers, particularly the Indus. We understand that physical deployment of troops will affect our rivers; and water management is needed there."
Rarely has an army chief—Indian or Pakistani—been a proponent of such moderate lines of action. Former diplomat S. Iftikhar Murshed said, "Never before in the country's history has an army chief so emphatically stressed the primacy of self-sustaining economic growth as an indispensable prerequisite for national security and stability."

Gen Kayani pays a visit. (Photograph by AFP, From Outlook, May 14, 2012)
However, could the army's recent run of misfortune have forced Kayani's hand?
Pakistan still chafes at the great embarrassment it had to bear under Kayani's watch—the May 3, 2011, US navy SEALS attack on the Abbottabad safehouse hiding Osama bin Laden. The military and the ISI were caught napping, as US stealth helicopters effortlessly entered and exited the country's airspace at night. Days later, militants with help from the air force carried out a fidayeen style attack at the navy's Mehran air base in Karachi. Earlier, Kayani's office in Rawalpindi (in October '09) and countless military buildings had been struck by jehadis and Taliban suicide bombers.
All this, along with the US drone incident and a nagging fight with jehadis on the lawless border with Afghanistan, means the army's morale is at a low.
A mutual withdrawal in Siachen would lead to the withdrawal of personnel from a high-risk terrain, and would allow Kayani to regain lost ground and gain trust, especially within the military.
"We must realise that cutting off the Indian nose to spite the Pakistan face or vice-versa is disfiguring all of South Asia."
But was India listening? Earlier, when Gen Pervez Musharraf was president and was willing to take 'unpopular' decisions, particularly on Kashmir, New Delhi missed several opportunities. One has reason to believe that Kayani's "strategic shift" towards a quieter eastern front is paying dividends for both countries and thawing decades of distrust.
Though many of Kayani's retired predecessors have demanded a unilateral withdrawal by Rawalpindi, he is aware that his senior commanders would never agree to "the enemy holding 1,000 sq miles of Pakistani territory, with plans to capture more—to complete the strategic goal of cutting off Pakistan from China".
When asked, the Indian establishment told Outlook that according to the Indian army, the issue is not really about Siachen. It claims Pakistani troops are not on the glacier, which is totally under India's control, but on the Saltoro Ridge. Thus, whether Pakistani troops withdraw or not does not affect the Indian position. Of course, discussions can be held about the Saltoro Ridge.
Former foreign secretary Shamshad Ahmad clarifies that the Siachen saga began on April 13, 1984, when the Indian army surreptitiously launched a military operation codenamed 'Meghdoot' and occupied unmanned positions overlooking key passes on the Saltoro Ridge. "Since 1947, this undelineated area west of Point NJ 9842 of the Ceasefire Line/Line of Control and the Karakorum Pass had been under Pakistan's control, with mountaineering and trekking expeditions obtaining authorisation from the government of Pakistan. All world maps and atlases showed the LoC running northeastwards straight from NJ 9842 to the Karakoram Pass with the Siachen Glacier inside Pakistan. India obstinately maintains that the line beyond NJ 9842 must be delineated before disengagement and negotiations," Ahmad says.
Like his predecessor A.B. Vajpayee, Manmohan Singh wants to leave behind something substantial in the way of normalising relations with Pakistan before he leaves office. An agreement on withdrawal of troops from Siachen is, therefore, something that might result in a visit to Pakistan. It is even argued that the next Indian army chief, Gen Bikram Singh, has been chosen because he may be more amenable to the PM's line on withdrawal of troops from Siachen. It is also being pointed out that in a democracy, the final say rests with that of the political leadership. Therefore, the Indian military may still give its point of view—insisting on delineation and authentication—but if the Centre so desires, may not push too hard.
"My personal view is that if the army is not keen, it may be difficult for the PM to push for it. This is because a perceived diplomatic victory with Pakistan, without the armed forces backing the decision to the hilt, may turn counter-productive," says an Indian analyst.
With the defence secretaries of the two countries scheduled to hold talks shortly, Pakistani foreign office sources said: "Previously we've talked about redeployed positions, modalities of verification, and mechanism for monitoring to be determined by military experts of both sides. Redeployment outside the zone of conflict, disengagement and demarcation of the LoC beyond NJ 9842 is to be undertaken in an agreed process."
The stage is set for the Indians to reciprocate. As former Pakistan foreign secretary Najmuddin A. Shaikh commented several years ago, "Even in times of tension and distrust, some degree of rationality must come into play. We must realise that cutting off the Indian nose to spite the Pakistan face or vice versa is really disfiguring the South Asian region as a whole." Truly, it's not everyday that a Pak army chief proffers his near-frozen, ungloved hand from Siachen's heights.