I never wanted to be a magazine editor. Or, for that matter, even a journalist. In my list of priorities, poetry came first, second and third. A remote fourth was being a professional boxer. But that is another story.
No, I did not fare badly in school. But I hated studies and was always looking for a way out. There was no Peter Thiel then to fund an excited teenager eager to do more exciting stuff with his life than cram boring textbooks. So I had no opt­ion but to go to college. Even though I was a National Science Talent Scholar (which, in those days, meant a monthly scholarship of Rs 50 to pay college fees and buy second-hand textbooks), it took me less than a year to chuck up Presidency College and start a job as an office boy in an electrical spare parts shop on 14, Bentinck Street. I made tea by day. At night, I wrote poetry. My first book appeared as I turned 17.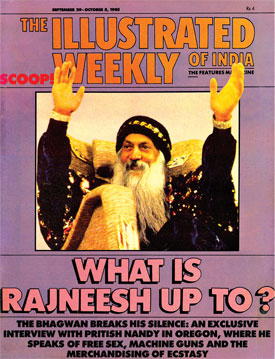 Able Steward Pritish in his office
Book after book appeared after that, and every time it see­med as if it was my first. The excitement was palpable. The adrenaline rushed in my blood. (It still does when I see what I write in print.) Then came an album of poems read by Mallika Sarabhai and me to music by Ananda Shankar. Ravi Shankar agreed to do the next. Ustad Amir Khan and I thought of a third one, with vocals. And there were lots of public rea­dings. Poetry was actually quite big in those days in Calcutta. Short films were made on me. All these, and the fact that my poetry became popular, told me it was time to move on and do something else before boredom crept in. I got married.
Change was in the air. The Naxalbari movement, which started when I was in college, gained momentum. Many of my friends disappeared into the villages. Others went overseas, packed off by anxious parents. One thing was clear: Politics was changing forever. We who had grown up on left-wing poetry, theatre, music, movies, suddenly found ourselves torn between the left we knew and the magic realism of a new ideology in the making. New heroes emerged. My poetry changed its course too.
Barely had we coped with the cultural impact of Naxalbari when a freedom struggle broke out next door, in what was then East Pakistan. The students there threw down the gauntlet at the rep­ressive Pakistani government and the poetry of protest bec­ame the voice of the people of a new Bangladesh fighting for its independence. Both Bengals were restless for change. I began to translate the poetry of that struggle for the world. The books I put together helped to drum up support for Bangladesh. The leaders of the movement became my close friends.
That was around the time I realised the incredible power of words to change the world.
Then the Emergency happened and, to counter it, JP's movement began from Bihar. It was the third important political movement in a decade where students led the charge. The Emergency, for the first time, taught us how fragile our freedoms were and how easy it was to take them away. Europe was going through the same experience. But the students there stood up to protest against the Vietnam policy of their governments and alm­ost toppled them. In America, an angry Allen Ginsberg wrote Howl! and asked the US to go fuck itself with its atom bomb. John Lennon and Yoko Ono switched over from music to anti-war activism.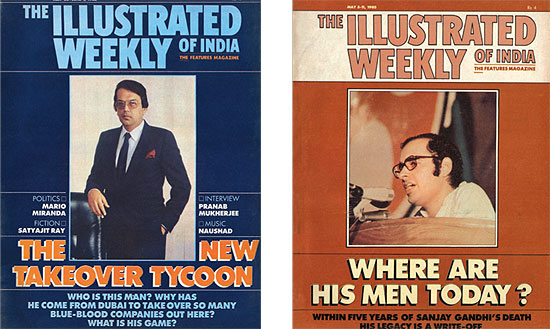 Prominent Weekly covers under him, two of which he did himself
Words became even more powerful as governments became more repressive.
The time for prose had come.
On my friend MJ's (M.J. Akbar) persuasion, I began to write for his magazine Sunday and was seduced by the instant connect of journalism. Journalism in the '60s was like social media today. People reacted promptly to what one wrote. There was no lazy time lag. And I loved that. It was like a poetry reading. You got instant response to what you were saying.
When Akbar founded The Telegraph a couple of years later, I worked closely with him. I did The Telegraph's front page cartoon for many months and looked after its books page. I was, at the same time, on Khushwant's persuasion, poetry editor at The Illustrated Weekly of India, an inane, easy-read family magazine we had all grown up on. It was the reference point for all journalism in those days. Till Khushwant's admiration for Mrs Gandhi lost it many readers.
I sensed I was getting drawn into the world of journalism. My marriage had ended. My books were doing well. I was looking for something new.
A few months later, on a flight back from Bombay, where I had gone for a Bhabha Fellowship interview, I met a man who introduced himself as my neighbour. He said he lived in the bungalow my flat overlooked. He was a charming person and called me home for breakfast the next morning. I turned up, albeit a few days late, and over a lazy breakfast Ashok Jain persuaded me to take up a job he had to offer.

Naxalbari, Home Of A New Revolution Change was in the air, it changed the course of poetry too. (Photograph by Prashant Panjiar/Outlook Archive)
In the winter of 1982, I caught an early flight out to Bombay to join The Times of India as its first publishing director. It broke my heart to leave Calcutta. But it was my first job in journalism. And it seemed like a neat idea.
It took me six months to realise that exciting as my job was at the Times, no one was going to let me do it unless I first proved myself as a journalist. So I decided to pick on the most difficult task of all: to try and revive The Illustrated Weekly which had, by then, shut down. It was once the group's flagship publication. It was now dead. After its iconic Khushwant phase, two really boring editors had (bet­ween them) successfully murdered it.
I reckoned I had but one shot at gaining legitimacy. Journalists in those days were known by how close they were to the ruling power structure. Girilal Jain, the rei­gning deity at the Times of India, claimed authority from the fact that he was Mrs Gandhi's unofficial advisor. (No one knew if it was true or not but he frequently went off, saying he had to go to have tea with her.) But be that as it may, I sat down and tried to figure out how to revive the Illustrated Weekly and see if I could reclaim the legacy of Khushwant without following in his footsteps. All those wonderful people who hated me for having parachuted into the most desired journalistic job of that era were busy writing my obit. No one thought I had a chance; except Ashok Jain and Samir, his son, who had still not joined the company but, like me, had blind faith in the power of change.
When I lost a case against one of his CMs, Rajiv told me, "You didn't lose that argument, Pritish, you lost the case." He had urged the errant CM to take me on.
We did manage to bring back the Illustrated Weekly. But it was in a new incarnation. Everything that had once dominated it (crossword, comics, astrology, fiction, the jokes page, the kids section and Khushwant's brand of bums and tits journalism, as well as the poetry page I edited) were all chucked out and the Weekly became a sharp, hard-nosed political magazine with breaking investigative stories, long serious tracts on issues like environment and culture, and special stories on art, music, literature, movies. Top writers reappeared on its pages again. India's best artists were persuaded to illustrate their pieces. And, voila, in less than three weeks, we had a strong, exciting, thought-provoking magazine that picked up real issues and discussed them. People started reading it once again. Independent journalists found it the perfect platform to express an opinion no one else would carry.
Since the magazine was printed on rotogravure, deadlines were very long and ardu­ous. There was no way we could compete with the slicker, smarter, news-driven magazines. So we did not even try to. We chose to be different. It helped. We became a magazine chasing ideas.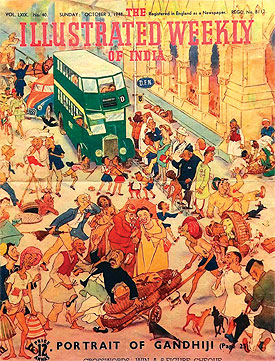 12 Anna Delight The Illustrated Weekly started in 1880 and shut shop in 1993
Pomposity was out. So was the tacky rubbish that had for years appeared in the
Weekly
on the mistaken premise that people liked a magazine that was everything to everyone. Ins­tead of changing slowly, we changed the entire magazine inside out on day one. It looked different. It read different. There was no similarity with its past. The logo changed, the typography, the visual language underwent a sea change. My past experience as a designer helped. But I also worked very closely with the gifted Moinuddin. Chandu Mhatre joined us as photographer. And Sailesh (Kottary), my assistant editor, created a crack team of some half-a-dozen people. That was more than enough.
New writers came in. New ideas gained ground. New heroes were found. New dragons were slayed. We won awards. We got banned at times, and panned more often. But every adversity won us more friends, more supporters, more readers. The best writers wrote for us, side by side with young, fresh, new talent who were ready to challenge journalism's status quo. It was fun for as long as it lasted. We buried the formula. We celebrated the audacious and proved that there was a living, throbbing, interactive readership for a different kind of weekly magazine.
At no time did we have more than 12 to 15 people working for us. We never felt the need for more. Nikhil (Lakshman) held the desk together and was part of my core ideas team.
The truth is: I knew nothing about journalism. That was my strength. We had no preconceived notions. The Weekly during my time was not about journalism. It was about courage, honesty, battles well fought. We lost some. We won many. But, in the process, we showed India how much fun good writing could be. It was all about excellence and audacity. And an alternative magazine culture. Perhaps it was also about innocence. We feared nothing because we had nothing to hide, nothing to defend. Nothing scared us.
And when we were hit with lawsuits and multiple cases, we went ahead and fought them as well as we could. We won most of them and when we didn't, we accepted defeat, to live and fight another day. There was nothing undignified about admitting that not every legal case could be won just on facts. Rajiv Gandhi told me that once, when I lost a case against one of his chief ministers: "You didn't lose that argument, Pritish; you merely lost that case." And he smiled, aware that I knew he had backed the errant chief minister to take me on.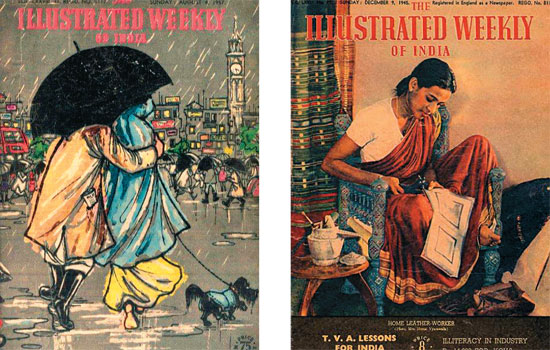 A few of its mid-life covers
The Weekly years were unquestionably the most exciting decade of my life. Not because of all the awards we won. Not because of all the numbers we stacked up. Not because of all the accolades that came our way. It was the most exciting decade of my life because we actually ended by creating a miracle. A magazine that people not only read but actually loved and interacted with. No, it was not the best magazine around. (We never claimed it was.) But it was a most exciting read and readers actually waited for every issue because it was simply not predictable. There must have been over a hundred stories that will remain in journalistic history.
I think that was our biggest success. We took the predictability, the boredom out of magazine journalism. We deconstructed the formula. We tore to shreds all textbook theories, and in our own crackpot way, chanced upon that one formula for a success that I do not think can ever be replicated simply because I do not even know what the formula was. We jettisoned all logic and chose to go with our hearts to create a magazine we would be proud of. And we did it.
Each one of us on the team did it. Each, in our own way. I was only conducting the orchestra. Yes, I'd sometimes step down and play the sax myself. But every player did his bit. Together, we had fun. Loads of it. And now that the Weekly is long over, people still remember it because it brought magic to their lives. No politician could ever claim proximity to it. No businessman ever dared to propose an indecent idea. And no, no mediocre writer or journalist could stray into its pages and claim posterity. It was an environment in which only the best survived.
I was lucky to have been there.
And luckier to have survived, two decades later, to tell the tale.
---
Pritish Nandy Poet, painter and politicians, he was awarded the Padmashri at 26, and has made TV shows and films since he vacated the editor's chair at The Illustrated Weekly