Ah well, that familiar foreign hand is back to haunt us again. Some dub it as an old chestnut that is way past its use-by date, harking back to mysterious briefcases (like the one on this magazine's cover) carried by safari suit-clad CIA men in Indira Gandhi's regime—followed soon by the Soviets who were upset with Morarji Desai; later, just before India liberalised, Rajiv Gandhi used the bogey when Bofors got too hot. Others insist that targeting the foreigner is a convenient distraction for a beleaguered government desperate to prolong its own use-by date. And yet others argue with increasing shrillness that the rapacious foreigner is to blame for everything, from illegally invading us to fuelling terror, taking away our jobs and creating doubts about India's shining economic story.
Advertisement opens in new window
This (by and large fair-skinned) foreign hand is waved around—illustratively, of course—by all political parties. If the BJP, TMC and Left oppose FDI in multi-brand retail, UPA Prime Minister Manmohan Singh blames foreign-funded civil society organisations (NGOs) for the opposition to the Koodankulam nuclear power plant in Tamil Nadu. The foreigner fixation knows no end: assuming the form of the backlash against the influx of the Bangladeshi illegal migrant in Assam or as an anti-Sri Lanka wave in Tamil Nadu. Then there is the perennial fear that the Chinese will overrun us with cheap goods and Nordic countries will destabilise us with all their NGOs. Even foreign scholars and filmmakers are not immune to the charge, a growing number now face stricter visa restrictions.
***
FDI In Retail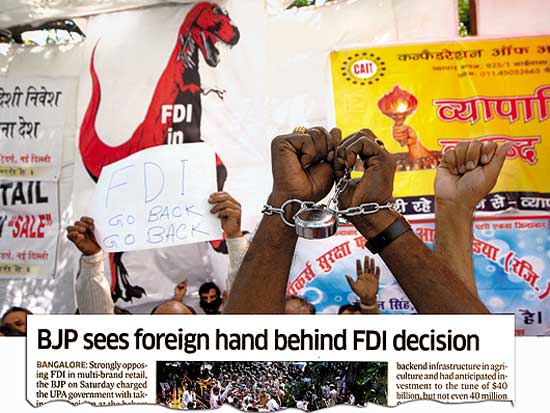 Koodankulam
Advertisement opens in new window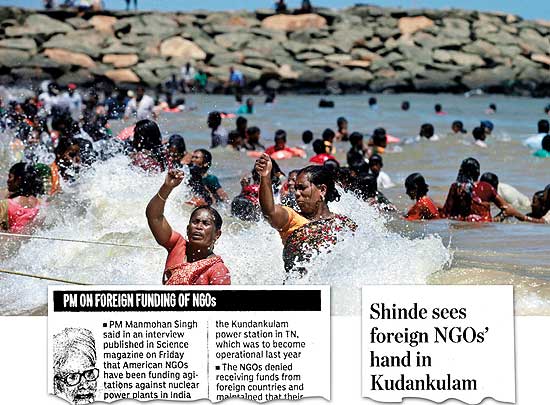 Mumbai Clashes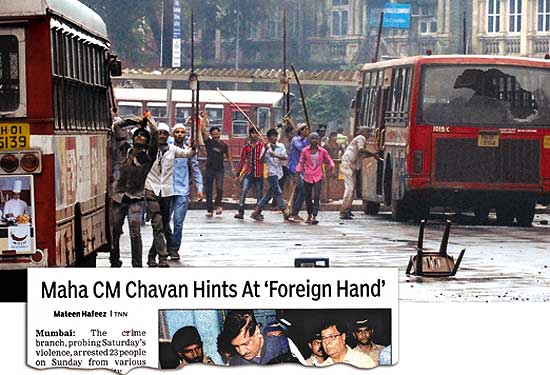 Rahul Gandhi 'Rape' Charge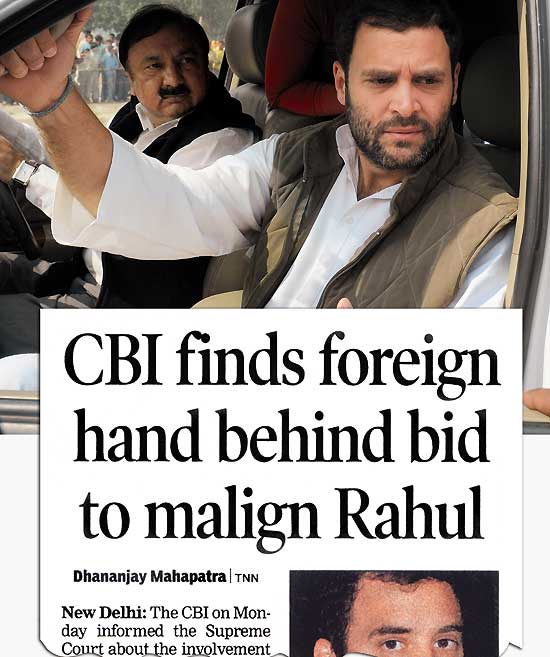 Team Anna protests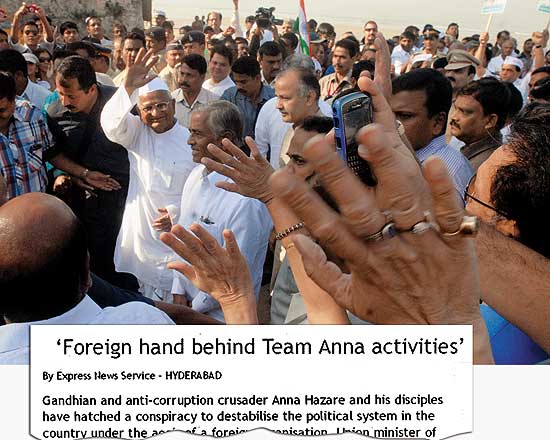 Attack On Israeli Diplomat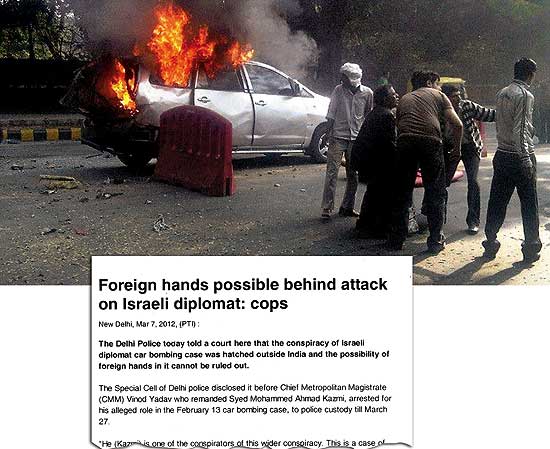 Trouble In Bodoland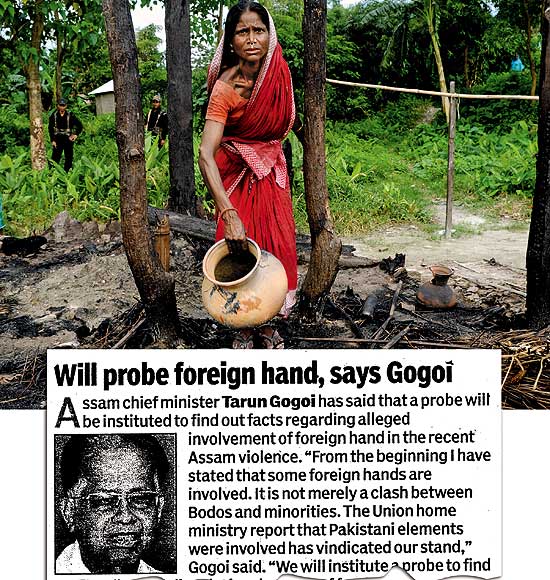 ***
Going by all the headlines, and the posturing—look no further than our map of the Indian worldview—it would appear that the proverbial foreigner is at the root of most of our problems. Is xenophobia a fair depiction of what our people think, and the times we live in? Are these fears justified for a nation that seeks to become (and rightfully should) a global powerhouse in its own right? Are we really 'like this only', still trapped in a colonial mindset and distrust of the outsider, the mlechha (the impure foreigner)? "India is now a much more open, globalised, cosmopolitan and modern society," says Indophile author William Dalrymple. "It feels like a return to the Dark Ages to hear a Congress government invoking the foreign hand again to cover up its paralysis."
Advertisement opens in new window
On the face of it, the Opposition—from the Right to the Left—agrees with this view. They argue that there is no xenophobia, and that this is but a tactic employed by the UPA to deflect charges of corruption and poor governance. "Instead of the foreign hand," says author and BJP member Arun Shourie, "we need to talk about the poor man's pain. Look at the unrest and cries of the people; it's not only against the foreign hand. Their own people are cheating." Left-leaning economists mirror the view, arguing that money has no colour or nationality, and that their issue is with big capital. "This selectivity about xenophobia is absurd," says economist Prabhat Patnaik. "Our own prime minister is backed by Washington DC. Does that mean he's anti-national?"
So is this anti-foreigner pitch mere political posturing then, a handy tool to be wielded when it suits one domestically? There are, of course, historical and tendentious engagements with Pakistan and other neighbours on the terrorism front (Saudi Arabia being a new entrant). But the foreign hand has become such a part of the discourse that fact often gets mixed with rhetoric. There's a bit of historical trauma too, given India's negative experiences with large multinational corporations like Enron and Union Carbide. Of course, this generalised opposition to foreign capital negates the role played by "patriotic thieves", Indian firms (and there have been many in recent times) being caught up in scam after scam.
Advertisement opens in new window
"The anti-foreign feeling was a characteristic of BJP before (Atal Behari) Vajpayee brought in liberal policies," says economist Ashok V. Desai. "There would be many in the BJP who would be opposed to the idea of a bigger play by foreigners. It is more basic than commercial." This seems to be borne out by the BJP's (hardly-veiled) threat to roll back FDI in multi-brand retail if voted back to power in 2014.
There is, in fact, nothing better than the feverish debate around FDI in multi-brand retail to understand the foreigner bogey better. The irony cannot be more evident. The major debate over foreigners and foreign investments entering India took place more than two decades ago. There has been much heat and dust (and rightly so) since about the extent and reach of India's opening up in 1991, whether big corporations have benefited more than the poor, and whether our institutions have served the greater public interest. At the same time, there's no denying that millions of Indian consumers have welcomed foreign investment and goods, viewing pre-reforms 1980s as the era of "daddy knows best", when status quo was everything.
"We heard the same thing when the big Indian retailers came in. Look at their condition now. They are really in bad shape." Arun Shourie, Former minister
"Everyone is xenophobic because of likes and dislikes. To declare someone national or anti-national on that basis is not right." Prabhat Patnaik , Economist

---

"A half-baked socialism where everything government is good and everything private is bad. And foreign is even worse." Dr Jayaprakash Narayan, Loksatta Party
"We don't have enough nuanced debate on economic issues. The foreign bogey is only raised if no legitimate argument is to be had." Pratap Bhanu Mehta, Centre for Policy Research

---

"What is this foreign hand you are talking about? This is simply American protectionism. They are trying to protect Walmart." Govindacharya, Former RSS ideologue
"Before blaming foreign hands, serious investigations have to be conducted. Such accusations have to be backed by hard evidence." William Dalrymple, Author-Historian

---

"Globally, political parties have used xenophobia to influence and mobilise people. It is being used in a similar way in India." Dilip Cherian, PR professional
"The fear of the foreigner is phoney. It is not real. It has been created as a bogey to justify your capitulation to the outsider." Jyotirmaya Sharma, Political scientist

---

"There would be many among the BJP who would be opposed to the idea of a bigger play by foreigners. It is more basic than commercial." Ashok V. Desai, Economist
"Leather, textile, rubber, plastic: you name it. The small industry segment has been poached into by imports from China." Anil Bhardwaj, Federation of Indian Small & Micro Enterprises
Foreign companies and brands have been a part and parcel of this economic growth story. The fears of foreign goods swamping Indian ones have, in many cases, turned out to be untrue. As the BJP's Jaswant Singh eloquently put it (in 2000), "Many said that Kentucky Fried Chicken will drive the dhabas out of the market. But the dhabas have driven out Kentucky." Not entirely perhaps, but KFC came to coexist happily alongside Saravana Bhavan. We even survived the onslaught of MTV or Bold and the Beautiful, whose disruptive influence provoked equal consternation through the 1990s. Or Coke and Pepsi, viewed initially with suspicion. Foreign food and culture apart, foreign insurance and banking firms have spurred Indian counterparts to do better and thrive.
Advertisement opens in new window
The last is illustrative of how we react to change as a nation, as Dr Jayaprakash Narayan of the Loksatta Party reminds us. "Twenty years ago, when bank computerisation was mooted, there was large-scale protest by all political parties and trade unions who said jobs will go. At the time, these shenanigans were unchallenged. Today, what will they say? Any bank that has not computerised will be rejected by the customers themselves. We are going through a similar situation in retail." Politically too, governments like those in Gujarat, Bihar and Delhi that reform (or seen to do so) get rewarded by the electorate.
The flip side is that such governments—both at the Centre and states—are increasingly driven by the need to get approval, or the right ratings, by foreigners. The colour of money begins to matter more, especially if it's green. Pratap Bhanu Mehta of the Centre for Policy Research laments the lack of a "nuanced debate on economic issues". He concedes that "FDI in multi-brand retail will revolutionise the sector", but counters the claim of its votaries that it will not impact the kirana stores.
Advertisement opens in new window
"Across the world, the feeling of xenophobia comes up when growth rates are low," says economy-watcher and PR person Dilip Cherian. "We may be seeing that phenomenon." Political xenophobia aside, Cherian points to the middle-level firm, which is scared of foreign capital coming into India, afraid that the entry of bigger foreign companies will render them insignificant. Big business, on the other hand, fears its supremacy in various sectors of the economy would come under threat in the face of new contenders in their space.
As things stand, the majority of the players in retail—including multinational ones—are uncertain of the way forward. Only 10 states and union territories have given their support in writing to allow FDI in retail. It will be a muted beginning. "Walmart coming to India is neither going to damage our domestic market nor are the big hopes going to pour in. Those who are speculating big profit or loss are wrong," says Shourie, pointing to the experience of domestic corporate retailers.
Indeed, given the opposition by most states, Dr Mathew Joseph of the Fore School Management (whose study of the retail sector gave boost to the government plans of opening it up for foreign investment), feels it's difficult to say whether multi-brand retail outlets will find it attractive to operate and be profitable in what will be a "fragmented market". Retail consultant Arvind K. Singhal expects around $10 billion to flow into multi-brand retail in the next five years, double commerce minister Anand Sharma's $3-5 bn expectation (see interview).
Yet, the fear persists. "Leather, textile, rubber, plastic—you name it, and the small industry segment has been poached into by imports from China," says Anil Bhardwaj, secretary general, Federation of Indian Micro and Small & Medium Enterprises, which represents one million small firms. China is still the vicious dragon, never mind if it has flooded only a few consumer segments, like toys. India, however, sees more sinister intent in Chinese companies supplying telecom equipment, on grounds that these products may be used for spying. Chinese telecom equipment companies like Huawei and zte have been particularly singled out on security issues, primarily because these companies also operate in India-unfriendly countries like Pakistan. Expect more punitive action on this front.
Talking of punishment, foreign NGOs have been at the receiving end lately. In an interview to American journal Science early this year, Manmohan Singh blamed US and Scandinavian-funded NGOs for not being "fully appreciative of the developmental challenges that our country faces". The foreign hand was also brandished during the Anna Hazare campaign, which led to recent CBI and police action against four NGOs for alleged violation of the Foreign Contribution Regulation Act (FCRA). Similarly, several Indian NGOs with funding from Denmark came under the scanner in 2011 after reports that the donor country planned to fund groups opposing government policies and corruption. NGOs "linked to the Church" have, of course, been under investigation for some time now.
Foreign filmmakers too are viewed with suspicion, fuelled by the paranoia of a depiction of India deemed unfavourable by those in power. In February this year, the government denied a visa to Danish filmmaker Tom Heinemann and his wife Lotte La Cour, who had planned a private visit. Heinemann had in 2005, while on a tourist visit to India, made a documentary titled A Killer Bargain, which showed that European-manufactured pesticides banned in Europe were still being sold in India. His wife too had made a documentary on the dismal condition of Indian textile workers. Earlier, in 2010, US academic Richard Shapiro was deported from India, perhaps for his political activism in Kashmir while on a tourist visa.
Back in 2007, there were reports of American Fulbright scholars being denied visas to research in India, prompting 33 of them to sign a petition asking Secretary of State Condoleezza Rice to intervene. "India has so much to offer the world, and when foreign scholars are denied visas, it shuts off the rest of the world from benefiting from India's natural, cultural and material wealth," says Forrest Fleischman, one of the scholars denied a visa then but granted a research visa in 2011.
Closer home, there was the violence in Assam, which many saw as a manifestation of xenophobic ire against the Bangladeshi immigrant. Even though Nilim Dutta, operational head of Strategic Research and Analysis Organisation, maintains that "the issue of 'illegal immigration' is a red herring because no such influx in a scale that would alarm any native community has taken place." Down south, both the DMK and AIADMK in Tamil Nadu have been whipping up anti-Sri Lankan sentiment in an attempt to be more Tamilian than thou.
"The fear of the foreigner," argues academic Jyotirmaya Sharma, "is phoney. It's a bogey created to justify your capitulation to the outsider." Politicians continue to serve it up regularly, but the aam Indian knows better. He no longer leads a frog-in-the-well existence, is more aware of the immense possibilities globally and can access different sources of information. It is not that easy to sell him old chestnuts anymore.
---
By Sunit Arora with Lola Nayar, Panini Anand, Arindam Mukherjee, Debarshi Dasgupta and Pragya Singh