Daroga Pathar village—with its low-roofed houses and shanties—huddles inside a gated compound in an unkempt, dust-laden part of Dimapur, Nagaland. The dozen or so bleak, cemented structures canopied with corrugated tin sheets erected haphazardly around a grassless lawn are occupied by Naga and Muslim families, most of whom are rentees and hold jobs that range from low-ranked policemen to small-time retailers. Here, for the past few years lived Sarifuddin Khan, a used car salesman, along with his Naga wife and three-year-old daughter. Less than 20 feet away, at the farthest end of the compound, a Naga college student shared her two-room flat with her brother, also a student. On February 24 the girl filed a complaint of rape against Khan. On March 5, he was dragged out of Dimapur prison and lynched by an over 10,000-strong crowd.
Grabs from a CCTV footage from February 23 handed over by Dimapur's De Oriental Dream hotel—where the rape allegedly took place—to Nagaland police shows Khan checking in, followed by a girl, believed to be his neighbour. She is seen slipping stealthily in behind him, trying to cover her face with her hair. "As far as our CCTV records show, Khan, accompanied by the girl, had hired a room on an earlier occasion too," the hotel's general manager Meryl told Outlook, echoing reports that said the whole thing was an affair gone wrong. "There is no doubt about his identity," he says. "He is captured on our CCTV while checking in around 11 at night and checking out a few hours later. And though only her profile is caught on camera, police investigations confirmed it was the complainant who was with him." Meryl adds, "Since Nagaland is a dry state, we don't serve alcohol but they had sneaked in liquor and had ordered mineral water. When they went out together she seemed to be okay...."

Dimapur jail being fortified. (Photograph by Sandipan Chatterjee)
The following day, Dimapur's Diph­upar police station registered a complaint of rape against Khan. In the inte­rvening ten hours between 2 am—when Khan returned to the compound with the girl—and February 24 noon—when she walked to the station to lodge her complaint—a vicious quarrel had reportedly broken out at Khan's home. Khan's wife is supposed to have threateningly shouted at the girl, mouthing what sounded like an ultimatum. The editor of a local newspaper tells Outlook on condition of anonymity, "One evening after the lynching, an investigating police officer confided in me, saying Khan's wife boiled with rage when the duo came back late and drunk. The two women belong to the same Sema tribe as well as village, which is like being 'sisters'. She apparently said she would teach them both a lesson and commanded the girl to go to the police and lodge a complaint so that Khan would be arrested, or else she would be sorry. The wife is believed to have said a few days in jail would do Khan some good. I don't think she could have ever imagined what was to follow."
"She had the courage to take on her rapist. But before she can recover, she is subjected to a new set of humiliations."
The unsaid "dire consequence" Khan's 28-year-old wife threatened the 19-year-old girl with was to have her publicly humiliated. "Nagas have a strong sense of justice and the harshest possible punishment is meted out to a 'home wrecker'—male or female—in the Sema tradition," explained the editor. "And if he/she belongs to the same tribe it's worse. For a woman, her head is shaved, she is stripped, paraded naked and beaten." Though the practice has been discarded by the urban educated, "every so often you hear of a case from remote villages. The entire clan stands in support behind the 'wronged' man or woman. If offence is given by an outsider, nothing short of a gory death is the outcome. Khan's case is the most glaring example of this." A similar 'public punishment' was handed to a Manipuri man living in Nagaland who raped and killed an 11-year-old Naga girl in September last year. He was stripped, beaten and hanged by an irate mob.
At Daroga Pathar, Sarifuddin Khan's neighbours are mostly tight-lipped and evade questions about his relationship with his wife and the girl. Most are non-committal about the night-time quarrel. Khan's immediate neighbour Nagma says, "Any normal woman would get angry if she finds out her husband is having an affair."
However, what does emerge is that Khan was not considered a 'decent' man. "He was over-smart and rowdy," recalls Imna Duden, a 20-year-old unemployed youth. "He used to return home drunk almost every night and hurl expletives if he found the gate locked. He would bang on the iron grille and create a lot of noise." Alam, whose two-room hut Khan had pass to the girl's room, says she remembers him using filthy language. Another neighbour says, "He used to beat his wife".
One of the main concerns of women's rights groups is the 'glorification' of a man who was far from the martyr he is being made out to be. Professor Rosemary Dzuvichu, director of Women's Studies at Nagaland University in Kohima is aghast at the way posts on social media sites are targeting the complainant.
"The barbarity with which he was treated is condemnable but it does not take away from the fact that he committed a brutal rape," the professor says.

Muslim, Naga families at Daroga Pathar. (Photograph by Sandipan Chatterjee)
Since March 5, Twitter and Facebook has been flooded with hate messages targeting the alleged victim. Threats like 'We will get you' and accusations such as 'Because of you he is dead,' daily cram her inbox. Dismissing all the talk that she was forced by Khan's wife to lodge the complaint or that she was in a relationship with and had consensual sex with him, Dzuvichu, member of the enquiry team set up by the state women's commission to probe the killing and submit a report to the national commission for women, says, "I was in contact with both of them and I know the facts." According to Dzuvichu, the girl was tricked into going out with Khan in his car, taken to a stadium, forced to drink alcohol and then raped. There is the CCTV footage, but it must be remembered that by the time he took her there, she was not in control, as half a bottle of hard liquor was forced down her throat. Insisting that it was the girl's own decision to go to the police, Dzuvichu says, "She had the courage to take on her rapist. But even before she can properly get over the physical and psychological trauma she suffered, she is subjected to a new set of humiliations. When will our country stop blaming the victim of rape for everything from her character to the way she dresses? This onslaught of ire against her because of the rapist's death, which was not her fault, is tantamount to holding her guilty for lodging a complaint."
Khan's widow, says Dzuvichu, has been making "contradictory" statements. "She was subjected to regular physical and emotional torture by her husband. She was afraid of him, but pleaded with the girl to withdraw the complaint." Pointing out that "she too has been psychologically traumatised twice, first by the rape and then the horrific death of her husband", Dzuvichu says "she is as much in need of counselling and care."
At Daroga Pathar, they describe the girl as "extremely quiet". Nagma says, "She didn't make many friends but used to go to Khan's house a lot and even ate with them." The dank walls of her room, emptied of all belongings, is is covered with graffiti with dark messages from punk rock.
Friends of the complainant are despairing that "suddenly, the rape case is secondary". Flower, a friend, recalled how traumatised she sounded when she made a frantic call early on February 24. "She was disturbed. The previous night she went to a nightclub, where we often hang out, with a friend. But he took her to see Khan instead, who was waiting in a car. She was reluctant, but he said, 'I'm like your brother-in-law'."
A college student, who was part of the crowd that lynched Khan but insists he did not take part in the actual physical assault, tells Outlook, "Sometimes we fear justice will not be done. Rape cases drag on for years and often the rapists go scot-free. Sometimes an accused is released on bail. Nagas are peaceful people but you cannot come from outside and sexually abuse our sisters." He says he joined the procession along with friends as they felt it was a similar protest to the ones in New Delhi in Decem­ber 2012. When poin­ted out that those pro­c­essions did not involve breaking into jail, dragging out the accused and beating him to death, he shoots back, "But look at the way the most brutal of the rapists was let go with a much reduced sentence because he is a minor. The girl is dead because of his brutal torture and he gets to live on. Sometimes...we have to take the law into our own hands."
"You can't open fire on a mob comprising students. We suspect that's what we were being driven to do."
According to sources in the Nagaland administration and the Nagaland police, it is precisely such sentiments—the youths' 'disillusionment with the system'—that political rivals of the present government had fanned in the days leading up to March 5. "We have reports that in Dima­pur, incendiary political speeches were delivered, which urged the youth to take action and 'fight injustice'," a top Nagaland Police official tells Outlook.
"More than other par­ties, dissent from within is our bigger con­cern," says a ruling Nagaland People's Front leader, claiming "there is a concerted and sustained effort to try and destabilise the current administration of CM T.R. Zeilang". Insiders say that rivalry between npf factions are at its peak, with supporters of former CM Neiphiu Rio—Zeilang's predecessor and one-time mentor—planning a comeback.
Added to that the ingrained hatred of 'outsiders', seen as vile and grasping— especially embodied by 'illegal Ban­gladeshi immigrants' or ibis, a favourite bogey in these parts. The visceral, and increasing, hatred towards 'illegal Bangladeshis' is also known in recent days to take on a communal colour.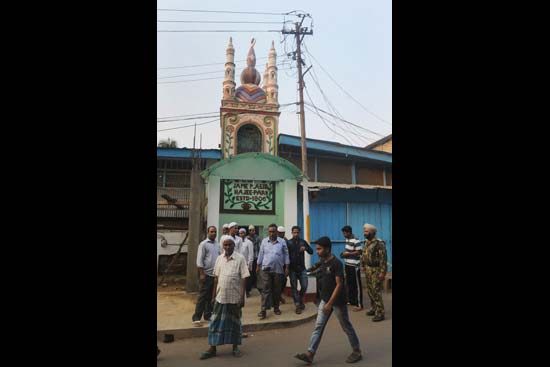 Jame Masjid at Hazee Park in Dimapur. (Photograph by Sandipan Chatterjee)
The police official adds, "Communal tensions too have been aroused with calls to stop illegal immigrants of other communities from infiltrating into Nagaland. There was specific mentions of how are girls and women were being abused by the outsiders." He says "investigations are on to ascertain whether these speeches were politically motivated and the subsequent jail-break engineered by rivals in order to create embarrassment for the government." Sarifuddin Khan (35), a Muslim with a Naga wife, accused of the rape of a Naga girl, seemed to fit neatly into the slot of the 'enemy'.
Whether Khan is guilty or it was a consensual relationship gone awry, his brutal killing has been condemned by ordinary Naga citizens. "I am proud to be a Naga and ashamed to think that Nagas took part in such a barbaric murder," says Roselyn Tungoe, a Dimapur housewife who was nearby when the lynching happened. Her brother Nzanbemo, a college student in Kohima, says, "I don't think all Naga youth are so communal. My friends are horrified. It has lowered our image in the eyes of the nation."
Ahidur Rahman, president of the Muslim Council, Dimapur, who met Khan's widow after his death says, "She was crying inconsolably when she saw the body. Since she was married to a Muslim man, I was called by police to decide on what to do with it. It was air-lifted and handed over to his family in Karimgunj, Assam. She declined to claim the body or go with it, but was howling throughout."
Confirming that he had heard unsubstantiated allegations that she was behind the rape complaint, Rahman says, "There are so many reasons why people cry." He could not answer if guilt or remorse was among the emotions clouding her eyes along with grief, shock and horror.
---
By Dola Mitra in Dimapur