Ravi Shankar's 1960 album Monument of Strings (Sitar) can be yours for Rs 160. Rent Kabir Khan's 2012 hit Ek Tha Tiger for Rs 120 or download it for Rs 490. You can buy Rajaji's two-minute discourse before M.S. Subbulakshmi's rendition of Adi Sankara's Bhaja Govindam for Rs 12. With Apple's iTunes making a low-key entry into India nine years after its global launch, Apple users are thrilled to finally, finally be able to pay for music and videos in Indian rupees. Does this mean that the Indian market for music downloads is ready to, well, rock 'n roll?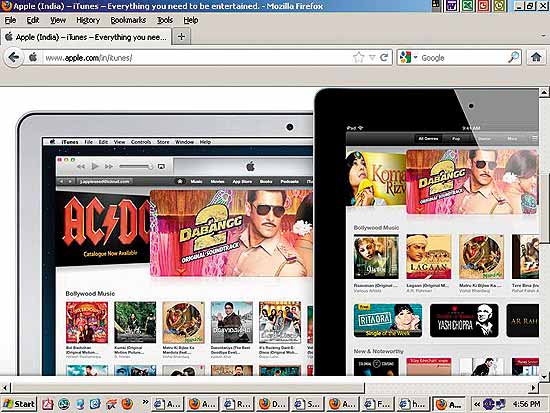 Tuned in The Apple iTunes India website
Not everyone in this potentially massive market for music downloads is enthused by this entry into India. For one, Apple's iPhone has just about a one per cent marketshare in India. Even if iPod and iPad numbers are added to this, it will pale in the face of Google's Android whose user base is rapidly growing. Samsung, most of whose phones run on the Android operating system, commands a 51 per cent share of the market, double of what it had two years ago.
Downloads, anyone?
The launch of Apple iTunes in India has spurred interest in the online music download segment
The top players—Hungama, Saavn, Dhingana, Flyte—share a 35-40 million customer base
iTunes charges

Rs

7-15 for songs and

Rs

70 for albums. Songs at Flyte (Flipkart) start at

Rs

5
Low prices are driven by the fact that 99 per cent of music downloads on the Net are still pirated
Market is expected to grow rapidly as smartphones are expected to get cheaper, mass market
Though it offers 20 million titles (many available in India for the first time), iTunes will matter only for a small number of Apple users. As far as the music companies go, iTunes reportedly shares 70 per cent of revenues from music downloads with them, similar to other sites. Says Savio D'Souza, secretary general, IMI, the holding organisation of music companies, "iTunes will talk only to 1 per cent of the users. The remaining 99 per cent will be left to go to several other options."
In fact, Indian websites are cheaper and have a better spread of Indian music, Bollywood in particular. Flipkart's Flyte, for instance, offers songs starting at Rs 5-6. Serious music downloading started in India only in the last couple of years thanks to mobile operators. In the last 18 months, several Indian music download and streaming websites have come up. This includes Flipkart, Saavn, Dhingana, Hungama and Gaana. These top players have a customer base of 30-40 million between them. Handset maker Nokia has a music download service as well and sees 1.5 million downloads a day. But most of this is free for Nokia users.
Industry leaders hope iTunes will be an endorsement of the market's maturing. Says Siddhartha Roy, Hungama, coo, "Though iTunes is a closed ecosystem, its service is seamless, with an excellent user experience. It will add value to the overall legitimate music download business." Adds Sameer Nigam, VP, Flipkart, and head of Flyte, its music download service, "More than sales, the entry of a legitimate big player will increase consumer interest and help move users from music piracy." Today, every new song is available free on illegal sites. According to imi, the Indian music market is worth Rs 6,000 crore. Only five per cent of this, Rs 300 crore, is legitimate; 99 per cent of the music on the internet is pirated. Says D'Souza, "In India, there are 10-15 legitimate music download sites. But there are over 600 illegitimate ones." Last year, the government banned 104 piracy sites. Most of those have reappeared under modified names. Android has close to 200 apps for playing music. Less than five per cent of these are legitimate.
The music industry and online music sellers are hoping 2013 will change things as user patterns shift from ringtones and 20-30 second downloads to full tracks aided by better devices with increased storage. Though Apple has its famed one-click payment system (something Indian sites can't match yet), the competition is sweetening its offerings. That's a good sign, and could indicate a boom in legit downloads. There's one important caveat—in a market where music piracy is taken for granted, it will be an uphill task to convince people to pay.