There's a story, possibly apo­cryphal, most likely impos­sible, about the siege of the Pathankot air base as the new year dawned. With the prime minister out of the capital when the operations to regain control were on, an official in the PMO kept getting calls from a minister wanting to know the state of play before he could brief the media. Those who claim to walk in such corridors in Lutyens' Delhi say the recipient kept bru­s­quely disconnecting the repeated calls. There are some who would instantly claim to know who it was who could turn down a minister so flamboyantly; many would dismiss the story as outrageously bogus. But such is the clout and reputation of Ajit Kumar Doval, super sleuth-turned-National Security Advisor.
After the January 2016 attack ended, when the Narendra Modi government fin­ally announced that 500 security personnel, including 150 NSG commandos, had 'neutralised' the six terrorists confined inside the heavily guarded air base, there was muted self-congratulation on display. Comparisons were made with the manner in which 26/11 had been handled by the previous Congress-led government. But there were sections within the BJP and outside pointing fingers at Doval's lone-ranger approach. One critic termed the NSA's doctrine itself as a threat to national security; another said the PM seemed to be caught between "Doval and the deep sea". A third quipped that he was missing (Da)wood for the trees, an allusion to his desire to catch the underworld don.
When Union home minister Rajnath Singh had to delete his tweet announcing the premature end of the assault and when defence minister Manohar Parrikar admi­tted there were 'gaps', the corridors were abuzz: was the overcentralisation of the response from the PMO a mistake? Was there a "turf war" as a result of which Doval had sent the national security guard (NSG) instead of relying on the army to end the attack? And, more importantly, had Pathankot exposed the limits of the take-no-prisoners approach to internal security and foreign policy, already expo­sed several times in the subcontinent over the last 18 months? (see box)
One critic says the PM seems to be caught be tween "Doval and the deep sea".
Top sources in the PMO, of course, deny such speculation. "There was no turf war," they say. "There was minute-to-minute coordination, carried out with clockwork precision, and we went by the book. Decision-making cannot be a game of musical chairs. If there is a problem at hand, somebody has to take the leadership and move. If we keep looking for the person to take permission, it will be too late. Our opp­onents will have blown us up." On the questi­on of decision-making being overcentralised in the PMO, the reply is, "Water finds its own level. When decisions start coming, the water starts moving that side."
However, the sparks of criticism were in stark contrast to the kind of adulation bordering on fear that Doval has attracted all this while. No NSA has had Doval's kind of cult follo­wing; he even has a Facebook fan page. Many describe him as 'Narendra Modi's 007'. There is no doubt that he is an exceptional intelligence operative and planner, almost a legend in intelligence circles for his daring escapades, including an undercover stint in Pakistan. Posing as a Pakistan spy, he was also a key player in the success of Operation Black Thunder to flush out militants from the Golden Temple. This action hero reputation—which his critics insist Doval himself plays up—were brou­ght to the fore once again when he became one of the first appointees to Team Modi in May 2014.
Since then Doval has become a superspy, lording over foreign policy and security iss­ues, effectively downgrading Union external affairs minister Sushma Swaraj and home minister Rajnath Singh. His closeness to Modi is unquestioned. The PM is said to be suitably impressed with the work of Doval's think-tank Vivekananda Inter­national Foundation. In the RSS, Doval is supposed to have the strong backing of sarsanghchalak Mohan Bhagwat, gen­eral secretary Dattatreya Hosbale and ideologue S. Gurumurthy. Ministers Suresh Prabhu, Nirmala Sitharaman, Jayant Sinha all have links with the India Foundation, run by Doval's son, Shaurya. The PM's key pointsman Ram Madhav too is from there.

Quick Reaction Force Afghan soldiers in action at Mazar-e-Sharif. (Photograph by AFP, From Outlook Issue 18 January 2016)
There is no question there have been some major successes under Doval's watch: the release of Father Alexis Prem Kumar from ISIS custody; the pardon for six fishermen the day before they were to be hanged in Sri Lanka; the demolition of permanent Chinese structures in the Depsang and Demchok areas. But there have been some big failures as well: the continuing impasse with Nepal, the failed talks with Pakistan. The Pathankot attack, coming as it did a week after Modi's much ballyhooed stopover for Nawaz Sharif's birthday, has been the last straw for critics.
"Things are happening at breakneck speed but aren't thought through," says an IB veteran.
"Pathankot could have been better handled," former home secretary G.K. Pillai told Outlook. "Intelligence doesn't get more specific than this. In fact, it's very rare to get such pinpointed information. But our initial response should have been far more aggressive."
Has the NSA become a force unto himself, answerable perhaps only to the PM, they ask. Has he overplayed his cards in dealing with terrorism or is he so overstretched or so isolated that things are spinning out of control? Could India's response cast a cloud over the government's credibility in the short run, and peace and stability in the subcontinent in the long one? In short, is the 'Doval Doctrine' not as hot as it was made out to be? (see interview)
While there is no clear answer, the unmistakably growing feeling is that the country is neither politically nor strategically much better prepared to deal with either terror strikes or with other internal security concerns than before. These concerns matter because Doval—and indeed Modi's superPMO—appear to function in a closed-door, answerable-to-none manner. In the past, security experts have warned of the dangers of such adventurism in a large complex nuclear power. There is a growing feeling in security circles that the NSA has been trying to do too many things in too short a time. "Things seem to be happening at breakneck speed but without thinking through the steps," says an IB veteran. The potential dangers are immense.
The Modi-Doval team had, in fact, started with a bang, with Doval's idea to have heads of South Asian neighbours for the PM's inauguration unarguably a masterstroke. The NSA followed it up with his mission to improving coordination between security and intelligence agencies, maximising the authority of security agencies and a firm policy to deal with neighbours. But the goodwill generated in the region foll­owing May 2014 has dissipated considerably since then.
Many blame it on the NSA's penchant for rushing in to handle everything himself. Like the time he broke protocol and called up Pakistan's High Commiss­ioner in New Delhi three times in 12 hours to protest against cross-border firing in Jammu and Kashmir. Foreign policy experts were left aghast, but the NSA stood his ground and defended his action. Would a police commissioner not intervene to save someone on the ground or was it the job of a constable, he scoffed at the questioner, leaving no doubt about what he thought of the mandarins in the South Block.
"He's a politician among spies and a spy amongst politicians," says a senior of Doval in the IPS.
There are enough such instances of Doval's lone-ranger approach to crises: when the government (read: Doval) peremptorily asked the UN's Military Observer Group for India and Pakistan (UNMOGIP) to shut down its office in New Delhi and move out of the government accommodation, the UN body reminded the government that it was here because of a Security Council resolution and would shut down the office only if the Council so mandated. It was an avoidable international embarrassment, admit some of his former colleagues.
Then there was the supposedly 'historic' Naga peace accord of August 2015. The 'framework agreement' on paper made it appear that insurgents led by the NSCN(I-M) had agreed to accept the Indian Constitution and there would be greater autonomy for Naga-dominated areas outside Naga­land. But within days of the agreement being signed, Thuingaleng Muivah reiterated that there had been no climbdown on the question of Naga sovereignty. Bureau­crats claimed that Rajnath Singh and Nagaland Governor P.B. Acharya were inf­or­med about the signing of the accord barely half an hour before the ceremony and the home secretary just 15 minutes before the function.
"He is an operations guy, and that's the problem. He forgets he is now an NSA, not a spy," rues an official. Another former colleague sees the problem in his inability to delegate authority and trust his team. An IPS senior of his, who was in the IB and headed a paramilitary force before he reti­red, says: "He's a politician among spies and a spy amongst politicians."
In simplistic terms, the Doval Doctrine is all about a muscular state. The man des­cribes his strategic philosophy as "defensive-offensive"—the ability to strike back whether covertly or overtly when the state is threatened. More recently in August this year, while delivering the Lalit Doshi Memorial Lec­ture in Mumbai, Doval revealed a little more of his mind. War, he pointed out, was no longer a viable instrument to achieve political or strategic goals. But in future those people will hold power "who can make you think what they want you to think". While claiming that the media for him was "interesting entertainment", he did let out the important role it can and perhaps does play in his scheme of "making people think" what he wants them to think. It is not unusual therefore to see stories in the media about his hands-on approach.
Among the many stories experts dismiss as "fanciful tales" is the one about his engineering the unexpected electoral defeat of Mahinda Rajapaksa, because he was perceived to be too pro-China for India's liking. It was apparently under the NSA's supervision that RAW operatives in Colombo successfully united the Sri Lankan opposition and ensured Sirisena's defection.
Doval has also basked in the reflected glory of such missions as the Indonesian police's arrest of absconding and ageing don Chhota Rajan vacationing in Bali. But while sceptics questioned the value of bringing in the ganglord and the NSA's role in it, rapturous accounts of the 'adventure' in the media made it obvious which corner they were being orchestrated from.
While Doval himself makes much of his seven-year-long stint in Pakistan as an "undercover agent", a newspaper report claimed that he was actually in charge of the security of the Indian missions in Pakistan. His job, the report somewhat uncharitably maintained, was to prepare the roster and ensure that security personnel and diplomats did not get into honey traps, besides looking out for bugging devices. In the NDA government, however, Doval's views on Pakistan are taken to be the last word by virtue of his long stint.
The increasingly vocal presence in New Delhi of the Balochistan Liberation Organi­sation, which advocates separation from Pakistan, is directly attributed to Doval's doctrine of making use of faultlines like Pakistan-occupied Kashmir (PoK) and Balochistan in engagements with Pakistan. The irony is not lost on policy wonks. India's statement on Balochistan at Sharm el-Sheikh in July 2009 had critics accusing Manmohan Singh of giving in to Pak pressure. But now, with the NSA's public stand that Pakistan would have to pay for patronising terror by losing Balochistan, it may have introduced fresh complication in future talks between the two countries.
Of course, the Doval doctrine and the NSA's style fits in with the prime minister's and the BJP's thinking on how to deal with Pakistan, the recent Christmas day camaradarie notwithstanding. In a much-publicised statement, Narendra Modi had dec­lared, "Jab Hindu aatankwad aayega na, toh duniya ke nakshe par Pakistan ka namon-nishan mit jayega (Were Hindu terrorism to appear, Pakistan would disappear from the map of the world)."
Doval has also never made any secret of his belief that terrorists are mercenaries and can be bought over. In several talks delivered before he took over as NSA and available in the pub­lic domain, he can be heard saying that India could outbid the ISI and get terrorists on its side. He can also be heard saying that India ought to leverage its power and better economy to build capacity to ensure that Pakistan loses Balochistan if it dares to launch another "Mumbai type terror strike". Similar bids may have succeeded in Doval winning over militants like Kukka Parrey in Jammu and Kashmir but the old-timers question his understanding of the changing contours of international terrorism. "Had it been only a question of outbidding sponsors," quipped one of them icily, "the West would not have been under constant threat of terror strikes."
Many experts view the NSA as a loose cannon. At the HT Leader­ship summit in New Delhi, Doval said India has to deal with two nuclear-armed and hostile neighbours, who have close relations and entertain adversarial views on India. India therefore had to be prepared for a "two-front war" and build deterrence that ensures that conflict is not an option for the adversaries. The statement raised the hackles of several security experts. Sino-Indian relations are far better calibrated today than what the NSA seemed to suggest, many of them felt.
On his part, Doval told Outlook: "My vis­ion for my country is a country which is strong, secure, has good relations with its neighbours, has great international clout, is prosperous and is a country in which every human being is able to get an optimal opportunity for his work."
There is now a concerted attempt by the government at damage control. In private, they now say it was the army chief who took the widely-criticised decision to call in the NSG at Pathankot; the army, official sources say, did not have the requisite anti-terror equipment and asked for the NSG to be sent to Pathankot. The official view is that the terrorists came with the intention of causing serious damage to an air force base close to the border, including des­truction of aircraft, and that they failed in this mission. The Indian objective, they claim, was complete safety of military ass­ets—aircraft, ammunition depots, oil storage units, radar, etc—and not a single asset was destroyed. They also point out that the 3,000 civilian families living on the base "are all safe".
The jury is still out on whether Pathankot was an abject failure or fulfilled its target. What is clear is that now Doval is in the line of fire. The damage to the NSA's reputation and his flamboyant style of ope­rating, will take some time to repair. Unless he pulls a rabbit out of the hat. Like Dawood.
***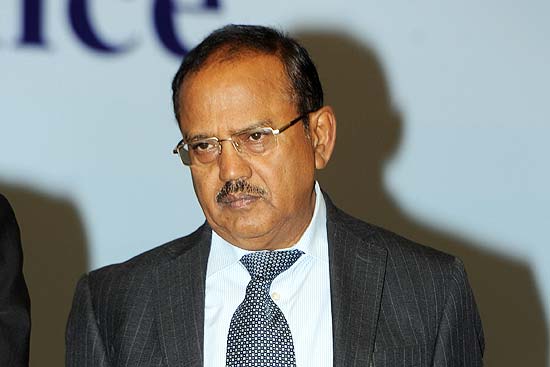 Photograph by Jitender Gupta
The Doval Divide
What works for the NSA...
...and what doesn't

---

One of the most powerful NSAs India has had. Has more on-field experience in Pakistan, Punjab, Northeast than previous four NSAs.

Those who have worked with him say he is an outstanding, if flamboyant, operations man with a keen sense of the global security scenario

Extremely up to date on latest intelligence techniques and trends, and is highly regarded on the international lecture circuit

Quick and decisive, he doesn't wait for clearances from ministries and departments to act, operates quietly in the margins

Spooky low profile bodes well for his relationship with a prime minister who wants his officials to stay away from the spotlight

Is a risk-taker, like his boss. Covert ops are his specialty and he actively encourages this among the forces he has control over.

Feels India is fighting "fourth generation of warfare": organised crime, terrorism, insurgency, foreign powers, cyber security and counterfeit currency.

Believes India's greatest strength and bulwark against external threats will be economic growth, which will come in handy when push comes to shove

Critics say he is driven by an urge for personal glorification, tends to exaggerate his 'successes' to build up his image of a supercop

The former spy is seen as a control freak who likes to believe that he is the only one qualified to take tough decisions because of his experience

With his proximity to the PM, he dwarfs many key Cabinet ministers and bureaucrats; is involved in defence, foreign policy, intelligence and internal security

All heads of the central police organisations report to him directly instead of the Union home minister whom he has substantially marginalised

Great believer in "defensive-offensive" or eye-for-an-eye strategy: "If you do a Mumbai, we will ensure you lose Balochistan."

Gets too involved in the minutiae of multiple operations rather than focus on larger strategic vision which the NSA is meant to do

Key security failures under his watch: Nepal, incursions in Punjab and the border operation which violated the sovereignty of Myanmar

Fixated on getting Dawood, either by assassination or covert ops while he's flying between Karachi and Middle East
---
By Uttam Sengupta with Meetu Jain and Bula Devi in New Delhi with Ushinor Majumdar and Mihir Srivastava in Delhi, Prarthna Gahilote in Mumbai