Chhattisgarh
Maoist-related fatalities: 2005-2009

According to state police, however,
66 Maoists killed in 2008,
113 in 2009;
143 civilian deaths attributed to Naxal violence in 2008,
116 in 2009.
According to villagers, around 40 civilians (which would include what the government describes as suspected Maoists/Maoist sympathisers) are killed a week in the area.
...And The Cool Of Ash
Almost haven The setting is idyllic in the lengthening shadows, but the calm in Gorgondarengapur is quite recent. Like many others, this woman and child had fled to Andhra Pradesh fearing the Salwa Judum. They returned only a few weeks ago.
---
We fly into Raipur, the advice given by civil rights activists ringing in our ears: be careful which hotel you check into, since most report any arrivals—especially of journalists—to the local police. It'll be very hard to get into the conflict zone in Bastar without being followed, harassed and thrown out by the Special Police Officers (SPOs). Our contact in Dantewada district—Ground Zero of the war being fought between the State and the Maoists—advises us to take the overnight sleeper bus, rather than a car, to Kirandul.
As we weigh our options, we decide to visit a prosperous Vanvasi Kalyan Kendra (an RSS affiliate) leader I have met before in Raipur. It's a happy choice: within minutes, his living room fills up with local politicos-cum-businessmen, interestingly a cross-party mix. A Congress municipal councillor, who runs a bus service among other things, says private business is prospering in all the Maoist-affected districts. What about the Maoists, the class enemies of big business? He laughs. "If the government wants," he says, "the Maoists can be finished off very quickly. But no one wants that—neither the BJP nor the Congress. Go and see for yourself. And the traders and businessmen who live there are so happily ensconced there that they don't want to leave." I turn to our host: he nods in agreement, as does everyone in the room. Most businessmen in the state, they say, pay their "taxes" to the Maoists and, in return, are permitted to function unmolested. Later, in Jagdalpur, Pawan Dubey, editor of two local papers, confirms this. "Most businessmen," he tells us, "have patrons among the state ministers, getting contracts, for instance, for building roads under the government's Gram Sadak Yojana in Bastar, roads that are never built—so it's a cosy arrangement." CPI (Maoist) politburo member Kishenji confirmed as much in an interview last year—that the Maoists regularly collect taxes from "the corporates and the big bourgeoisie".
"The Maoists can be finished off fast. But no one wants that—not the Congress, not BJP." Traders too are happy: for a 'price', they get to stay.
As the horror of the situation becomes apparent, we decide against checking into a hotel. Instead, we take the 6.30 pm bus out of Raipur, arriving at our destination at 5 am the following morning. Kirandul is home to the Bailadila iron ore mines and the National Mineral Development Corporation's operations, but its picturesque setting is at odds with its lack of amenities for travellers. Tribhuvan, my photographer colleague, and I step out into the half light, to wait for our hosts. Gurbani from a nearby gurudwara fills the air, and as the sun rises, we realise we are standing in front of a police station! Three hours, innumerable phone calls and many cups of tea later, a motorcyclist arrives.
Minutes later, we're whisked off down empty roads—three to a bike—to a home on the other side of the town to "freshen up" for our first foray into the jungles. Three hours later, we are off again, this time thankfully on three motorcycles, to a point where we are told tribals from different parts of Kuakonda block have been told to assemble to meet us. After an approximately 30-km ride through dense jungles, we stop. There is not a soul in sight—only two teens carrying two nylon-string charpoys for us to sit on. And then suddenly, in the clearing provided by a circle of jamun trees, they appear. Over 200 of them, from different directions—villagers from Sameli, Bodepara, Khakaripara, Kutrem and Lekampara.

The young widows of Kuakonda Ure, Budri, Deve and Bhoome. Here, at the jan sunwai, all narrate the horror tale of Special Police Officers summarily executing their husbands.
It's a jan sunwai called specially for us. I ask questions and people step forward to give their testimonies, most of which relate to the events of January 23, when a combing operation by SPOs left several "suspected" Maoists—all unarmed—dead, and many villages without food. First, the widows line up—Budri, Ure, Deve, Bhoome—each with eyes more dead than the other's, each straddling an infant on her hip; all, barring Budri, who's aged before her time, look like teenagers. Dully, each relates a horror story of a husband executed summarily by SPOs.

Next come Hoora, Deva and Mangli—villagers reporting the theft of goats, chicken and rice by the SPOs that day; a common practice, we're told. Equally dreadful is the tale Khakaripara villagers bring to the gathering. There, on January 23, SPOs fired on a hapless group of teenagers, boys and girls who sat warming themselves around a makeshift fire, leaving one dead, one injured. We even meet the injured lad, who managed to run away and hide. Unable to see a doctor for one week, he relied on local remedies. Here, in Bastar, even basic medicines are not available, with malaria and diarrhoea-related deaths very common and malnutrition among children more a norm than exception.
Most sangham members or 'Maoist sympathisers', we learn, are not committed Maoists as is projected; they are very reluctant recruits.
For those gathered, many of whom have walked an average of 20 to 30 km to meet us from what the administration would describe as 'Maoist' villages, the meeting is cathartic. Tribhuvan and I are the first journalists they have met since Operation Greenhunt began; caught in the crossfire between the State and the Maoists, they tell us that they hope people in the outside world would now learn of their plight, of how the violence is claiming 30-odd lives every week. Indeed, we learn slowly that most sangham (village-level bodies created by Maoists in villages) members or the so-called Maoist sympathisers are not, in fact, committed Maoists as the administration would like the world to believe; they are very reluctant recruits. "We are very grateful to H.," a young woman tells me, pointing to a fellow villager, dressed in a shirt and lungi, the ubiquitous transistor slung across his shoulders, "he became a sangham member to protect our village from SPO raids." Indeed, the focus of most police operations are the sanghams: as many as 499 of its members, police figures say, were arrested in 2009. Figures of civilian deaths are not readily available, as all such deaths are categorised as Maoist deaths.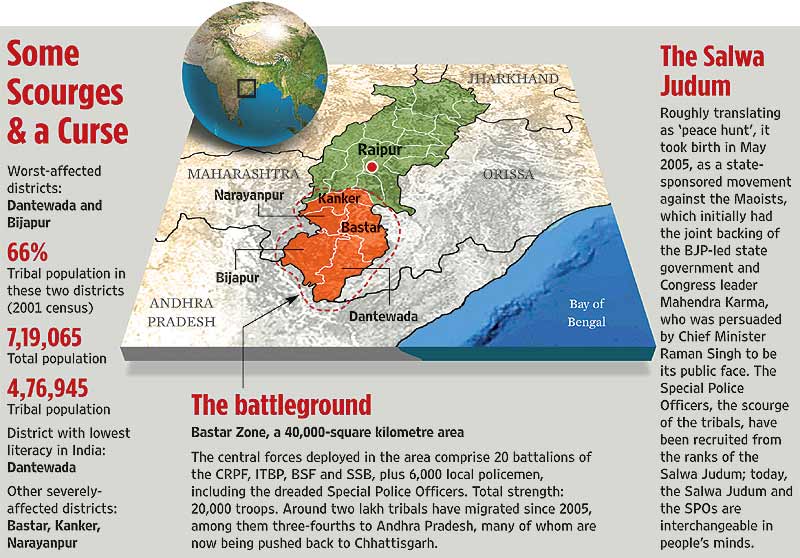 Click here for large image
Our next halt is a village where we are to stay the night, but the panchayat elections are on and the "force" is surrounding the village we are headed for. It's best we leave now, our hosts say, and camp in Jagdalpur. The next day, we meet local journalists, politicians and visit a home for the orphans of the conflict (see box), and wait—for that phone call. It doesn't come, so we venture southwards towards the Andhra border in a car. Here, we encounter one empty village after another (there are 700 such villages in Bastar) from where approximately two lakh (the official figure) tribals have fled to neighbouring states, especially Andhra Pradesh. The AP government is now pushing them back. As we drive, we see long lines of women, all their worldly belongings on their heads, returning home after picking chillis in AP. How much have they earned? For a 12-day stint, involving arduous journeys, each woman has earned Rs 850, of which some Rs 150 has already been spent on food and bus fare. Evidently, the large cement boards all along the main roads declaring the presence of the nregs don't add up to jobs.
A respected CPI leader tells us the BJP's destroyed the political process here, leaving people with two options: them or the Maoists.
Everywhere we go, we are told some fled their villages to escape attacks by the Salwa Judum, others to evade Maoist wrath. Maoist victims ended up at the Dornapal camp, the Judum's targets found shelter in AP. At the tiny hamlet of Gorgondarengapur in Dantewada, sarpanch Markam Ganga points to what remains of the brick house he once lived in, till the Salwa Judum murdered his father and burnt down his home. He is just back from AP, trying to rebuild his home and life. He recalls 2005 as the cut-off year when Salwa Judum, the infamous state-sponsored army, was created and young tribals from their ranks were recruited as SPOs, allegedly to hunt down Maoists, but in fact to empty the jungles of their population. That was when the rural economy came to a standstill—unlike the thriving war economy visible along the main roads.
The next day, we are back on the bus from Jagdalpur to Kirandul, for one final attempt. A phone call informs us there's been a change in the meeting place. So now, at 10 pm, Tribhuvan and I are standing in the deserted Dantewada bus station—waiting to hear the welcome sputter of a motorcycle. Once it arrives, we are transported to a village not more than 15 minutes away, where we spend the night, setting off the next morning on a two-hour journey to a village deep inside the jungle. Our host for the new night is an all-female household, in the better-off part of the village where there is electricity—and a TV set. We spend the day listening to schizophrenic conversations that veer between gory tales about SPOs and dadalog, and effusive praise for Salman Khan—the best-loved action hero in these parts. The TV is on non-stop—"to keep our sanity", we are told.

The Exodus With NREGS but an empty slogan, these tribal women from Polampalli, their worldly possessions on their head, return from Andhra Pradesh with the end of the chilli-picking season.
Through the day, all kinds of people drop in: anganwadi workers who say foodgrains have stopped coming, so their young charges have not been fed for months; nor have salaries been paid. A sarpanch of a distant village talks about the perfidy of the Election Commission: all the polling booths are so far from the villages that few tribals voted in the panchayat polls.

Nobody's Home This locked house in deserted Polampalli village is a grim reminder that the tribals, who fled here after the advent of the Salwa Judum, still don't have the confidence to return home.
Indeed, Manish Kunjam, a respected CPI leader, told us the day before in Sukma that the BJP had systematically destroyed the political process here, leaving the people with two options: them or the Maoists. The BJP, he reported, had used the political vacuum to make inroads. In 2006, when we had last visited Bastar, the RSS had virtually no presence here. Today, the roads are dotted with markers pointing to Saraswati Shishu Mandirs, Bajrang Dal offices and hoardings announcing the Vishwa Hindu Parishad's Gau Gram Yatra timetable.
The tribals feel if the government waits to first clear the area of Maoists, then bring in civil administration, "they will all be dead".
Finally, the day dawns and, amidst rumours of impending SPO visits, we set off for the last leg of our journey on motorcycles. Now even the dirt tracks vanish. We cut across fallow paddy fields, wade through the fast-moving waters of a brook, walk across a bridge that can hold one person at a time, nip through villages and bump over stony paths. One-third of the way, we are met by our guide, a teenager wearing a lungi, shirt and a winsome smile only to learn later that he is a bandookdhari, a Maoist rebel. Two hours on, we reach a mango grove. Our guide disappears over the horizon and returns to say we need to wait. A gentle breeze ripples through in this most perfect of picnic spots. Almost two hours later, we confront eight men, dressed in olive greens and carrying an AK-47, an AK-56, an SLR, an INSAS and sundry 303s. The three seniormost are Vinod, Deva—both members of the Durba divisional committee—and Badru, the area commander. They look like regular guys, they smile, shake hands and answer our questions. As they talk, villagers carrying firewood and water walk past, without so much as a glance. Clearly, the Maoists are part of their everyday landscape.

Picture (IM)Perfect Locals dread search operations such as these by Special Police Officers, along with other paramilitary forces; too often SPOs end up looting villages of food and poultry.
Badru conducts most of the conversation, though he consults the others. The answers are all pat (see interview). Interview over, they're reluctant to pose for photos—they finally let Tribhuvan take a few, with Badru's back to the camera. Vinod and Deva stay out of the frame. And then they wait for us to leave.

Sangham Sharanam A sangham member, easily identifiable by the transistor across his shoulder. The sangham is a village-level body created by Maoists.
Exhausted, we make our way back to civilisation, mulling all the while how all this will end, if it will end at all. Is the government's contention that till it clears the area of the Maoists, no development is possible? Last August, former Chhattisgarh CM Ajit Jogi had written an impassioned letter to Union home minister P. Chidambaram, telling him that unless development went hand-in-hand with establishing the rule of law, more and more tribals would turn to the Maoists. The tribals too feel that if the government waits to clear the area of the Maoists before it sends in the civil administration, "they will all be dead". Right now without schools and medical facilities, a non-functioning public distribution system and the lack of a normal political process, it's little wonder that the Maoists have an edge.
---
By Smita Gupta in Dantewada, Chhattisgarh, Photographs by Tribhuvan Tiwari