Blow Hot, Blow Cold Tie
Narendra Modi invites Nawaz Sharif for his inauguration in May 2014
India calls off foreign secy-level talks with Pakistan in the wake of Pakistani High Commissioner Abdul Basit's decision to meet Hurriyat leaders in Delhi
Modi and Sharif meet in Ufa in July 2015, issue joint statement and agree to discuss issues of concern, but without mentioning Kashmir
Pakistan refuses to act on voice sample of 26/11 accused Lakhvi
Terror attack in Gurdaspur on July 27
***
It has been nearly a week since three Pakistani militants—suspected to be Lashkar-e-Toiba fidayeen—sneaked via the river Ravi into Punjab's Gurdaspur district, attacked a bus, killed three civilians, hijacked a car, drove it to the Dinanagar police station, gunned down four policemen, including a superintendent of police, and were themselves killed in a 10-hour gun battle with security forces. Yet, along with their GPS sets and arms and ammunition, the men left behind several unanswered questions.
Was this an attempt by the ISI-Pakistani army combine to derail the normalisation process agreed upon by the prime ministers of the two countries in Ufa, Russia, in early July? Was this a new Pakistani tactic to test India's resolve, especially in the wake of the Narendra Modi government's tough rhetoric? Or—most importantly—was this a return of terrorism to Punjab?
The last question is perhaps the most worrying for India. Pakistan's encouragement of separatist Khalistani elements in Punjab from the 1980s had plunged the country's once-most prosperous state into nearly two decades of violence and instability. If Punjab is once again Pakistan's target, then, with Jammu and Kashmir, it can pose a very serious political cum diplomatic challenge for the Indian leadership. The anxiety of the people of Punjab is understandably expected and well-founded.
Punjab therefore held its collective breath when news of the attack filtered in on the Monday morning of July 27, to release it only when authorities pointed the finger of suspicion at LeT, and not Khalistani terrorists. Violence has hit the state after nearly a decade of calm.
"After the Ufa meeting, Pakistan was bound to test India," says former Indian diplomat K.C. Singh. "So in that sense the Pakistan attack in Punjab was expected."
Pak hardliners were upset with Kashmir not being part of talks to come. Tight security in J&K diverted attack to Punjab.

Indian experts like him feel that the decision of the two prime ministers, reflected in the joint statement that had no mention of Kashmir, had angered the hardliners in Rawalpindi. The terror attack in Punjab, originally meant for J&K, may well be an attempt to bring Kashmir back to the centrestage of the proposed Indo-Pak dialogue.
But what does it indicate? Are the Pakistanis now trying to extend their low-intensity armed engagement to Punjab and other parts of India in the search for "softer targets"? Or does it speak of the efficiency of the Indian security forces in J&K and along the International Border with Pakistan forcing the LeT fidayeen to move further down towards Punjab?
Dinanagar is only about 20 km from the Jammu and Kashmir border and officials believe that the terrorists possibly entered Punjab only because their original objective—to create mayhem in Jammu and Kashmir—was foiled due to tight security and heightened deployment of security forces there. Besides, if the intent was to announce the arrival of militancy in Punjab, they would have struck deeper into the state to embolden its supporters if any. The attack would also have had some home grown support. But the fact that there is no ground support for militancy or the idea of Khalistan in Punjab is the reason why efforts to foment trouble have not borne fruit here.
But it never pays to be too sure. There is churn in the countryside because of misgovernance and lack of development by successive governments. But so great is the fear of terrorism returning to this border state that for all the exertions of Pakistan-based Sikh ultras and residual Khalistani elements in the Sikh diaspora to tap into the anger and revive militancy in Punjab, they have had no success.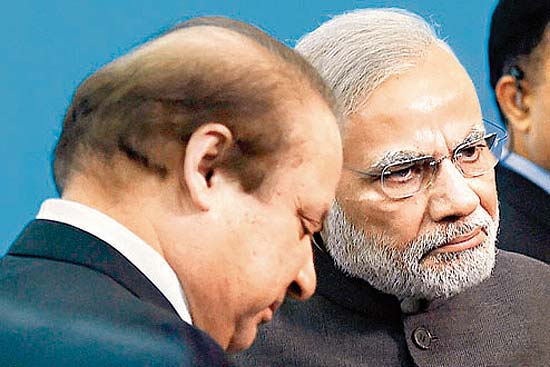 Gurdaspur, however, has brought back some of the old fears. It comes at a time when Punjab is already uneasy with the growing assertiveness of communal elements and resurgence of Sikh identity issues fanned in part by competitive politics. Remnants of the Khalistan movement have been actively playing on the injustices to the Sikh community to revive themselves, drumming up sympathy for Sikh terror convicts lodged in various jails, and even persuading the ruling Akali government in Punjab to allow a memorial for Operation Bluestar and ultras like Jarnail Singh Bhin­dranwale to be built inside the Golden Temple two years ago.
"After the Ufa meeting, Pakistan was bound to test India. So in that sense the Pakistan attack in Punjab was expected."


K.C. Singh, Former Indian diplomat
Intelligence agencies have for some time now been warning of a rise in pro-Khalistan activity in Pakistan, Germany, the UK, US and France. The US-based Sikhs for Justice (SFJ) has upped its efforts to internationalise the Sikh issue by highlighting the denial of justice to the victims of the 1984 anti-Sikh riots. The organisation, which has among its goals a separate Sikh nation, makes news for dragging prominent Congressmen and Akalis before US courts for alleged crimes against Sikhs in India. It has announced that it will conduct a referendum on Khalistan in 2020.
Soon after the attack, SFJ legal advisor Gurpatwant Singh Pannun issued a sta­tement saying, "The Modi government's attempt to equate referendum 2020 with revival of militancy is an attempt to derail a peaceful and grassroot campaign which is gaining momentum in North America, Europe, Australia, New Zealand, Dubai, Bahrain and Punjab."
In the last one year, Punjab has seen two former extremists sitting on indefinite fasts for the release of Sikh terror convicts who have served long prison sentences. Not just the ruling Akali party, the newbie Aam Aadmi Party has also joined the campaign to free Sikh convicts. The two parties worked in tandem to get Devinder Pal Bhullar, once on death row for his role in the 1993 blasts in Delhi, shifted to Amritsar jail (hospital) last month.
Bhindranwale has also become a cult figure in Punjab, particularly among the youth. His posters can be seen on cars and elsewhere in the state. In June, around the anniversary of Op Bluestar, Sikh youth in Jammu protested the removal of a poster of Bhindranwale by the Jammu police, leading to tension in the area. And a day before the Gurdaspur attack, Khalistan slogans were raised at a function presi­ded over by chief minister Parkash Singh Badal.
"(Suspending dialogue) has never worked. It is always the Indian leadership that has to come back every time to the talks table."


Srinath Raghavan, Centre for Policy Research
Yet, as Ranjit Singh Gill, a former militant of the Bhindranwale Tigers Force, convicted for killing Lalit Maken but now coaching students in Ludhiana, told Outlook, "Khalistan is the last thing on people's minds in Punjab."
According to him, issues of livelihood, clean governance and effective law and order are what occupy Punjabis now. However, he added, "There can be trouble if the government itself diverts public attention from its own inefficiency towards the so-called Sikh issues."
Narendra Modi has already made it clear that despite the Punjab terror attack, India would go ahead with the proposed set of meetings with Pakistan, which is to begin with a dialogue between the national security advisors of the two countries. "PM Modi has invested so much on the dialogue with Pakistan that it is now difficult for him to pull out," says former Indian diplomat Vivek Katju. But this could be the precise reason why the Pakistanis are now trying to test his resolve. The Pakistan foreign ministry on Thursday strongly denied and condemned Indian Union home minister Rajnath Singh's statement in Parliament that those involved in the Gurdaspur terror attack had entered India from Pakistan. It said the home minister's "unsubstantiated and provocative" comments are a "threat to peace and security" in the region.
Indo-Pak dialogue has been derailed once already after Modi came to power last year over the Pakistan high commissioner meeting Hurriyat leaders. The prime minister is keen that talks proceed this time. Katju, however, has issue with this decision. "Earlier, he had drawn the red line for Pakistan," he says. "But now he has started erasing it himself."
But like Modi, several Indian other Indian prime ministers too have tried to draw their own red lines while dealing with Pakistan. Much to their chagrin, however, they have all found that calling off dialogue with Pakistan—the only lever they seem to have against Islamabad—had rarely ensured cessation of cross-border terrorism from Pakistan.
"Earlier Prime Minister Narendra Modi had drawn the red line for Pakistan. But now he has started erasing it himself."


Vivek Katju, Former Indian diplomat
Srinath Raghavan of the Centre for Policy Research in Delhi thinks it is about time for India to delink the dialogue process from the issue of cross-border terrorism. "We cannot use dialogue with Pakistan as a reward for its good conduct," he says. India, he points out, has in the past tried to suspend the dialogue with Pakistan on numerous occasions to force it to give up cross-border terrorism as a tool in its engagement with India. "But it has never worked and every time it is the Indian leadership that has come back to the talks table."
So what can we expect now?
Experts feel the possibility of attacks similar to the Punjab one cannot be ruled out. It may not happen immediately but it may take place, in new Ind­ian cities and towns, in the coming months. As long as Pakistan keeps it within a threshold and not something as spectacular as of 26/11, it can continue to rattle India without drawing the attention of the big international players.
In a way, India is hemmed in by its own rhetoric. If it tries to implement a tough line, as it had been claiming in public so often to satisfy it domestic audience, it risks escalating tension with Pakistan. This, in turn, can not only lead to another war between the two nuclear-armed neighbours but can also create serious concerns on the world stage, especially with the cooperation they are seeking from Islamabad to stabilise Afghanistan.
The most effective way, therefore, for India to deal with Pakistan is to keep a variety of options open. This may include tough responses to Pakistan along the LoC, improving its own security and intelligence gathering while maintaining the dialogue process with Pakistan in an attempt to expand areas of cooperation. Terrorism from Pakistan may not end in the next few months. But by raising its stakes in the bilateral relations, India may hope to wean it away from encouraging terrorist activities within India as its most convenient tool to deal with its larger eastern neighbour.
---
By Pranay Sharma in New Delhi and Chander Suta Dogra in Chandigarh