It is difficult to erase the image of a profusely sweating N. Srinivasan, then the chief of the Board of Control for Cricket in India, trying to convince "the voice of the nation" that his son-in-law Gurunath Meiyappan, CEO of IPL franchise Chennai Super Kings or CSK, was "a cricket enthusiast". Meiyappan was arrested and charged for cricket betting, which is illegal in India.
One assumes there was enough evidence to warrant the action. But now it seems Lalit Modi had a part to play as well. A series of e-mail exchanges between him and his coterie (which Outlook has reviewed) rev­eal how the Indian Premier League founder played the media, the public, BCCI officials and the courts to get back at the former BCCI boss.
Modi's IPL with its T20 format certainly made the game more entertaining, and soon gave the man and the governing council more prominence in cricket than even the BCCI. It was inevitable then that the first hint of a scandal (and it was more than a hint), and all hell would break loose. As it did in 2010, resulting in Modi's suspension as chairman and a ban three years later, both of which he is now trying to challenge. (A lawyer who worked for Modi briefly recalls how they required a separate car to transport all the documents for lawyers' conferences and court hearings.) Srini­vasan was the BCCI chief all this while.
So when it was time to get his own back, Modi used proxy litigation and careful media planting to ensnare Srinivasan and get him removed, something BJP leader Subramanian Swamy is seeking to prove on Srinivasan's behalf in the Madras High Court. It started with one Aditya Verma, a functionary of the Cricket Association of Bihar (CAB), represented by top lawyer Harish Salve, filing a PIL in the Bombay High Court. In e-mails between June 10, 2013 and July 27, 2013, CAB's lawyers exchange drafts and legal strategy for the PIL, as well as details of the legal fees and expenses incurred, with Modi's lawyer Ankur Chawla. All payments were made through various K.K. Modi (Lalit's father) companies and other entities to which he was connected. This included covering fees and expenses for CAB's senior lawyers Ameet Naik and Vaibhav Bhurve, Salve and Nalini Chidambaram. There are also bills for air tickets, local conveyance at the Taj Mansingh in Delhi. Verma denied this to the media. He, Modi and his counsel did not respond to the e-mails sent to them.
While Verma was doing one end of Lalit Modi's dirty work against Srinivasan, Modi's counsel Mahmud Abdi was busy in Rajasthan. On Oct­ober 26, 2013, he lodged an FIR on the controversial IPL match in May between Rajasthan Royals and CSK, accusing Meiyappan of spot-fixing and Srinivasan of mani­pulating the formation of the umpire council. Again, e-mails between October 26-30, 2013, show how Modi's lawyers, advisors and publicists used this FIR to devise the media strategy to publicly discredit Srinivasan. The press releases and videos they produced on Srinivasan's alleged role put the BCCI chief on magazine covers, across the front pages of newspapers and on primetime TV.

Master Mind Lalit Modi. (Photograph by Fotocorp, From Outlook Issue 25 January 2016)
Following the scandal in May 2013, the Delhi Police had arrested three RR players—S. Sreesanth, Ajit Chandila and Ankeet Chavan—on spot-fixing charges. A BCCI disciplinary committee banned them for life in that same year. The three players (and 39 others) were eventually acquitted in July 2015 due to lack of evidence. It hasn't convinced the BCCI or the Delhi Police, though, and the latter has appealed the acquittal before the Delhi High Court. Modi's team also discussed several cricketers whose names eventually found mention in the media. This included players such as Suresh Raina, Ravindra Jadeja and Dwayne Bravo. On June 20, 2013, Modi wrote to David Richardson of ICC suggesting that he had been tipped off about these three players. Modi claimed that Baba Diwan, a Mumbai-based socialite, was a "close friend" of Kundra, Meiyappan, a bookie, and bet up to 10-120 million dollars per game. Diwan, he claimed to the ICC, had bought flats for Raina and Jadeja and paid Bravo in cash. Modi had apparently banned him from bidding for IPL teams.
Meanwhile, the combined exertions of Verma and Co had resulted in the case going up to the Supreme Court and the formation of the Justice (retd) Mukul Mudgal committee. Representations by both Lalit Modi's counsel and the CAB to the committee were prepared and vetted by Modi's team, as a set of e-mails shows. The Mudgal committee named the crooks of cricket on a piece of paper we are yet to see. The probe later moved to a three-member committee headed by former CJI R.M. Lodha. Curiously, while nobody met with any CSK offic­ials or asked to meet Srinivasan earlier, the secretary to the Lodha committee seemed to want to meet with one of Lalit Modi's public relations consultant. The commission suspended both CSK and RR for two years. Lifetime bans were imposed on CSK CEO Meiyappan and RR owner Raj Kundra. Srinivasan was asked if he could not see the conflict of interest himself.
It was, in fact, Lalit Modi who had (through a letter) invited Srinivasan to invest in an IPL team on Dec­ember 26, 2007, when the latter was BCCI treasurer. The board, then under Sharad Pawar, had bent over backwards to change a rule that till then had prevented BCCI officials from profiting from cricket. Srinivasan had at that time written to Pawar asking for a clarification and had received a reply in the affirmative. Shashank Manohar, seasoned lawyer and BCCI vice-president at the time, whom Pawar had undoubtedly consulted, too did not see any conflict of interest then. (It's a different matter that after taking over as BCCI president in 2015, his first self-declared mission was to end any such conflicts within the cricket administration board.)
Manohar was serving his first term as BCCI president through most of the time Lalit Modi ran the IPL. On June 3, 2013, he publicly said that he would not agree to take any interim charge of BCCI as long as Srinivasan, his successor in the BCCI's top post, remained president. On June 20, 2013, Modi rea­ched out to both him and I.S. Bindra (another former BCCI president). He suggested that "pressure sho­uld be put to scrap Rajasthan Royals and CSK. Their deposit and BG (bank guarantee) encashed, team owners should be blacklisted and teams should be freshly auctioned to new owners." There is also mention of a nameless 'sahib' whom Modi had updated about the plans. Modi was engaging with cricket officials who had become powerless under Srinivasan.
On June 23, 2013, Modi instructed his lawyer to keep Manohar in the loop for any "filings by us through anyone. We should not do anything that may harm BCCI directly". Manohar was copied in on the e-mail. The reference was to CAB's petition in the apex court that was making headlines every day and hurting the BCCI image.
Modi continued to repose faith in Manohar's abilities. In a March 2014 e-mail to Salve, Modi expressed doubts about ex-cricketer Sunil Gavaskar, whom the Supreme Court had put in charge of the IPL. "Sunny's motive has become money unfortunately. He has many skeletons, Dada and Sha­shank none," Modi wrote. Salve was appearing for Verma and Modi felt that a cricket probe committee should include Manohar and Sourav Ganguly.
Former BCCI chief Bindra too seemed to be helping Modi in his efforts. He had also gone to court against Srinivasan. It was Lalit Modi who settled his lawyer's (Rajiv Dhawan) fees, according to an e-mail dated Jan 29, 2015.
In June 2014, while the SC was on its summer vacation, a fresh crisis emerged. Since September 2013, Srinivasan held BCCI's nomination to be the next ICC chairman. Verma called reporters pointing this out. Modi, Verma and their team ran back to the drawing board. Wanting to pressurise the ICC, Modi got Verma to draft a letter to them threatening to drag them to court on contempt charges if they allowed Srini­vasan to take over as chair. The ex-IPL chairman also cautioned the ICC about being on the wrong side of the court.
Furtive e-mails decided that the only way to stop Srinivasan taking over was through legal intervention. They postponed the action only after Salve advised them to hold on till after Srinivasan actually took over as ICC chairman.
The entire purpose of this exercise by Modi seems to have been to arrange the expulsion of Srinivasan, under whose tenure he was banned from cricket for a lifetime. The question many are asking is why did Modi not approach the courts directly instead of going through Aditya Verma? After all, he had successfully won the right to contest elections in the Rajasthan Cricket Association and seems to be running its affairs from overseas. And now that Manohar is back in power, is a BCCI review of the ban on Modi likely? If not, a parallel World Cricket Council is being brewed in the mind of the shrewd strategist that is Lalit Modi.
And he is not finished with Srinivasan yet. After the Lodha committee banned the two teams in July 2015, the Manohar-led BCCI floated a tender for two new IPL teams. CSK and RR players would seek a place in the two new teams, and if they left, the banned teams could never be reconstituted, the owners lose their investment forever.
***

***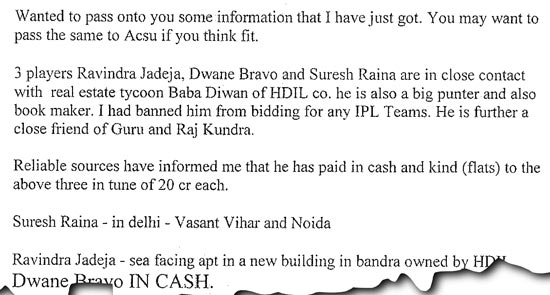 ***

***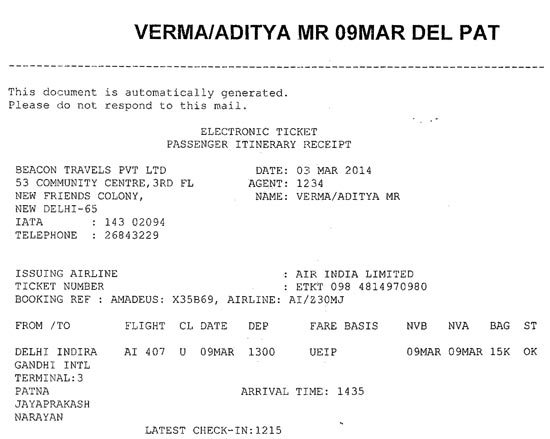 ***

***

***

Power of suggestion Modi's e-mail to Manohar suggesting that Rajasthan Royals and CSK be scrapped
Dashed E-Mail To ICC's David Richardson about players Raina, Jadeja and Bravo of Chennai Super Kings
Expense Claims Flight tickets, hotel bookings and lawyer fees
---
By Ushinor Majumdar in Delhi