What Sirisena Needs To Accomplish
Put Sri Lanka back on track of true and inclusive democracy
Change the executive presidency to a constitutional one
Probe charges of nepotism and human rights violation by Rajapaksa
Take steps to look for a political resolution to the Tamil question
Reach out to the various minorities to make them stakeholders in Sri Lanka's progress
***
In August 2014, after a week of reporting in war-ravaged north Sri Lanka, I took a state transport bus back to Colombo in the south. The three-decade-long civil war had ended five years earlier, and though the relaid A9 highway was smooth as silk, on either side of it, bombed ruins and shattered trees alternated with little army-run hotels and shops. Tamil civilians in the packed bus were talking, napping, looking at what was left of the land they once knew. I sat near a frail old woman holding a green plastic doll on her lap for her four-year-old granddaughter. We shared an orange, and she said the child was the only family she had after the war.
As the bus drove past Elephant Pass, the sliver of land that connects Jaffna pen­insula to the mainland, the tittering crowd grew quiet. Outside, behind the swirling red dust, an enormous white statue of the Buddha gleamed alongside the ruins. Then a tall bronze lotus, a Bud­dhist symbol, emerged from a wall cracked by a giant bullet. A memorial to a Sinhalese soldier, several concrete lions—the emblem of the Sinhala race. A large banner showed a grinning Mahinda Rajapaksa in his trademark white shirt and maroon scarf. As if on cue, the passengers—all Tamil—turned their heads away. "Who wants to see his face?" the old woman spat. "Nothing will change for us, or for this country, till he is gone."
On January 8, 51.3 per cent of the Sri Lankan electorate seemed to echo those words, voting Rajapaksa out, and ending his decade of family rule, authoritarianism and corruption. Rajapaksa had anno­unced polls two years before schedule, expecting an easy win. But in a dramatic turn, his low-profile health minister and old party guard Maithripala Sirisena defected a month before polls, and with it came the first rumblings of change.
Rajapaksa had eliminated the LTTE in 2009. He was a 'war hero' and popular among the Sinhala Buddhist majority. But in five post-war years, he frittered away the moment of peace, consolidating power and wealth in his large family. Economic growth was at 7 per cent, but Sri Lankan economists said it was manipulated: there were few jobs, wages were low, and state indebtedness high. Worst of all, Rajapaksa brooked no criticism—not from his own Sri Lanka Free­dom Party members, not from his own community. He was ringed by violent Bud­dhist monks and fortified by the lar­gest military Sri Lanka has ever had. His family was deeply entrenched in every sphere of government, media and business, attacking minorities, weakening the police and judiciary, and squelching dissent. In this oppressive atm­o­s­­phere, few analysts expected free and fair polling; surely not the electrifying win of the relatively unknown chall­enger.
While the electorate was increasingly disenchanted, the real trigger for the turnaround was perhaps the gradual emasculation of senior members of the ruling SLFP. Several followed Sirisena, joining hands with erstwhile rivals to form a common opposition.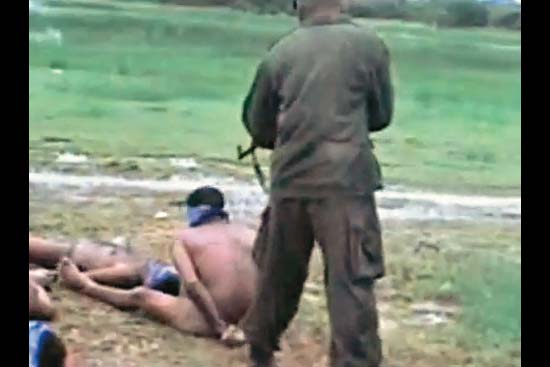 In cold blood The famous video grab showing the killing of LTTE soldiers by the Sri Lankan army.
This election was historic. The voter turnout was an unprecedented 81.5 per cent. It was the first time a president sought a third term—Rajapaksa had infamously amended the constitution to scrap term limits—and the first time an incumbent lost. The New Democratic Front (NDF) is the broadest political coalition ever in the island: defected members of the SLFP joined arch-rivals in the neo-liberal UNP, the monk-led right-wing JHU, the Marxist JVP, two Muslim parties and the Tamil National Alliance. It has support from former president Chandrika Kumaratunga and former PM Ranil Wickramasinghe. It was a close fight; although Sirisena's winning margin is just 3.7 per cent, this translates to a substantial 4,49,000 votes.
Most significantly for the future, Sirisena has the substantial votes of Sri Lankans from all communities. Tamil and Muslim votes from the north and east regions gave him a clear edge over Rajapaksa, and he also led in the Sinhalese-dominated central and wes­tern provinces. Rajapaksa won more votes in the rural, Sinhala-Buddhist deep south, but his meagre two per cent margin there reveals that the Sinhala vote was sharply divided.
"The ethnic conflict that so ravaged the Sri Lankan nation and society was present in the NDF policy only in its absence."
For most Sinhalese voters, Sirisena's appeal lay not only in his rural, Sinhala Buddhist roots, but equally in his NDF campaign manifesto that vowed to tackle the spiralling cost of living, and especially reform, in 100 days, of the executive presidency that vested more power in the head of state than the parliament.
Sirisena's campaign was not particularly friendly to minorities, who constitute a quarter of the population. He avo­­ided issues of post-war reconciliation for war-affected Tamils, and did not assure intimidated Muslim and Christian communities legal justice. And he reje­cted Tamil calls for an international probe into war crimes in 2009. Tamil vot­ers could not have forgotten that Sir­isena was the acting defence minister in 2009, and any war crimes prosecution he approved would make him vulnerable too. To appease a key ally, the monk-led ultra-Sinhala, anti-Muslim Buddhist JHU, he promised to retain constitutional primacy and state protection for Budd­hism. Colombo-based political analyst Jayadeva Uyangoda puts it cryptically, "The ethnic conflict was present in the NDF policy only in its absence."
Yet, on January 8, reeling under inc­reasing army surveillance, forced dis­ap­pearances, land grabs, unemployment, displacement and cultural domination, minority communities turned to the ballot for reprieve. Sirisena won 80 per cent of Tamil votes, and an even gre­a­ter share of Muslim votes. Post-ele­ction, the first order of business in Sri Lanka seems to be a thorough spring cle­a­ning. A new cabinet has been appointed, and Raja­paksa loyalists are being shunted out.
Sirisena has a hard journey ahead. In the first 100 days, he must kickstart democratic reforms by restoring the stolen media freedom, judiciary and police. Secondly, he must reinvigorate inclusive economic growth that creates jobs. Sri Lanka's core strengths in garment manufacturing, tourism, and tea and fisheries exports must be revived. Some of this could come with mending fraying ties with the West and India, and re-evaluating the economic dependence on China. Indian reaction to Sirisena has focused on his views on China, but it must tend to bilateral frictions in the fishing crisis, business relations and postwar northern redevelopment too.
For political stability, he must include minorities in policymaking. Sir­i­­sena has a chance to be the first Lankan leader in decades to go beyond the pol­arising language of patriots and traitors, seeing minority grievances not as bet­r­ayal, but as legitimate demands of citizens.
But the long civil war widened fissures, and after its end, Sinhala Buddhist sup­remacy is more deeply entrenched, and Sirisena might not risk challenging his hardline Buddhist allies with any pro-­minority moves at this stage, especially to keep his coalition together.
The arrival of Sirisena's first foreign guest, Pope Francis, fortuitously set the tone for the new government. Sri Lanka has nearly 10 per cent Catholics, both Sinhalese and Tamil, and the Pope called for a "process of healing" through "the pursuit of truth...as a necessary means of promoting justice, healing and unity".
Democratisation and unity are mountainous goals. But by delivering a stun­ning verdict, Sri Lanka's multi-­­ethnic electorate has given the new president a narrow window of opportunity to lay the first bricks for lasting peace. For their sake and his, Sirisena needs to seize it.
---
(Rohini Mohan is the author of The Seasons of Trouble: Life Amid the Ruins of Sri Lanka's Civil War)