A night-out at a pub in blood-freezing minus six degrees centigrade, sipping your cocktail from an ice glass, seated on an ice stool, tucking into starters that come on skewers over flared-up lava rocks and, of course, swaying to the coolest music, blue lights with red hues streaking the room. This is the newest and hippest version of what a dare-to-be-different bar could be in a perennially warm and humid city like Mumbai. The week-old ice bar, called '21 Fahrenheit', is the latest joint to hang out in a city that will attempt anything different, just to be different.
Advertisement opens in new window
The ice bar covers barely 820 square feet of area and can accommodate just about 45 guests at a time, but what gives the place an edge is its location—it's in the heart of the mini-celebrity-studded fun-food-fashion junction of Andheri West. Such is the curiosity quotient among the hip crowd and so high their need to be updated that the ice bar attracts guests even on a weekday afternoon. The owners, of course, aren't complaining at all. The Rs 750 entry fee, or 'acclimatisation charge' as they call it, comes with a complimentary cocktail/mocktail in a one-time use ice glass, parka coats, insulated moon boots and gloves. Of course, it's pretentious, as make-believe as possible, but that reflects the glam end of the city anyway. And oh yes, lest we forget, the coats and gloves are laundered after every use.
So, all wrapped up in woollens and mittens, you sit down with your drink, walk around the place, marvel at the ice curtains and the ice-sculpted flower vases, tap your feet to the music, and maybe shoot some pictures. Then, you have another drink, and another, till the chill begins to get into your bones despite the parka and the gloves. Unlike ice lounges in other parts of the world, 21 Fahrenheit does not have an end-time, but the ideal recommended 'chillout' or hangout time is about 40 minutes. Then you can visit the adjoining 'normal' bar and multi-cuisine restaurant and warm up sufficiently before hitting the ice bar again. Welcome warmth for patrons, great business strategy for the owners.
Advertisement opens in new window
Some find the novelty too riveting to absorb in one visit. Like Kajal and Dhawal, the twentysomething couple who dropped in on their anniversary. They plan to repeat the experience soon. Manoj Nair, a business executive who came to check out the ice bar the day he landed in the city, can't resist this cheeky comment, "This place is especially good for boys; their girlfriends are bound to cozy up to them thanks to the cold!" The owners are flooded with enquiries for children's birthday parties, corporate launches, even fashion shows. Smoking, of course, is ruled out but then you can always step out for a quick puff.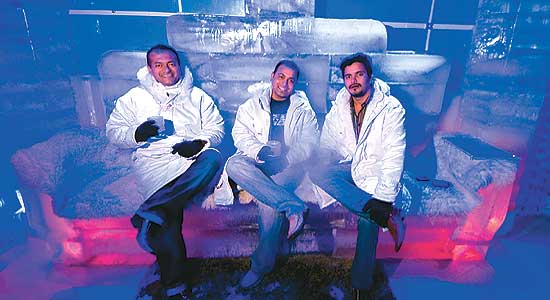 Cool dudes: Vaibhav Tandel with Aalok Purohit and Harshan Dharmadas
"When people walk in, the amazement we see on their faces gives us great satisfaction," says Vaibhav Tandel, CEO, Hyacinth Lifestyle, which owns the ice bar. Tandel, with his partners Aalok Purohit (assistant vice president, marketing) and Harshan Dharmadas (assistant vice president, operations), blueprinted and set up an ice lounge recently in Dubai for a business group. They were surprised by the warm response it received and decided to replicate the concept in Mumbai, but on their own. "We chose Mumbai next because people here love their night-outs to be different; besides, winter here is for namesake," says Tandel. He believes that our capacity to adjust to extreme temperatures is, after all, "a psychological gimmick". They plan to reshape the ice structure and layout into completely new forms every three to four months, to keep the novelty factor high.
Advertisement opens in new window
The standard refrigeration technology has been used, but "with a tweak"—special attention is given to maintaining the appropriate levels of oxygen. Purohit claims that it's the only ice bar in the world that serves hot starters or amuse gueules. "We serve the starters on skewers over flared-up lava rocks so that they stay hot and people don't have to use their fingers," he says. Maintaining the ice bar is a new challenge because the moment drops of cocktails or mocktails spill on the floor, they freeze.
Tandel and his partners have plans to open '21 Fahrenheit' ice bars across the country, and even the world, but Tandel says they want to consolidate the idea in India's commercial capital before heading out elsewhere.
And yes, in the middle of the second drink, if you ask just how many kilowatts of power—in a power-starved nation—does it take to keep the 25 tonnes of ice frozen every day, you might just get a cold stare.