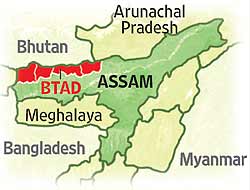 The past
The Bodos, a tribal group and the original inhabitants of the Brahmaputra valley, have been seeking a separate state of Bodoland since the 1980s. The Bodoland Accord of 2003 bought peace by putting in place a Bodo Territorial Council to administer the four districts in Assam comprising the Bodo Tribal Area Districts (BTAD). While Bodos got political power, non-Bodos constitute the majority of the population.
The trigger this time
A Muslim constable and his uncle were shot dead by suspected Bodos after the constable had helped arrest a former Bodo militant holding illegal firearms. In retaliation, a mob lynched four former Bodo militants, triggering a free-for-all.
Did police deliberately delay action?
A police picket had rescued the three Bodo youth, who were snatched away from their custody by the mob. They are being blamed for not opening fire to disperse the mob. Warnings issued after the constable's killing were ignored. There was also apparently a delay in deploying security personnel.
Land is at the heart of conflict
Since the Bodoland Accord of 2003, neither Muslims nor Santhals, the latter not deemed to be a scheduled tribe in Assam, can buy land in the area administered by the Bodo Territorial Council. Bodos, therefore, have held on to the land they had in 2003 and also bought more land since then. They, however, blame illegal migrants from Bangladesh for encroachment on government and forest land.
Where the majority has no voice
The structure of the Bodoland Territorial Council is such that non-Bodos, who constitute the majority of the population in the area, do not have a political voice. While the law ensures that Bodos are elected to a majority of the seats in the Council, non-Bodos can never hope to get into a majority.
Grievances of the Bodos
The Bodo Territorial Council experiment is deemed to be an unsatisfactory and incomplete arrangement because various subjects, including law and order, are with the state government. Both armed militants and democratic political groups have kept the demand for a separate Bodoland alive. Land alienation is also cited as a major reason for discontent. The land occupied, bought or encroached by non-Bodos before 2003 is stated to be substantial and remains a cause of friction.
Political failure
Extremist groups among both Bodos and non-Bodos took advantage of the situation. The government's failure to be tough with illegal migrants and disarm the extremists on both sides has also contributed to the volatile situation.