Both are Cambridge-educated. Mushirul Hasan is a former vice-chancellor of Jamia Millia Islamia and a former director-general of the National Archives of India. Sugata Bose, the grand-nephew of Netaji Subhas Chandra Bose, is the Trinamool MP from Jadavpur (Calcutta) and Gardiner Professor of Oceanic History & Affairs at Harvard University. They take part in a debate moderated by Uttam Sengupta. Excerpts:
***
How relevant is Nehru to contemporary India? Is there any attempt at diminishing his legacy?
Sugata Bose: Nehru played a key role in institutionalising India's parliamentary democracy and is relevant to all those who subscribe to democratic values. There is an unfortunate attempt at diminishing his legacy by the current ruling dispensation. However, India had a galaxy of great leaders during the freedom struggle. Earlier regimes were guilty of not giving due recognition to those who did not belong to the Nehru-Gandhi dynasty.
Mushirul Hasan: The same question is asked about Gandhiji as well. How can India forget the prophet of a great revolution? Similarly, how can we ignore the contribution of Nehru, the architect of modern India? Right-wingers are uncomfortable with Nehru because of his liberal, pluralist and secular agenda. He made no concessions to the religious minorities, but is still castigated for Muslim appeasement. As PM, Nehru bemoaned the fact that his party was riven with caste and communal dissension. "Real failure," he wrote, "was a desertion of principle, a denial of our right, an ignoble submission to wrong. Self-made wounds always took longer to heal than those caused by an adversary."
Have Nehruvian socialism, liberalism and humanism become pejorative terms in Indian politics? Have they lost their relevance?
Bose: I hope not. Nehruvian socialism was transformed into a stifling form of statism after independence. India's political economy has been breaking free of those shackles in the 21st century. If Nehruvian socialism, liberalism and humanism are meant to signify a commitment to egalitarianism and an acceptance of multiple identities, they remain quite salient in today's politics.
Hasan: How can we afford not to be liberal and humanistic in dealing with state and civil society? Our religious scriptures talk of removing the gap between the rich and the poor. Our Bhakti and Sufi saints stood for ecumenical values. Sant Kabir and Hazrat Nizamuddin Auliya exemplified this trend. Our great poets and writers spoke the language of humanism. Can you imagine Ghalib, Premchand and Tagore speaking the language of the Togadias? If not, why should Nehru then be hauled over the coals for his common sense and eclectic worldview?
Despite attempts to deify him by naming places and institutions after him, is there a disconnect today? If so, is it natural?
Bose: It is quite appropriate for some places and institutions to bear Nehru's name. Unfortunately, many more carry the name of his grandson, who hardly reached a fraction of Nehru's stature. It is the shameless promotion of unbridled dynasticism by successive Congress governments at the cost of excluding other important public figures that has created what you describe as "the disconnect" with people.
Hasan: Yes, there is a disconnect. This is partly due to the error of judgement on the part of both the left- and right-wing ideologues, who condemned Nehru and his methods without any serious reflection. B.T. Ranadive, M.N. Roy, Ram Manohar Lohia and Jayaprakash Narayan were adept at this game.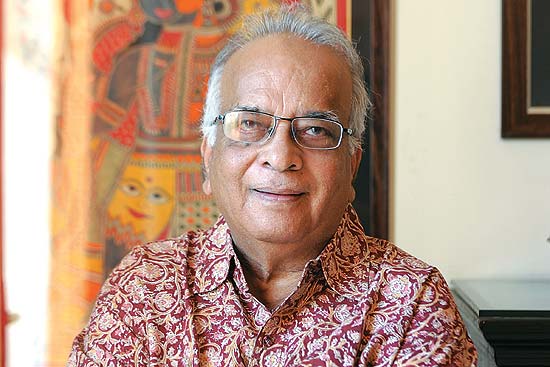 Mushirul Hasan. (Photograph by Jitender Gupta)
How would Nehru have reacted to India today?
Bose: Nehru would have been dismayed by the rise of religious majoritarianism—what he called communalism—and the powerful sway of big business on Indian politics.
Hasan: The country's progress in certain crucial areas would gladden Nehru's heart, but not the degradation of Harijans, women and other weaker sections of society. The exclusion of the Muslims from developmental processes would disappoint Nehru: in the BJP-ruled states, there is only one among 151 ministers. He would be aghast by the lust for power and money, and the erosion of those high ideals which inspired his generation. The lowering of educational standards would raise all sorts of fear in Nehru's mind. Somehow, his temples of learning have ceased to be vibrant. The IITs and the IIMs are only for the elites and not the newly emergent aspirants.
While Nehru is criticised freely, followers of Bose, Modi or Ambedkar seem far less tolerant of criticism. What explains this?
Bose: I disagree with the premise of this question. The Indian state has often thrown a cloak of teflon over Nehru's shoulder to protect his reputation. But the Nehru jacket has not remained wholly unstained. Bose and Ambedkar belong to a category different from Modi. They were great men who have indeed had more than their share of criticism, both fair and unfair. Their genuine admirers are not intolerant of legitimate criticism.
Hasan: The division of our nationalist legacy goes on ceaselessly. We have assigned Azad to Muslims, Bose to Bengalis, Rajagopalachari to the south. On the other hand, we have invented new icons who had very little to do with the freedom struggle. Where does the BJP-RSS find their people engaged in the heroic struggle? In their search for a 'hero', they encounter Sardar Patel, who belonged to the mainstream nationalist movement, spearheaded by the Congress. I suspect the bus will not stop here.

Sugata Bose. (Photograph by Jitender Gupta)
How fair is it to blame Nehru for mishandling Partition, Kashmir and the Chinese incursion?
Bose: Nehru was a majestic man prone to committing Himalayan blunders. Before independence, his foibles included the refusal to countenance coalition governments in crucial provinces in 1937 and his refusal to support Gandhi and avert Partition. After independence, he equated communists and federalists with terrorists in the late 1940s, let Potti Sriramalu die of starvation in 1952, threw his friend Sheikh Abdullah into prison in 1953, turned a blind eye to human rights violations in Nagaland in 1956, acquiesced in the dismissal of a duly elected state government in 1959 and led India into a military debacle against China in 1962.
Hasan: Yes, he made mistakes. He failed to understand the popular support for the Pakistan movement. He failed, moreover, to negotiate with M.A. Jinnah on equal terms. On Kashmir, he committed himself to a plebiscite but wriggled out under pressure from his colleagues and the right-wing forces spearheaded by Shyama Prasad Mookerjee. His greatest blunder was to arrest Sheikh Abdullah. He set out to make peace with China, but Panchsheel didn't work. He relied too much on Krishna Menon.
Do you think Nehru's idea of secularism was flawed?
Bose: Nehru's belief in a process of secularisation was not flawed, but his projection of secularism as a state ideology to buttress unitary sovereignty and singular nationalism confused uniformity with unity. I think Nehru could have been more respectful of cultural differences, a kind of respect that has to be the bedrock of any true sense of national unity.
Hasan: No, no...Nehru had enormous respect for religion, Indian culture and traditions, but he was also aware of the importance of preserving our diversity. How can the idea of secularism be flawed in a country that is as diverse as ours? Look at neighbouring Pakistan, where a so-called Islamic state has been the cause of the fragmentation of the 'Muslim nation'. A secular approach in politics and society alone can preserve the multi-religious character of our society. Nehru acted on this principle all his life. For this, he invited the ire of both, the Islamists and the protagonists of Hindutva.
How best can India observe his 125th birth anniversary?
Bose: By learning from his glorious accomplishments and his colossal mistakes. I would especially want the younger generation to read his beautifully written books.
Hasan: Our institutions must take note of Nehru's inclusive understanding of the concept of culture. He had warned against the chauvinism of cultural nationalism, as represented in the German word 'kultur'; cultural relations should not be defined by conquest and domination. With growing access to new materials, we are better placed to pass his truly heroic and tragic images to the readers, his largeness of vision, emotion, pathos, and tolerance. More than any other person, he dedicated his immense energies and intellectual powers to bring joy and freedom to his people. He made democracy an essential part of the social fabric and proved it could flourish in Asia. One hopes that Nehru's seriousness, courage and unselfish devotion to India's liberation will not be questioned by ill-informed and motivated columnists. One also hopes that the unparalleled moral prestige that lay in his hands would react upon the younger generation, and that his ideas on pluralism and secularism would find gradual acceptance in our society. Believe me, badi mushkil se hota hai chaman me deedavar paida.
Why does Nehru continue to be debated and not Lenin, Sukarno and other such contemporary leaders?
Bose: Lenin, Sukarno, Nasser, Nyerere and Tito—they all continue to be debated in their own countries and internationally. If they are not discussed as much as they should be in India, it is probably because many Indians have ironically lost a global historical perspective in this contemporary phase of globalisation.
Hasan: This has a great deal to do with the school, college and university level curriculums, which are confined to India and Indians. How many of our students have heard of Thomas Jefferson or Lloyd George? Very few. How many have heard of historians like E.H. Carr, E.P. Thompson or Eric Hobsbawm? Again, very few. Even the informed circles in society consider Lenin, Sukarno, Naseer and Tito to be irrelevant. It doesn't matter to them that they were makers of history. Mite namon ke nishan kaise kaise, zameen kha gai aasman kaise kaise.