The first—and only—time I met with Prime Minister Narendra Modi was in 2006, in Beijing. At the time I was a journalist based in the Chinese capital and Modi was the chief minister of Gujarat. His whirlwind tour around China, a country to which he became a frequent visitor, had a singular focus: special economic zones (SEZs).
Modi's eyes shone as he described his visit to Shenzhen, the southern city that was China's showcase SEZ. "My goal for Gujarat SEZs is to create exactly that kind of world-class infrastructure and to attract that kind of investment," he enthused. I had well understood his excitement. Shenzhen's shi­m­mering skyscrapers and m­ulti-lane highways induced in­fra­structure envy in just about every Indian I knew who had witnessed them.
In 1980, Shenzhen had been a tiny fishing village with a total population of 24,000 people. By the time of Modi's visit, it was home to five million citizens, boasted the second busiest container port in China, and enjoyed the highest per capita disposable income in the mainland.
Shenzhen wasn't alone in its rags-to-riches life story. Its fortunes had been replicated up and down the eastern seaboard of China, where low wages, abundant labour, and investment-friendly government policies had transformed the ostensibly "Communist" country into an unrecognisable behemoth of state-led capitalism.
The China I reported from between 2001 and 2009 was ascendant; a land of superlatives; a miracle of manufacturing might. It came to boast the world's biggest dam, the largest airport and museum, and the highest railway line. I saw 700-bed hospitals being erected in a week. There was something preternatural about the country. It was as if a manufacturing superhero had been plucked out of the pages of a Marvel comic and was now striding across the world with outsized footprints, filling it with exports.
China's metamorphosis from a poor and largely agrarian nation of bicycles and bullock carts into the factory of the world took place within a rather compressed, 25-year-long period. It was not organic or gentle. It was revolutionary and violent in speed and scope. And yet unlike other revolutions, it was neither bloody nor did it entail an overthrow of the ruling power.

Jobseekers' avenue China's 'reforms' have opened up opportunities but widened gaps
Instead, this was a revolution that was directed by the ruling authority, the Communist Party of China (CCP), itself. From the late 1970s onwards, the country's leaders dismantled the party's former ideology of Communism and discontinued the practice of Maoism. They embraced the market with a fierce determination. Privatisation of state-owned enterprises (SOES), labour reforms which transformed the 'iron rice bowl' as the lifetime employment system in SOES was known, the creation of SEZs, export subsidies and massive investment in infrastructure development were some of the hallmarks of this new orientation.
As with all revolutions, there was a high cost to pay. What was one of the most egalitarian nations in the world, at least in official commitment, now saw yawning inequalities open up. Millions of workers from SOES were laid off with little or no social security cover. Property that used to be taken away from the rich for redistribution to the poor was taken from peasants and given to real estate developers. Rampant corruption and vanishing provisions for education and healthcare had deleterious, often devastating, consequences for large swathes of society.
I could see why Modi was smitten by Shenzhen. Its shiny highrises and multi-lane highways could easily induce infrastructure envy.

The environmental implications of booming manufacturing were also stark. I visited 'cancer villages' across the country where unusually high percentages of villagers had begun to suffer from cancers that they blamed on rivers polluted with chemicals and industrial effluents. By the time of Modi's 2006 SEZ tour of China, 70 per cent of China's rivers and lakes were polluted to some degree, 28 per cent too polluted even for irrigation or industrial use. Ninety per cent of groundwater under cities had been deemed too polluted to drink. Over the years, I walked through Chinese cities where the sun was eclipsed by coal dust even in mid-morning. I developed a persistent cough myself. I visited towns in China's northern Ningxia province that had been swallowed up by the desert.
As was usually the case with the CCP, there was eventually a calibration of its policies. Measures were being taken to slow down the environmental degradation, protect labour and provide some new social security nets. There was a difficult and often imperfect attempt at balancing continued controls with liberalisation. The movement of labour within China, for example, was gradually loosened but still managed. Private property was introduced in cities, but peasants remained unable to buy and sell agricultural land. As a result, even when migrant workers from the countryside failed to find adequate employment in cities they had a small plot of land to return to.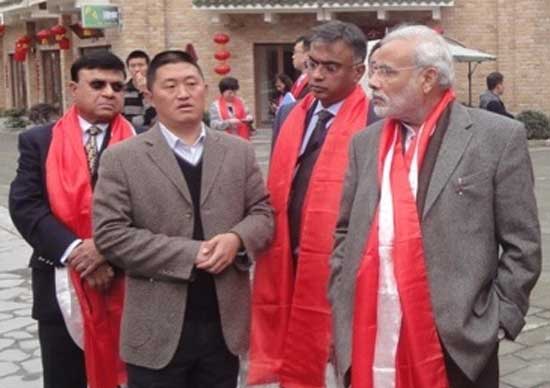 The more time I spent in China, the clearer it became that easy or stark conclusions with regards to the country's present, or future, were wrong-headed. China's 'reforms' meant that the economic gap between a migrant worker and a well-heeled industrialist was larger than anything that would have been possible under Mao Zedong. The migrant workers who kept the mainland's factories humming efficiently laboured under tough conditions and were often discriminated against.
Yet, they now had the kinds of choices—of employment, travel, personal life—that had been denied to their parents. They also had some opportunities for upward mobility as opposed to the static future of the Mao era. I interviewed 20-year-old girls who had transitioned from the shop floor to secretarial roles. One went on to set up her own business.
When I had tried to discuss the nuances of China's 'successes' with Mr Modi, he abruptly lost interest. Since he had just visited SEZs, I asked about whether he had investigated how the Chinese managed issues surrounding the appropriation of land from farmers to develop these zones. Such inquiries were "outside the purview of his visit", he said dismissively.
---
(Jakarta-based Indian journalist Pallavi Aiyar has written two books on China—Chinese Whiskers and Smoke & Mirrors: An Experience of China. Her most recent book is Punjabi Parmesan: Dispatches from a Europe in Crisis.)