Once again the opening of the controversial Jal Mahal in Jaipur has been put off. After six years and almost Rs 30 crore worth of restoration work, it has been hit by political play-offs, charges of a land scam and several court cases, stalling the first public-private partnership to revive a Rajasthan heritage site. Things came to such a pass last fortnight that the KGK Consortium, one of the partners of Jal Mahal Resorts, the company involved in the renovation and development of the monument, had to bring out full-page ads in national newspapers in order to put forth its stand on the charges levelled against it. The main charge is that rules were violated in giving the contract to the company. With all the hullabaloo, there's no sign of the monument opening to the public. "They seem to keep getting one court notice after another," says Bhagwat Gaud, a Jaipur lawyer, who has also filed a public interest litigation, a criminal fir and a writ petition for a CBI probe. Rajeev Lunkad, the project development director, maintains "the controversies are all politically motivated; it was a transparent deal".
Jal Mahal was built in 1734 by Maharaja Sawai Jai Singh II. It was a pleasure palace for generations of Jaipur's royals, who hosted duck-hunting parties, picnics, music and dance performances here. It was later handed over to the government. Soon the palace turned into a ruin and the lake was choked with garbage and sewage from Jaipur's two major drains. "For many years it was abandoned, isolated, inaccessible. We even heard stories of it being haunted," says Arun Mudgal, a Jaipur resident. And Dharmender Kanwar, head of Intach's Jaipur chapter, says, "Nobody ever went that side of the town."
In 2004, the Rajasthan Tourism Development Corporation decided to try and restore the monument to its original glory. They signed an agreement with Jal Mahal Resorts, granting it a 99-year lease to develop 100 acres along the Mansagar Lake (in the middle of which Jal Mahal stands) and the palace. Global tenders had been invited, with the reserve price set at Rs 1 crore. Jal Mahal Resorts had won the contract with a Rs 2.52 crore per annum bid. There was provision for a 10 per cent increase in the lease amount every three years for the next 99 years. The group plans to develop it as a leisure destination, with an eco-hotel, galleries, boutiques and lakeside dining.
A neglected monument is restored. But was the PPP contract through which it was achieved a steal for the company?
But now the deal is under scrutiny. "A 99-year lease is as good as selling off a property. Even the RTDC gazette notification does not allow for a lease of more than 30 years," points out Gaud. "A public property has been randomly handed over to a private company for commercial activity and exploitation." His PIL in the Rajasthan High Court charges that the 100 acres are worth Rs 10,000 crore. "But only 13 acres can be put under construction. The rest will have to be landscaped as per the agreement," clarifies Lokesh Mansukhani, manager, corporate communications, Jal Mahal Resorts. The group's line of defence is clear: nobody thought the deal was going cheap in 2004, when things were in a bad shape, but now everyone wants a share of what is turning out to be an attractive real estate pie.
In fact, real estate may well be the only reason why the group took up the project, as it has little to gain otherwise from Jal Mahal's restoration. The palace will remain a public monument and the garden will be open to all, with no entry fees and no commercial activity—no hotel, restaurant, cafe or shop—allowed on the premises. All that the company gets is Rs 25 per person for a return boat trip.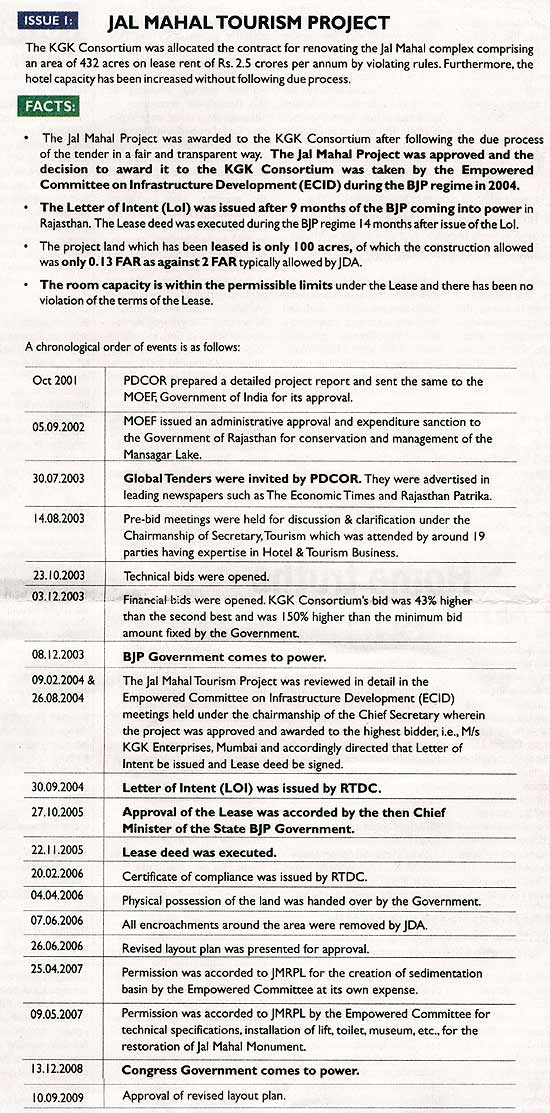 Mahalnama The clarification ad from kgk
There was an uproar in the assembly over the Jal Mahal project in February. BJP mlas had staged a walkout, alleging the proposal plan of 2004 was revised and the hotel capacity had been increased (from 200 to 435 rooms) without following due process. Jal Mahal Resorts maintains that the increase is within permissible limits as defined in the lease contract. Meanwhile, there have also been allegations about chief minister Ashok Gehlot's son, Vaibhav Gehlot, being a legal consultant to the company. (The original deal, incidentally, was signed during Vasundhararaje Scindia's government.) In all this trading of charges, what's getting overlooked is a rather vital issue: that a state like Rajasthan, known for its heritage monuments and properties, doesn't have a specific legal framework to regulate and conserve them.
There is no denying that this renovation has been a success: it's an eye-popping makeover. Traditional boat-makers from Vrindavan have crafted the Rajput style wooden boats. A gentle splashing of oars on the clear lake waters takes you to Jal Mahal. You move past decorated hallways and chambers on the first floor to climb all the way up to the fragrant Chameli Bagh. Across the lake, you can view the Aravalli hills, dotted with temples and ancient forts, and on the other side, bustling Jaipur. The most remarkable change is in the lake itself. The drains were diverted, two million tonnes of toxic silt were dredged from the bottom, increasing its depth by over a metre, a water treatment system was developed, local vegetation and fish reintroduced, the surrounding wetlands regenerated and five nesting islands created to attract migratory birds. The company invested Rs 20 crore to revive the lake and Rs 10 crore to the restore the palace.
While a big question mark looms large over its public opening, experts feel Jal Mahal has shown the PPP model could be the way ahead for conservation and tourism infrastructure. The National Commission for Heritage Sites Bill, 2009, with CPI(M) MP Sitaram Yechury as chairman, had noted that 249 heritage monuments under the Archaeological Survey of India had been encroached upon. Would corporate participation, as in Jal Mahal, help government agencies stem the tide? Would Jal Mahal and the lake have had a chance if not for this project? Would this project have happened if profit wasn't built into it?
Most people feel that conservation is not something government can do well on its own. A parliamentary committee, again headed by Yechury, had in 2006 recommended tapping the corporate sector for financial assistance. Till now, non-profit agencies like Intach and the Aga Khan Foundation have been chipping in the most. "The Jal Mahal model is more easily replicable," says conservation architect Ratish Nanda. Aman Nath, of Neemrana Hotels, says ppp "is an advantageous model" but the "bureaucracy stalls things". Historian Narayani Ganesh too largely concurs: "In the last 20 years, there has been a huge change in awareness about historic areas, and a quantum increase in the number of individuals who are trained in conservation, both architectural and material. I do think the healthy cooperation of official custodians, private specialists and traditional craftspersons is the best way."

Fragrance & Light Chameli Bagh, atop Jal Mahal, lit up at night
But Jal Mahal's restoration has also brought the practice of conservation itself up for debate. Does conservation mean mere restoration or can the process include an aesthetic recasting? The Jal Mahal project did involve the recreation of 18th century royal Rajasthani court architecture, with its distinctive chhatri towers and tibari pavilions combining intricately carved white marble, sandstone, mural painting, decorative brass and mirror work. Chameli Bagh recreates the pleasures of a Rajput garden with the added sophistication of 21st century lighting, landscape and water technology.
Lunkad says they had little historical material to fall back on. "It's our imagination of the past, what it could have been," he says. What made matters worse was that under government upkeep, lots of shoddy cement plastering had been done on the walls of the palace and it had to be removed to reach the original layers and patterns. "All material used on the monument are traditional: the plaster is a natural mix of lime, sand and surkhi. The frescoes, jaalis are traditional," he explains. "They did get the palace in pretty run-down condition. They have done a good job of it, and have not tampered with it. They have revitalised the building," says Intach's Kanwar. Others find it a trifle too neat, manicured, and over-embellished. "They have made a Taj Mahal out of Jal Mahal," says a local historian, "The spirit of the original is gone." Meanwhile, the verdict of people of Jaipur is still awaited. But that shall happen only if the jinx on Jal Mahal finally lifts and they get a glimpse of the monument.