It was as if they had lived on another planet. After headlines announcing that a New York-based radiologist, Dr Rajasekhar Sham, had, with his wife Lucila, left Rs 18 crore to the University of Madras; after the university's inquiries into the background of this generous alumnus; after Facebook posts from radiologists inviting responses from his friends and colleagues, Dr Sham remains a mystery. No relatives, friends or classmates have been in touch.
For the university, the news delivered by a legal firm in the summer of 2009 that an alumnus had left it this sum, the largest from an individual, came as a surprise. While it claimed the amount, it did little to discover the antecedents of a donor of whom it knew almost nothing. The case only got importance after the new vice-chancellor, G. Thiruvasagam, took over last October.
Dr Sham made a suicide pact with his terminally ill wife but botched up himself. Later, he hanged himself.
"It's a proud moment to learn that a former student has donated. Students will benefit from his munificence," says Thiruvasagam, outlining plans to build hostels named after Sham. The university thinks Sham graduated from Chennai's Stanley Medical College in 1964, but records are yet to be traced. Part of the problem is that in the 1980s, Stanley, originally part of Madras University, became affiliated, along with all other medical colleges in the state, to the newly created mgr Medical University.
It seems, however, that Dr Sham, was not aware of the changed status of his probable alma mater. He appears to have left, soon after graduation, for the US, where he changed his name from Rajasekar Shanmughasundaram to Rajasekar Sham. In 1969, he married Lucila, who was office manager at his practice in Queens, New York, until he retired. The couple lived in Long Island, a New York borough, and had a waterfront vacation home in Florida (sold this year for $3.5 million). He wrote several journal articles, but hit the headlines only when he entered into a suicide pact with his terminally ill wife in November 2008, helping her slash her wrists and die but botching up himself.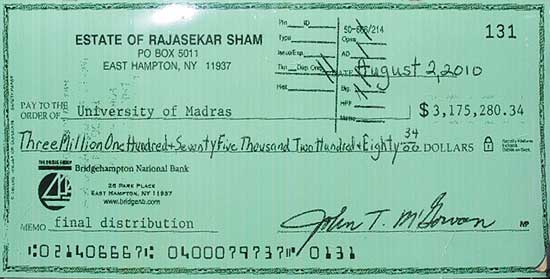 Sham's cheque
"The couple had no children or close relatives but were virtually inseparable. They worked together, lived together, did everything together," Sham's defence attorney, James O'Rourke, was to later tell a judge hearing manslaughter charges against him. It was a visit from the police, tipped off by Sham's lawyer, which prevented him from dying with his wife. Poignantly, the couple had told their lawyer about their pact, and instructed him to call every day, so that he would know, on the day no one picked up the phone, that both had died. Two months before he was to be sentenced for manslaughter, Sham hung himself. After that, lawyers went about selling his assets to fulfil his wishes. Sameena Chaprapathy of Universal Legal, the legal firm handling the case at the Chennai end, told Outlook, "Even the money in his wallet, his bank balance and the money from the sale of her diamond ring were put together."
It is the radiology fraternity that's keenest to trace Sham's antecedents. Dr R. Vetriraj, former chief radiologist of the Chennai Port Trust Hospital, who made a Facebook posting, told Outlook there are plans for an endowment lecture and a library in Sham's name. No one seems to remember this altruist but that doesn't stop his peers from wanting to honour him.
---
By Pushpa Iyengarwith Ashish Kumar Sen in Washington