When I was 17, I was in the first year of inter-science at the Ramnarain Ruia College in Matunga, Bombay. It was a great year in college for me, packed with many inter-collegiate competitions in elocution and debating. My dream was to study medicine and go to rural areas to help people and change things. It was a different world, a world full of dreams. I was very quiet in class, but participated enthusiastically in extra-curricular activities. In fact, my teachers at King George School were surprised when they heard me speak at a competition.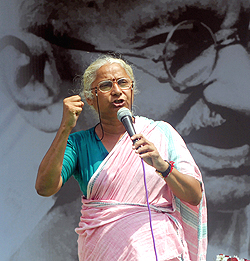 We were given the chance to go out and travel for inter-collegiate competitions. Also to discuss several issues with our teachers. Those days, teachers gave us many inputs to improve our political understanding. I distinctly remember a debate on the Simla agreement between India and Pakistan. I also remember one incident: I lost a particular debate and it was later proved that a judge had accepted a bribe to favour certain competitors. Although I was a science student, I often used to team up with students and teachers from the arts faculty for dramatics and poetry reading. Performing a mono act on Jhansi ki Rani was my favourite. I used to write a column in the Maharashtra Times called 'Hava Collegechi', but I stopped writing during the days of the Emergency because of the restrictions on press freedom.
I was part of the Rashtriya Sewa Dal and spent my vacations in rural areas participating in shramdan camps where students dig wells, build small roads with the help of locals. We came to understand the problems of casteism, workers' issues, and intricacies of democratic socialism. I was not really part of political activism on campus, but focused more on intellectual activities about the rights of people. It is a strange coincidence that, even at that time, I remember singing Bai me dharan bandhte, majha maran kandte, a song about the building of a dam, written by Daya Pawar.
As told to Prachi Pinglay-Plumber