When Joseph R. Gutheinz Jr, a senior special agent with the National Aeronautics and Space Administration (NASA), laid out a sting operation to ensnare conmen selling fake moon rocks, the last thing he expected was to have someone with the real thing call him. This was in 1998, when a dealer responded to his "Moon Rocks Wanted" advert in the daily USA Today, offering him for $5 million (about Rs 20 crore at 1998 rates) a sample the American government had once gifted Honduras, a central American republic. Gutheinz played along for two months to have the rock finally seized by a federal agent. When it turned out to be real, Gutheinz knew he had uncovered an established illegal trade in moon rocks that were presented to numerous countries, including Gaddafi's Libya and Ceausescu's Romania, and later went missing. Since then, and post-retirement in 2000, tracking each one of them down has become his life-long zeal and has taken his investigations across the world, including India.
Known as "goodwill moon rocks", these are lunar samples that Richard Nixon, who was the American president between 1969 and 1974, sent out to different countries and all American states as a "symbol of the unity of human endeavour" and with the "hope of the American people for a world of peace". Brought back to earth during the manned Apollo 11 and Apollo 17 missions in 1969 and 1972 respectively, these rough, crudely shaped dark brown lunar rocks were presented to 135 countries and the 50 American states on two different occasions. The standard Apollo 11 plaque has four small pieces (weighing a total of 0.05 grams) encased in an acrylic button and the Apollo 17 one has one bigger chunk of moon rubble (weighing 1.142 grams) sealed in a transparent thermoplastic ball. Both these plaques also carry the flags of the nations and the American states that were carried aboard on these two missions and come with a message from the Nixon administration.
While only the Americans and Russians have managed to bring back moon rocks and continue to be their owners, these goodwill rocks, on the other hand, went on to become the property of the countries and states they were gifted to. And with poor record-keeping, many of them went missing, often during times of strife and disaster. Some were also stolen and carried away by public functionaries to their homes. Of the total 370 moon rock gifts, Gutheinz and his associates have been able to track down only 77 (see box for some unusual moon rock stories). When this correspondent contacted the 56-year-old Gutheinz, now a Texas-based lawyer and professor living in the Houston suburb of Friendswood, he reported the two Indian rocks as "missing". This after he and his students had sent out over a hundred e-mails to Indian authorities and institutes, including isro and the MEA, but heard nothing from them. Intrigued, Outlook decided to help Gutheinz's project, which runs in close collaboration with NASA, and tried to track down the Indian moon rocks.
We found the Apollo 17 rock safely stored and exhibited in the Parliament Museum in New Delhi. It was made possible because of a document from the United States National Archives that recorded the arrival of Apollo 17 astronauts in India in 1973 and their meeting with the then Lok Sabha speaker G.S. Dhillon, to whom the rock was gifted. Outlook called the Lok Sabha secretariat to find out where gifts received by Lok Sabha speakers may be. We were guided to the museum, which was set up in 2006. After several queries on the phone and on e-mail, this correspondent was asked to visit the museum to see the rock. And there it was, placed in the US section alongside a plaque of the preamble of the American constitution that was gifted to India by Barack Obama.
Ironically, the rock remains there without any record as no Indian document details its provenance. American documents—for that matter any foreign archival records—are not good enough. A request to take a picture of the extraterrestrial gift was also not granted by the time this article went to the press. When Outlook told Gutheinz, also known as the "moon rock hunter", that the 78th goodwill gift had been tracked down, he said he was "absolutely ecstatic". "The problem is that once these rocks went out, they were not entered into any inventory system, something of a national archives or database," he adds.

Rock chaser Joseph R. Gutheinz Jr
On the other hand, the Apollo 11 rocks, usually an assortment of four pieces and given out to heads of states, remain 'missing' still. Outlook made calls to possible locations where it may be stored, including the Nehru Planetarium, the National Museum and the Indira Gandhi Memorial Museum (since it was gifted during her reign) but was told to look elsewhere. Even Rashtrapati Bhavan officials denied any knowledge of this gift and asked this correspondent to check with the MEA, as all foreign gifts are managed by it and closeted away in a central warehouse, also known as the toshakhana. While MEA spokesperson Syed Akbaruddin said he had no information at all on the rocks, a wire service report from 2008 mentioned that the most expensive gift stocked there is a framed replica of the royal Thai emblem and a gold miniature studded with diamonds valued at Rs 1 million. Many will hope the babus responsible for this estimate were not smart enough to figure out that a piece of the moon easily costs more than most things on earth and that the moon rocks are safe in the toshakhana.
Jennifer Janoff, one of the students who volunteered to track down the Indian rocks, says she too had e-mailed several Indian authorities in February this year, including the PMO, the Ahmedabad-based Physical Research Laboratory (which stocks many of the moon rocks loaned from NASA), the Tata Institute of Fundamental Research in Mumbai (which has used loaned moon rock samples for research) and Devendra Lal, currently a physicist in California but someone who worked with lunar rocks in India. "Not a single one of them replied," Janoff says. "I was a little disappointed." Lal, according to one newspaper report, was part of a popular moon rock tour that travelled across the country in 1969, the year of the Apollo 11 mission. Lal also did not reply to an e-mail from Outlook.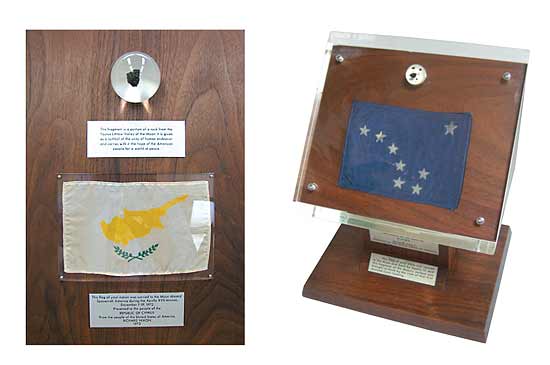 Apollo 17 rocks of Cyprus; Apollo 11 rocks of Alaska
Lost & Found In Some Strange Places...
Some stories of where the moon rocks turned up
The Ireland Apollo 11 moon rocks ended up in a municipal dump after the Dunsink Observatory in Dublin caught fire. It's still believed to be there, and called a "pot of gold under a dump"
The Apollo 17 West Virginia rock was found in a box in the basement game room of Robert T. Conner, a retired dentist. The West Virginia governor Arch A. Moore Jr, who received the gift, worked as a lawyer in Conner's brother's firm.
The Alaska Apollo 11 moon rocks were picked up by Coleman Anderson, who said he found them while picking through the wreckage of the Anchorage Museum, destroyed in a fire. He later sued Alaska, seeking continued custody of the rocks or compensation.
The Apollo 17 rock from Malta were stolen from its poorly secured Museum of Natural History in Mdina in 2004 and has, since then, never been found. Many believe the thief was an amateur as he left behind the wooden plaque and Malta's flag.
The Apollo 17 rock meant for Cyprus, it turned out, was never given to the country. It was retained by an American diplomat, who entered into a five-month long negotiation with NASA after which the rock was finally given to Cyprus.
***
Even an exhaustive Google search failed to throw up any references. "We know for a fact that India too got the Apollo 11 rocks," asserts Gutheinz. The former NASA special agent argues that, unlike the Honduras samples, the Indian Apollo 11 rocks are worth much more given the India's more prominent international standing than that of Honduras. "And given that the rocks probably passed through the hands of a well-known leader like Indira Gandhi, a collector could pay an enhanced value, anywhere between $7-10 million (Rs 35-50 crore)," he says. The only legitimate sale of lunar rocks, according to Gutheinz, was in 1993 when the Sotheby's auction house in New York sold 0.2 g of lunar dust for $4,42,500 (Rs 1.4 crore approximately at 1993 exchange rates).
What also began as an investigative tool for his students, the Moon Rock Project, Gutheinz adds, has reached out to the offices of presidents, prime ministers, kings and dictators. However, limited funds mean most of the hunt relies on e-mails. It is essentially motivated to ensure that bits of the 842 pounds of moon rock that NASA astronauts brought back "are not lost forever or end up in some thug's pocket". Even if the Indian Apollo 11 rocks are secured in some government vault or proudly displayed in some unsuspecting scientist's or babu's living room, Gutheinz thinks it negates the intended purpose of the gift to the people of India, one that ought to be in public exhibit rather than in safe isolation. "I am reminded of the NASA astronaut who told me his story of how he decided to become one," says Gutheinz. The astronaut, when a kid, always wanted to be a pilot, but that changed when he saw a moon rock sample at the Smithsonian museum. "The closer he got to it, he realised he wanted to go beyond the earth's atmosphere. I think of boys and girls in India going through the same metamorphosis and cosmic experience with the Apollo 11 rocks."
Rakesh Sharma, the only Indian to have travelled to space and whose Soyuz T-10 capsule is on display at the Nehru Planetarium, seconds him. "It should be in a place like the Nehru Planetarium where people can come and see it," he says. After 30 years being locked away in a store of the Canadian Museum of Nature, the Apollo 17 Canadian rock finally went on display at the Canadian Science and Technology Museum in Ottawa. Most will therefore agree it is not an unreasonable request when Gutheinz asks for the moon, rather the bits of it that still remain missing from India.