At last it's official—the names of those guilty of the Babri Masjid demolition. Seventeen years isn't such a long time to get that official confirmation. But for a Mumbaikar, it seems like yesterday—that Sunday evening of December 6, 1992, when in a dozen places across the city, people lost control and came out on the streets throwing stones, some in victorious celebration, some in fury at the demolition in faraway Ayodhya. The police bullets that greeted those venting their helplessness that evening never stopped; night after night, Mumbai's terrified residents heard the unfamiliar sound of gunfire; saw flames rising to the skies. The violence spilt over to the new year, ending not with a whimper, but with a bang—the March 12, 1993, blasts that were apparently in revenge for the riots. Some 900 people died in the riots, 257 in the blasts.
Their families are still trying to cope, struggling to pay college fees; unable to afford medicines they badly need. The rioters who caused those scars continue to get acquitted by an indifferent prosecution. It was only last year that, for the first time, Hindus, among them five Shiv Sainiks, were convicted for the 1992-93 riots; Madhukar Sarpotdar, ex-MP and MLA, was one of them. Till now, only Muslims had been convicted for the riots. Who can tell when the verdict will be handed down in the last riot case?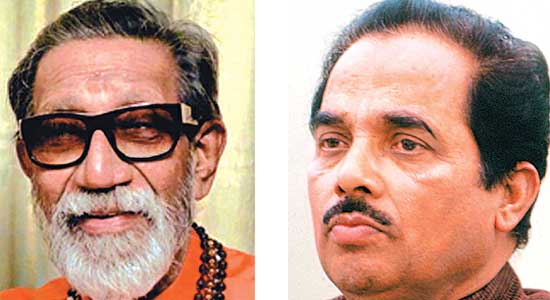 Bal Thackeray and Madhukar Sarpotdar
So, for many, many Mumbaikars, 17 years is a time span they can live with, if it means being finally told by a judicial commission who was responsible for the event Justice B.N. Srikrishna described as the "immediate cause" of the riots that changed Mumbai. Hundreds were pushed out of the Hindu-Muslim mainstream; many more lost forever their faith in the police. It's been 11 years and three governments since the Srikrishna commission report on the riots was tabled; people are still fighting for its implementation. But whether the 31 policemen indicted by it get punished or not, no one can dilute the report's most important finding—that Bal Thackeray was responsible for the violence against Muslims in the second phase of the riots. That taint refuses to go away; it remains his greatest punishment.
In much the same way, Justice Liberhan's finding that L.K. Advani and Murli Manohar Joshi were responsible for the demolition of the Babri Masjid will never be forgotten. Everyone knew this. But their constant denials and cries of having tried their hardest to restrain the nameless frenzied hordes they summoned to Ayodhya—who were none other than the footsoldiers of their own parent organisation—had become almost universally accepted, not only by the force of repetition, but also because of the high posts these men came to occupy. As they strutted across the country just four years later—as deputy prime minister and human resource development minister—those who had borne the brunt of their poisonous politics felt powerless and defeated; many others felt ashamed. Justice Liberhan's report is like a blow struck on behalf of all those who knew these men shouldn't be up there after all they'd done. It exposes the lie behind Advani's infuriatingly sanctimonious wail—"It was the saddest day of my life"—and shows up the man touted for years as the future prime minister in his true colours. This was the same leader who refused to stop his rath yatra to Ayodhya even after it left a trail of blood across its route. He had no direct role to play in the Mumbai riots, yet Justice Srikrishna mentioned Advani's violent yatra for having created communal tension in the city prior to the riots. The Liberhan report is thus his second indictment.
Justice Liberhan's indictment of Atal Behari Vajpayee, difficult to accept, is even more damning. The rabble-rousing Advani's elevation to one of our "tallest" leaders was thanks to a gushing establishment—including the media—dazzled by his power. But Vajpayee was the chosen one, popular even in the community his party despised. It was left to Justice Liberhan to dissect Vajpayee's apparent dissociation from the Ayodhya campaign for what it was—a means to remain in power.
Like Justice Srikrishna, Justice Liberhan too was a sitting judge appointed to head an inquiry commission. Like the former, early on in the hearings, he earned the reputation of one not easily pressurised. The long years he took to complete his task don't take away from his findings, which assert that leaders can't escape responsibility for acts done under their instigation, and even for their acts of omission. Vajpayee, Advani, Joshi and others will forever remain guilty of the Babri Masjid demolition; this will be their albatross.