It's one neighbour we love to hate. Be it reports about "intrusion" across the Line of Actual Control, or surreptitious attempts to bring in "cheap labour" for Indian projects, or behind-the-scenes attempts to break ranks with the developing world on climate change negotiations, China-bashing is the flavour of the season. It seems this season is likely to last long. Sure, many Indians detest Pakistan and distrust Bangladesh, but they don't fear or envy these smaller neighbours, being quite confident of India's supremacy.
The hatred for China is different: it's a mix of deep dislike, suspicion and envy. Most Indians know that China has forged far ahead (see infographic), it's a heavyweight in comparison to their own country, a superpower in the making. Could it be that Indians suffer from a Sino complex? Says Alka Acharya of the Jawaharlal Nehru University in New Delhi, "Even if you don't want to describe it as an inferiority complex, there's no denying that there is a bit of unease in the Indian mind about China. We are constantly looking over our shoulders at China."
The gap between India and China hurts because both had arrived on the world stage at more or less the same time.
The Indian foreign policy establishment doesn't deny the close watch it keeps on China, claiming it's a worldwide practice to keep tabs on neighbours, particularly powerful ones. "India has a certain vision of its place in the world," says a South Block official. Experts, however, feel this looking over our shoulders is more because of the growing "asymmetry" in our relations with China. The gap between India and China hurts because both had arrived on the international stage at the same time—India became independent in 1947, the People's Republic of China was born in 1949.
Initially, India had led China on many socio-economic parameters. But following its economic reforms in 1979, China fast outpaced India in just about every field. "There is admiration on the one hand and a kind of envy on the other, especially among sections of the Indian elite at the Chinese ability to be flexible enough to take quick decisions on key issues," says Acharya.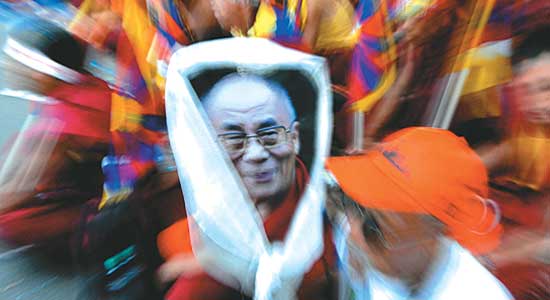 Save Tibet souls: Dalai Lama followers at a peace march in Delhi
Some feel the origin of this "complex" can be traced back to the Sino-Indian war of 1962. As former foreign minister and BJP leader Yashwant Sinha points out, "The 1962 war and the humiliation we suffered have left a deep scar on Indian minds. Indians haven't forgotten 1962." This memory is galling because many Indians feel that New Delhi often "bends over backwards" to accommodate the Chinese on issues such as Tibet. To bolster their argument, they cite the example of the security arrangement New Delhi put in place last year to prevent the Tibetan Youth Congress from creating trouble during the Olympic torch rally.
***
Plainspeaking Stats
China
India

---

Gross Domestic Product ($ bn)
3,250.20
1,311.90
Annual growth rate (GDP)
9.40%
6.20%
Population below $1 a day
16.60%
34.70%
Population below $2 a day
46.70%
52.40%
Human Development Index world rank
81st
128th
Adult literacy
91%
61%
PhDs in science and engg each year
15,000
6,000
Training and vocational institutes
5,00,000
12,000

---

Health
Health expenditure per capita
$71.00
$31.00
Child mortality (under five years per 1,000)
24
76.00
Life expectancy (male) in years
70.8
63.20
Life expectancy (female)
74.6
66.70

---

Infrastructure
Electricity production (bn kWh)
2,199.60
667.80
Electricity consumption per capita (kWh)
1,585.00
457.00
Rail route (km)
62,200.00
63,465.00
Road network (km)
14,02,698
33,19,644

---

Sectoral break-up of GDP

Agriculture
11.80%
18.50%
Industry
48.70%
26.40%
Services
39.50%
55.10%
Foreign reserves ($ bn)
1,951
250
Defence budget ($ bn)
84.9
30

---

Agricultural and Industrial Production (Million tonnes/year)

Foodgrains
418
210
Steel
163
29
Cement
650
109
Crude oil
160
40
Coal
1,300
300

---

Trade

Exports ($ bn)
1,465
176
Imports ($ bn)
1,156
287
Indo-China trade volume
$51.8 bn
India's balance of trade with China
-$11.2 bn
***
"China's ambition," says Yashwant, "is to become the sole power in Asia and, ultimately, the superpower in the world. To achieve this, it will do anything to scuttle India's growth and progress." Though ruling out a war between India and China, he still insists New Delhi must remain cautious about Beijing's designs. The remark testifies eloquently to the fear and suspicion that Indians harbour against China.
"Being hyphenated with Pakistan we may hate but not the term Chindia. We like being clubbed with the rich."
Of course, China has been guilty of fanning these suspicions at times. Take, for example, its abortive bid to block the India-specific "waiver" at the Nuclear Suppliers Group (NSG) meeting in Vienna in September last year. This year, it tried to block an Asian Development Bank funding of a project in Arunachal Pradesh. More recently, its embassy in New Delhi has been issuing visas to the residents of Arunachal Pradesh and Kashmir on separate pages instead of stamping it on passports. Experts feel these incidents have deepened the strains in Sino-Indian relations, questioning as they do the status of Arunachal Pradesh and, more importantly, Kashmir.
"It cannot be a simple 'black-and-white' policy. We need a multi-layered approach to deal with China," argues former diplomat Naresh Chandra. He says that while India needs to keep vigil along its borders with China, it can't deal with its neighbour only by looking at it through the prism of security. "The 1962 hangover should help us in strengthening our borders, but it should not cloud our views about improving ties with China and identifying areas where we can cooperate with each other for our mutual benefit."
Chandra feels the public obsession with China is partly because the debate over Sino-India relations is uninformed. Citing the example of the controversy over "Chinese workers" in the Indian labour market, he points out, "It was a great opportunity for India to build and deepen contacts with China. Instead, the entire issue got mired in an emotional debate." He says India's response on the labour issue reflects the confusion prevailing in New Delhi about how to handle China. "If a decision was taken to award contracts to Chinese firms, then why make things difficult for them by raising issues like visa or cheap labour?" he asks.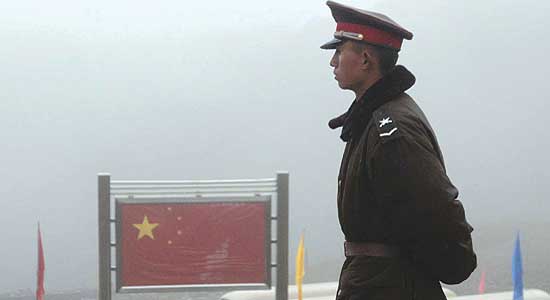 Eagle eyes: A Chinese soldier keeps vigil on the Arunachal border
Partly, the problem stems from the low level of contact that Indians have with China. "We are a billion-plus people, but what is the level of contact we have with China?" Chandra thinks Indians can make a proper assessment of China only if they stop "moaning and groaning" and do a proper study of the developments there.
"If a decision was made to award contracts to China, then why bring up issues like visas or cheap labour?"
There's also a dichotomy in the Indian approach towards China. Those Indians who hate the West's attempt to hyphenate India with Pakistan don't object to terms such as "Chindia", often used in reference to the impressive economic growth of the two Asian neighbours. "It's normal for an Indian to disapprove any attempt to bracket him with someone poorer. But the same person may not mind when he's being clubbed with someone richer than him," explains Yashwant.
Some Indian policy planners say it's natural for some brinkmanship to creep into relations between two neighbours because of their past history. But the leadership in both countries has now come to realise that there's enough space for both to grow. Moreover, there's an acceptance in India and China that there are many areas—energy security, climate change and WTO negotiations—where both can cooperate in mutually beneficial ways.
"The world is big enough to accommodate both India and China," says a senior foreign ministry official. India needs to overcome its complex, pull up its socks and develop in accordance with its own capabilities.