It has been a discreet but uncontested rise. Amidst the abiding clamour for a spot in business schools in the US and India, French B-schools have led a Gallic charge right up the global rankings list. In 2012, the Financial Times ranked two of them (INSEAD and HEC) in the top 20 list. These institutions have attracted growing numbers of Indian students to a country that was long passed over for natural Anglophone favourites like the US, Britain and Australia. Together with Sciences Po, Paris, another top-ranked social sciences school, these French institutes have firmly positioned themselves at the roots of a fledgling but sizeable network of anciens in India.
Manuraj Jain, an INSEAD 2007 graduate who runs a finance and strategy advisory firm, is one of them. When he realised that a CFO he was trying to contact was connected to a former student of his ins­titute on LinkedIn, he reached out for the INSEAD alumni address book. "I wrote to him asking me to put in touch with the CFO. He did and we got into discussions and...we fructified a deal," says Jain. "It's this kind of privilege that the network shares, the easy access to people at top echelons that it offers." His alumni network, among other things, organises events and gatherings to meet visiting faculty members across India.
Even though French management and engineering institutes have been rising in stature, their Indian alumni net­works don't yet wield huge influence. Unlike networks from the US or UK, French institutes have very young alu­mni; often the average age is between late 20s and early 30s. "I can't go and start fund-raising yet because our graduates haven't attained that kind of a profile," says Gilles Verniers, the local Sci­ences Po representative, whose work, besides recruiting potential students, inv­olves running the fledgling alumni network in India.
Activities of the Sciences Po network include gatherings organised in conjunction with faculty visits from Paris and a Facebook group that puts out a few hundred jobs offers every year, including postings in UN organisations, think-tanks and NGOs. "The network needs to be nurtured. I'd like to see alumni become mentors to existing students and fresh graduates. It needs to become a service provider rather than a closed circle," Verniers adds.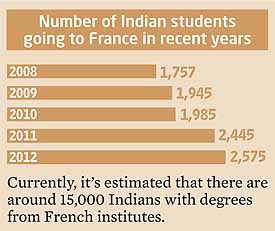 Besides the current popular courses, Ind­ian students have always chosen Fra­nce for higher studies in disciplines like fine arts, design, cuisine and fashion, areas in which the country commands global respect. Noted alumni include artists S.H. Raza and Anjolie Ela Menon, both graduates of Ecole Nationale Sup­er­ieure des Beaux-Arts in Paris. That said, even alumni from French B-schools are beginning to leave an impression—Mittu Chandilya, CEO of freshly minted AirAsia India, has a degree from INSEAD.
HEC also has a network of over 100 students in India and around 100 on its campus in Paris. Its alumni in India inc­lude CEOs and GMs from firms like L'Oreal, Danone, Schneider, Dassault, LVMH, Societe Generale, Accenture etc. As recently as last week, it organised its first annual business dinner in New Delhi, with support from the French embassy. Sumeet Anand, president of the HEC Paris-India alumni group, says this is part of their business promotion activities. "Last year, the India alumni network welcomed a group of 25 senior French delegates and arranged meetings with top Indian firms to promote business opportunities," he adds.
The French alumni networks are set for a significant upswing, as recent graduates move up the professional hierarchy. And CVs with French degrees are going to become more commonplace, with an increasing number of Indian students in France. From 1,757 students who left for France in 2008, the number went up to 2,575 last year. Sciences Po, which had less than 10 Indian students in 2005, today has over 100. The growth, in part due to wider recognition of its academic excellence, is also being helped along by the higher number of courses offered in English than in the past. This linguistic switch is also happening at other French institutions. Then there are other positives too. Anoop Tandon, who heads the Indian alumni group for ESSEC, another noted French B-school, explains, "Living in France also exposes students to the cultural rationale of the way the French do their business. That helps."
The relatively smaller number of alu­mni and the assumption of a certain att­achment to the country of their edu­cation prompted the French embassy in New Delhi to launch an alumni network in 2008 for those educated in France—Indo-French Alumni Network (IFAN). But it never took off, hobbled by a lack of decisive leadership and competing/varied interests. More importantly, as Ver­niers explains, students are usu­ally more loyal to their alma mater than the country. Realising this, the French embassy has focused on supporting institution-specific French alumni networks.
The embassy will launch an 'HR Club' in October to bring together Indian HR officials working in top French and Ind­ian firms every three months. "The idea is to raise the profile of Indian gra­duates from Fre­­nch institutions and make HR officers here aware about the rise of French B-schools," says Car­oline Gueny-Mentre, attache for scienti­fic and university coo­peration at the Fre­nch embassy. It will also launch an India-France Job Oppor­tunities Netw­ork. Then there are other measures, like granting Indian alumni five-year visas and allowing students to stay on for a year after their studies to allow them to find a job.
While it's clear French alumni networks in India would never get the same clout as ones from the UK or the US, Gueny-Mentre argues, "The Fre­nch ones are more efficient, especially in terms of generating jobs, given the high number of French firms in India and their need for Indian graduates who speak French and/or have knowledge of French system." In a way, Indian alumni from French institutions have the best of both situations—preferred by the French and increasingly accepted by the others.