A General And A Labyrinth
Organises mehfils or singing soirees at his flat on Hyde Park Crescent. Visiting Pakistani singers perform there.
Buys music at Ilford suburb, shops otherwise at Selfridges
Plays a weekly game of bridge with his friend Brig (retd) Niazi Ahmed.
Went for a 10-day cruise.
Attends seminars, lambasts those who point fingers at him. Participated in a meeting at the British Parliament with thugs in tow. Ended in a fracas.
Attended a function organised by Khalistanis to celebrate Pakistan's Independence Day.
For the next three months, likely to be in Saudi Arabia. In December, it's off to the US on a lecture tour.
***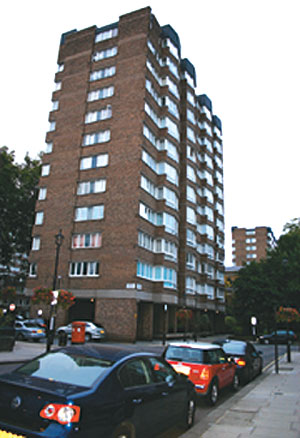 Mush's apartment building Castleacre
The darling has come home; it's so much nicer to be wanted abroad than being wanted the way he is in Pakistan. It is in London that former president Gen Pervez Musharraf has more or less dropped anchor for now; the visits to Saudi Arabia and then on to the US are now from here. And 'here' is a three-bedroom apartment, 28 Castleacre building, on Hyde Park Crescent. The heart of London, but also an elite Pakistani neighbourhood.
The apartment is a minute's walk from Norfolk Crescent where Pakistani home minister Rehman Malik has a house, once used by Benazir Bhutto for political and press meetings. Former Pakistani ministers Aftab Sherpao and General Zahid Ali Akbar are closer neighbours. Across their political distances, Pakistan's leaders share much the same neighbourhood in London.
Musharraf's place has of late been the more colourful by far. Already the flat is on the mehfil map—a host of singers from Pakistan have been performing before the general in the best court tradition. Except that given neighbours and laws, not even Musharraf can party late into the night in what might count as holiday time. The recent dictator is learning at last to live by a few rules which he has not made himself.
Musharraf is hardly the first to have developed a fondness for music without abilities in it. We know from YouTube that Musharraf has sung in public, even if he can't quite. Clearly in matters of music as much as affairs of state, a man not shy of doing without knowing.
How much he is at home with Khalistani leaders is hard to tell, but they've found one another early enough.
A man not shy, either, of showing the dictatorial touch—at the two houses of British Parliament, of all places, at a meeting called by the all-parties committee on tackling terrorism, chaired by Khalid Mehmood, an MP of Pakistani origin. The meeting on July 20 ended in a fracas. "He came in with security guards, six from the Pakistan army and six from Scotland Yard, and he also brought in private security, thug sorts from East London, who were doorkeepers," says Lord Nazir Ahmed, a member of the House of Lords. "That's kind of an insult to parliament but also very unusual because this badmashi kind of politics is not on in Westminster. I checked to see whether these guys had passes and whether they are part of the security. They were very abusive, so I protested to the police and had them removed."
The meeting itself, he says, turned out very different from the parliamentary meeting it was billed to be. "It was almost like a jalsa, the format of the meeting had changed. I asked him some questions, and he didn't like it." But that Musharraf never does.
Always the one with all the answers, never the one who likes questions. "Give him a couple of blows when you see him (do tikana)," he told a Pakistani gathering, speaking of a senior Pakistani journalist who had dared challenge Musharraf at a meeting at the Royal United Services Institute. "Who the hell told you that?" he blasted at the House of Commons meeting when someone dared say what did not sound right to Musharraf. The military style, perhaps, but then more sergeant-major than general.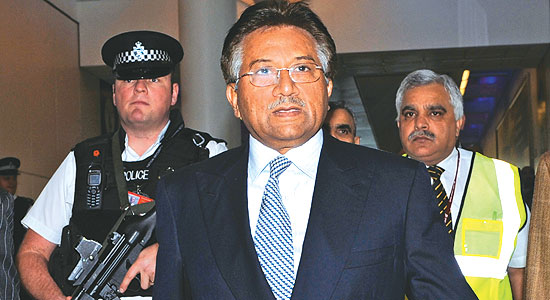 Musharraf with Brit minders at Heathrow
When not dictating, as he still can, Musharraf is fast becoming a Londoner of the Pakistani kind. Music shopping in the Ilford suburb to the east of London, shopping otherwise at Selfridges, or a weekly game of bridge with old friend Brigadier Niazi Ahmed in the elegant southern suburb Richmond, where Musharraf stayed some weeks before moving into Castleacre. Throw in a recent 10-day cruise, and here's a man who has wasted no time keeping up with the good life.
In the meanwhile, Musharraf has also been dabbling in some politicking of the suburban kind. Joginder Singh Bal, a taxi driver by profession and an elected councillor who is now mayor in the borough of Slough west of London, invited Musharraf to celebrate Pakistan's independence day this year, setting off all sorts of disputes.
Bal has been a controversial figure after years as an active Khalistani. Last November, he survived an attack at his doorstep with—of all things in this day and age—an arrow fired from a crossbow. Bal put up his arm to save himself, and recovered after some days in hospital. How much Musharraf is at home with Khalistani leaders is hard to tell, but they seem to have unerringly found one another, and early enough.
Musharraf has of course a strong ISI contingent in London to guide him along, and they are busily networked with such Khalistanis as that remain. The meeting also set off confrontations between groups of Pakistanis who came to welcome him and to oppose him. Where Musharraf goes, trouble follows as inevitably as does his security.
It's too early for Musharraf to have slipped into retirement entirely in his exiled corner. His visit to Saudi Arabia, royal by protocol going by media reports from there, is all about what he may, or may not, do in Pakistani politics. "His two-year exile—when he had to stay out of politics by Pakistani law—ends in the end of November," says Pakistani journalist Azhar Javaid. "Now the PML-N (Pakistani Muslim League led by Nawaz Sharif) is trying to get assurances through Saudi Arabia that he does not return to politics."
Many believe Musharraf won't return to Pakistan and that he has nothing politically left to return to. The king's party (Pakistan Muslim League-Q) did not work that well even when he was king; it is now down to a handful. A week ago, a demonstration held outside the Pakistani high commission in support of Musharraf was intended to advertise his popularity among people. But it was as much a message to the British and other sympathetic governments as to the one in Pakistan. 'Musharraf the saver, rescuer and defender of Pakistan,' said a banner. That not many people stood behind the banner is another matter.
Musharraf is considered a political asset in London for the Western perception of him is as a man with the knowledge and will to tackle terrorism. "There is regular contact with Scotland Yard, who provide him security 24 hours a day," says a Pakistani journalist. "Musharraf is de facto the Pakistani army ambassador. He is basically telling them that nothing happens in Pakistan without the military, and he still controls it."
Musharraf is presenting himself as a man who can keep his bosses in the CIA and the Mi6 (the British foreign intelligence agency) informed on the best ways to fight the war on terror, and operationalise the knowledge by feeding what in effect would be commands back to the army in Pakistan. Given this perception, the British are inevitably doing all they can to keep Musharraf safe and happy. In the face of this, the cost of providing security to the general is unmentionable pennies—though such costs are almost always otherwise raised as an issue in Britain.
Lord Nazir Ahmed did table five questions over the cost to the taxpayer for providing such security, given to no other former head of state before this. "The government refused to give me an answer...they said it's a personal matter, and individual personal security is not discussed."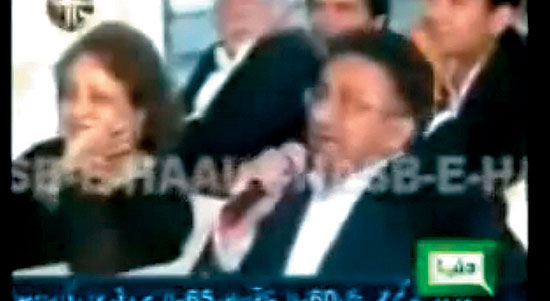 Singing at a musical soiree
But Musharraf might end up needing more than physical protection from the British. "We are in the process of expediting our efforts to collect more evidence against the former military dictator to try him in the International Court of Justice," Lord Ahmed says. There will even be a Musharraf's Victim Support Movement in Britain, with a fund to back it. The last is intended to judicially arm the British Muslims of Pakistani origin who were picked up and packed off to Guantanamo Bay, after being handed over to the Americans under Musharraf.
The organisation Cageprisoners and the British Muslim Lawyers Forum are supporting the case for legal action against Musharraf internationally. He now needs the Americans to save him from the international court, and the Saudis to save him from the domestic one. And as they ready their case, just the threat pushes Musharraf further into the position of grateful beneficiary of government protection.
Musharraf is the darling who, it is thought, may yet deliver. The British and the Americans have always picked and chosen the dictators to adopt and to oppose. Musharraf is the chosen one for the former. That he banished the opposition, ruled with the gun, rigged elections, attacked his neighbour, nurtured extremists while volubly claiming the exact opposite and is still where he is must make him among the most forgiven of world dictators.
His is the style of a man more at ease with commanding than with thinking. But for all his gruff and bluff, Musharraf may have been a little better at taking orders than giving them. What he can do further raises some doubts. That said, there's no doubt that he has so far served his Western masters well. It's payback time, and the man's here to collect.