Ever since Gopal Krishna Gokhale sanctified the Bengali sense of intellectual superiority by declaring, "What Bengal thinks today, India thinks tomorrow", people from my part of the country have never stopped preening about their distinctive identity in almost every sphere of life—culture to cuisine. From that it is a small step to arrogance, often expressed graphically by a comparison between French sophistication vis-a-vis British "mediocrity". A Bengali media baron created quite a stir some years ago when he suggested that his community rightly looks down upon the "boorish people" of the rest of India. The Bengali style of wearing a dhoti is different from others, the best saris are crafted here; our tastes are understated, even the cuisine is subtle, it grows on you, he told a foreign magazine, and concluded: "We are like the French".
Bengali cuisine is time-consuming, involves a complex blend of spices, is much more than just fish.
Not everybody, Bengalis included, may agree with this somewhat exaggerated self-perception, although it is a fact that the Bengali bhadralok regards himself as a class apart. But one thing must be admitted—and I say this despite my bemused disregard for characteristic Bengali arrogance—that our cuisine is indeed unique, comparable to traditional (not nouvelle) French culinary distinctiveness. Unfortunately, for the rest of India, Bengali food has been reduced to a synonym for fish preparations. North Indian guests at our home invariably ask for mustard fish, specifying the boneless variety, which is actually a travesty. Bengali fish dishes revolve primarily around river fish that are not boneless; a true Bengali relishes the delicate, time-consuming job of ejecting bones from a piece of fish, believing it to be an art form.
The big disadvantage with Bengali cuisine is the elaborate nature of every preparation, the use of a complex blend of spices, and the amount of time it takes to bring a dish to perfection. Given the number of items required to present a complete Bengali thali, it can only be compared to the delectable Kashmiri wazwan. No wonder Bengali or Kashmiri food are not readily available in restaurants, even in their home states.
Despite its uniqueness, Bengali food failed to grow beyond connoisseurs. Short-cuts are frowned upon by purists and innovative improvisations dismissed as unacceptable compromises. Traditional Bengali cuisine is gradually becoming a dying art, kept alive only by Anjan Chatterjee's chain of restaurants such as Oh! Calcutta, a few other eateries aimed at the diaspora, and caterers who still serve a complete traditional meal at wedding receptions.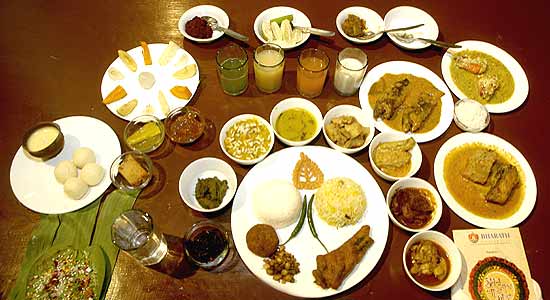 Full course A typical Bengali spread
Let me detail some of the items that would be considered non-negotiable in a traditional Bengali meal. It should start with fried miniature bodi, a few spoonfuls of lightly fried saag and uchchhey (small bitter gourd)—aloo fry, begun (brinjal) bhaja and/or bhindi bhaja (chopped fried bhindi). This should be followed by shukto (a light stew of aloo, karela, green banana, laau (green gourd) etc. Coconut-laced preparations are common in Bengali cuisine; hence a chholar dal (dhuli huyi chana with chopped coconut) is considered a delicacy. This also goes well with luchi (medium-sized puris made with maida rather than atta). At lunchtime, bhaja mooger dal (dal made with roasted moong) is often the next item. Alongside, there is a wide array of side dishes. They range from aloo posto, sager ghonto or chocchori (palak cooked with aloo, brinjal and various other vegetables including pumpkin), laau-chingri (shrimps cooked with finely cut pieces of green gourd and cabbage), chhenchki (pumpkin, aloo and other vegetables bunged together to make a mash), and in some cases chhanchra (a mash made of palak, aloo, laau, topped up with the head of fish—a huge delicacy).
Enter the entree. Ideally, there ought to be a fish (usually rohu) curry, either a kaalia—a thickish gravy with big pieces of fish—or a daalna, fish curry with aloo and cauliflower. This should be followed by a prawn delicacy, usually chingri malaikari—prepared with coconut milk among other ingredients, but no vegetables. Meat is the last main item to be served. Although kosha mangsho is a perennial delicacy, it goes better with luchi, as it contains little gravy. A simpler mangshor jhol, rich in gravy and containing big chunks of potatoes, goes better with rice. It may surprise many to learn that chicken does not form part of traditional Bengali cuisine, although the relative simplicity of making a light murgir jhol has allowed the avian species to enter kitchens in a big way in recent decades.
Every household has its own secret, special recipe. And some are fanatically possessive about them.
Sweets follow thereafter. As everybody knows, Bengalis have a massive sweet tooth and the variety of sweetmeats is simply bewildering. Several districts have their own specialities. For example, langcha, an elongated version of gulab jamun, is the trademark of Shaktigarh near Barddhaman. Langcha is closely associated with Ledikeni, apparently crafted especially for and named after Lady Canning, wife of Lord Canning, first viceroy of India, after it came directly under the Crown's rule in 1858. Barddhaman itself is famed for mihidana and sitabhog, Krishnanagar for sorpuria and sorbhaja (types of sandesh, the first wrapped in baked malai and the second baked to give a slightly burnt flavour), Joynagar in south Bengal for its moa (made with puffed rice and gur)—the list could be endless.
Of course, every Bengali household has its own secret recipe and special way of preparing a dish. On my first visit to Oh! Calcutta in Delhi, I heard a middle-aged mashima (aunty) from Chittaranjan Park launch into a diatribe over a dish. The chef was summoned and the hapless man was subjected to a half-hour-long lecture on the correct way to cook the impugned item. She insisted that the particular item was her family's "copyright" and the restaurant deserved to be sued for putting it on its menu without consulting her!
This shows how fanatically possessive Bengalis are about their "secret" family recipes. But I won't be so zealous, and will end this piece with one of my mother's recipes, a simple, quickly prepared, shrimp-based dish that goes very well with plain rice or with a light dal such as urad.
Bhapa Chingri Bhatey
Ingredients: Shrimp (the smaller the better): 500 gm, Grated coconut: 250 gm (one-third of one normal sized coconut, approx), Ginger paste: 1 teaspoon, Green chilli paste: 2 chillies should suffice, Mustard powder: 2 teaspoons. Salt: 1 tablespoon (or to taste), Mustard oil: 2 tablespoons
How to cook: Make a fine paste of the shelled shrimp in a mixer. Add the other ingredients. Pour the mustard oil and mix it vigorously with your fingers as you would knead dough. Put the mixture in a steamer box, above an empty container. Put two cups of water in the pressure cooker and close the lid, but do not put the pressure cap on. Allow 12 to 15 minutes to cook after steam starts escaping from the vent. Remove the container and serve at room temperature. This quantity should suffice for four persons. Garnish with a whole green chilli for visual effect.
Simple, isn't it?
---
(Chandan Mitra is a BJP Rajya Sabha MP and editor of the Pioneer newspaper.)