A year is perhaps too short a time-frame to judge the impact of reservations. But since a beginning had been made last year in the wake of a Supreme Court order in August 2008 to have 27 per cent seats reserved for OBCs in centrally funded higher institutes of learning, Outlook accessed records from a few premier institutes—IIT Kanpur, IIM Ahmedabad and two Delhi-based colleges, Hindu and Lady Shri Ram—to gauge the performance of students admitted through the OBC quota. And the good news is that all these students have fared rather well—a fact confirmed by teachers in these institutions.
Quite clearly, the mood of belligerence and protest that marked 2006 when reservations were announced has given way to a reasoned logic that an inclusive society is a must for any democracy. And contrary to the fear, the presence of OBC students has not in any way compromised the quality of students admitted to these institutions. "We cannot say the inclusion of OBC candidates has affected quality," affirms Sanjay Govind Dhande, director, IIT Kanpur. "But we need to raise infrastructure to make room for more students." This is a far cry from the angry anti-reservation outpourings from teachers and students even a year ago.
As with other institutes, IIT Kanpur too had implemented the nine per cent quota in the first phase in 2008. Of the total of 564 students admitted through the joint entrance examination, 63 were from the OBC reserved category. And if the average marks (on a grade point average) for first-year students in the general category in a coveted course like B Tech (Computer Sciences) was 7.92/10, the OBC students were not far behind at 7.2/10. "Overall," says Sanjay Mittal, dean, academic affairs, "one can see that the quality of OBC candidates being admitted is not significantly different from those that come in through the general category."
Things are equally encouraging at IIM Ahmedabad, which admitted 17 OBC students in the reserved category out of a total of 297 candidates. All have moved to the second year, and with mostly 'A's and 'B's. The institute does not have any separate evaluation for its quota students. Instead, it has a preparatory course for weak students from both the general and reserved categories to help them before the academic session actually begins. "We never had to lower standards and there is no reason why education should be looked at in terms of numbers," says Abraham Koshi, chairman, IIM Ahmedabad. "No country can progress without the inclusion of the underprivileged students of the community. We have to take care of them before we talk of Nanos."
In Delhi's Hindu and LSR colleges, where economics, history and political science are coveted courses, the difference in grades between general category and reserved students is no more than three to four per cent. Professor Chandrachur Singh, who teaches political science at Hindu, confirms this as the results of the first batch of students who benefited from reservations are trickling in. "There is little difference in the two," he says, "and I won't be surprised to see all my 10 students out of 35 who have got through quota get above 55 per cent. We are not surprised as we get the best students." However, he adds a caveat. "My question is why not have a 100 Hindu Colleges spread over the entire country and train students to aim at excellence? Reservation can be only one of the means to assure parity between people but other avenues should be exploited too and the size of the cake must increase."
At St Stephen's, which has a Christian instead of an OBC quota, principal Valson Thampu says the difference in grades between scheduled castes and general category is less than three per cent, adding that it goes to show that the pyramid of merit is being expanded only now. Thampu had raised tempers last year while trying to introduce a sub-quota for Dalit Christians.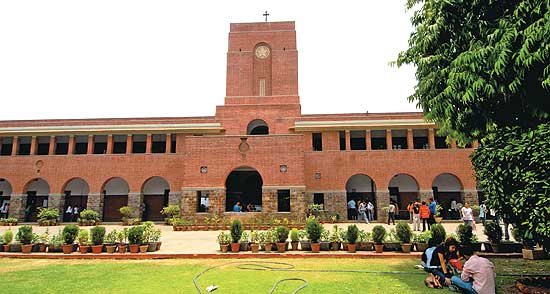 Reserved in nature: St Stephen's, Delhi
The marks scored by students in entrance examinations is another indicator of the quality of quota students. At Delhi's All India Institute of Medical Sciences (AIIMS), often described as the ground zero for the anti-reservation agitation of 2006, the teachers today admit that only quality students get in. Of a total of 22,443 candidates who appeared for the entrance examinations last year, 20 OBC candidates figured in the top 200. All of them were competing for 77 seats. The general category student who topped scored 73.5 per cent while the top-scoring OBC candidate had 62.16. Incidentally, the latter was ranked 30—considered quite high in the merit list. "There is no question of compromising on quality," says Rani Kumar, dean, examinations. "However, basic infrastructure has to be strengthened if we have to maintain a 4:1 student-teacher ratio."
Significantly, in adhering to the Supreme Court guidelines on reservations, colleges and institutes have not compromised on the cut-off percentages. The maximum difference they have maintained between a general candidate and an OBC one is five to six per cent. As a result, some seats went vacant last year. In the IITs, for instance, 43 seats out of a total of 1,546 seats meant for OBCs remained unfilled. But the gap is narrowing each year. Also, with the court directing that the creamy layer be kept out, the government had redrawn the income parameter. Those whose annual income was more than Rs 4 lakh per annum were not eligible for quota.
However, despite the grudging acceptance that quota might not be such a bad thing after all, niggling doubts remain. Are only elites from the OBCs getting admission? If there is not much difference in the performance of general category students and those admitted under quota, what is the purpose of reservations? Prof Anil K. Gupta of IIM Ahmedabad offers one solution: "I suggest we choose candidates from Navodaya Vidyalayas (present in every district) where the poorest study and train them for higher education. This would give a fair representation from depressed communities." Now, that's a thought.