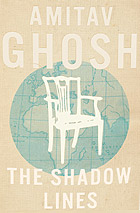 The Shadow Lines
Published by Penguin India Pages: 288 | Rs. 1,499

For its deft layering of history and memory through the interlinked lives of three generations of a Bengali and British family, their lives shadowed by the violence of the freedom movement, World War II, the Partition and communal riots of the 1960s, The Shadow Lines marked a turning point in the writing of Indian historical fiction in English. In its way, it was our story, of an educated middle class grappling with cataclysmic change.
Amitav Ghosh steadily built on that reputation by exploring a diverse range of subjects and themes—for example, early 20th century malarial research in The Calc­utta Chromosome (1995), the exile to India of Burma's King Thibaw in The Glass Palace (2000) and the endangered ecology of the Sunderbans in The Hungry Tide (2005).

Ghosh's narratives are often driven by a range of characters and relationships swept up by the juggernaut of social and political turmoil. His most ambitious venture yet is the Ibis trilogy; its first two volumes, Sea of Poppies (2008) and River of Smoke (2011) are a dramatic account of the migration of Indian labour against the prelude to the Opium Wars.
Trained for an academic career—with his shock of white hair, eloquent speech punctuated by gusts of laughter, he presents the image of the patrician professor—the 57-year-old novelist, who now divides his year between Brooklyn and Goa, seems a little surprised by his cult status and the pile-up of literary prizes and other laurels. In an exclusive interview, he talks to Sunil Sethi about the movements in history and his life that shape his work.
The Shadow Lines came out in 1988. It was your second novel. What were you doing then and what was the trigger?
My first novel, The Circle of Reason, came out in 1985 and The Shadow Lines after a three-year hiatus. It was a very tumultuous period of my life. I was invited to spend a year in an Ame­rican university and I finished it during a very bitter cold winter. I had just got my first computer but most of it I wrote by hand. The trigger for the book was the 1984 Delhi riots. What the events of 1984 made me think of was the ways in which my life has always been enmeshed in riots. A long part of this book also comes directly from my memories of a riot in Dhaka in 1964 when I was eight years old—it is one of the central scenes in the book—and of the same riot, its mirror image, happening in Calcutta. Later, when you and I were students at Delhi University in the 1970s, there was alw­ays tension in the air. So much attention in our world is given to conflicts like war, for example, the Indo-Chinese war of 1962, but 1964 had completely vanished from public memory. I think that was the driving impetus of The Shadow Lines, why such cataclysmic events have a profound impact on our lives. It was something that in my own family we never talked about but, actually, the genealogy of that kind of violence goes back so far.
That scrutiny or anatomy of viol­ence is also evident in your next novel, The Glass Palace, about the convulsions that overtook Burma in its modern history....
My family has roots in Burma and in the 1930s there were anti-Indian riots in Burma. I had uncles in Burma and also in the Sunderbans—I had many uncles—and I suppose what I have been trying to do for a very long time, in fact through all my work, is to represent a plethora of my own family's exp­eriences in some kind of perspective. The most recent riots I have been rea­ding about in Burma are anti-Muslim but they are reminiscent of what happened once to Indians and occasionally to the Chinese. There's been a long tradition of such social violence.
Much of your fiction centres on not only the social but also the political geography of eastern India. Is this because of your family's roots there?
Every part of India has its own markedly different experiences but the exp­erience of eastern India is interesting because of its links with Burma or Malaysia which, for instance, sustained the Indian National Army. What made me curious was actually the margin, the periphery of the great Indian heartland, perhaps a frontier land. Diaspora migrations also interested me because my family left Bengal in 1856 and wandered off in different directions.
As a student at Delhi University, you were marked for an academic career in social anthropology and history. But you veered off into fiction. How did this transformation take place?
"I travelled a lot in Malaysia, Burma, met old INA men at remote plantations...to get a tactile sense of their being."
It's a curious thing but I really always wanted to write novels. But in the Delhi or India of the 1970s, there was hardly a thing as a literary career. It wasn't like today when they are so many publishing companies. So I started as a journalist after college. I had no intention of further studies. In fact, a friend made me apply for an MA in order to get a hostel room and I ended up studying history and social anthropology. It was vastly enriching but it was journalism that was most important. Much of my fiction and non-fiction goes back to my early 20s in Delhi, walking around the streets with a notebook and taking notes.
You speak of family history as a trove of material but what about central characters like Tridib in The Shadow Lines, Rajkumar in The Glass Palace or a much bigger cast in Sea of Poppies and River of Smoke. Are they composites of people you may have known?
Tridib especially is based on various cousins. I do excavate from memory but also from meetings and encounters with people. When I meet people, I love to learn their stories, I love to learn what they have or experienced. And all of that finds a way in. When I was writing The Glass Palace, I travelled a lot, in Burma and Malaysia, I went to remote plantations, met old INA people. It was fascinating to hear their stories, to get even a tactile sense of their presence.
I'm curious to know how on-ground or archival research meets the fict­io­nal imagination. We know of the sack of Mandalay and the tragic exile of Burma's King Thibaw and his family to Ratnagiri. But how do you get inside King Thibaw's head?
Writing about King Thibaw was one of the most difficult things I have done in fiction. There are sources for Thibaw but very little has actually been written about him. When I was writing the opening sections of The Glass Palace, I was completely stuck for a long time. I have a rule when I am stuck—I read the Russians because, somehow, Russian literature has the answers. In this particular case, it was Solzhenitsyn's Aug­ust 1914. It may not be one of his great novels but there's a long section on what happens in the head of Tsar Alexander on the cusp of the Russian Revolution. Reading that became very empowering for me; I felt if Solzh­enitsyn can do this with the Tsar, I can do it with King Thibaw.
The Glass Palace won Myanmar's nat­ional book award last year. I went to Mandalay and hundreds of people came, including important Burmese writers; many said we didn't know what happened to King Thibaw until we read your book. Most historians get interested in history through historical fiction. Historical fiction can make things thinkable.
The Shadow Lines was published by the late Ravi Dayal and his small ind­ependent publishing imprint. But it was The Glass Palace that brought you international notice. Were you surprised by the acclaim?
The Shadow Lines had no hype when it came out, I wasn't even in India. Ravi, who I miss so much, believed in it and it had a succes d'estime but over time it found an audience. My next book, In An Antique Land, was non-fiction and it sank without a trace. There go four years of my life, I thought, but today, it's the most read of my books. There are translations in Arabic and Hebrew. There was no single turning point; books accrue a readership over time.
"I have a rule when I'm stuck—I read the Russians because, somehow, Russian literature has the answers."
For me, what has always been interesting is to explore the borderland between fiction and non-fiction which a writer like Bruce Chatwin did so remarkably: In Patagonia remains one of my favourite books. For example, I believe the env­iro­nment to be one of the most pressing iss­ues of our time and I think there's a moral imperative to respond to them, which is the direction I took in The Hungry Tide. In the Sunderbans, you see an accelerated threat that your grandch­i­ldren won't face—it is something we face already. When I wrote that book, I felt it had to be a testament to my children, to my daughter who's an American, like Piy­ali in the novel. Our aquifers are drying up, our deltas are silted. Who can imagine an upriver journey on the Gan­ges from Calcutta to Allahabad? Do Bom­bay-Goa ferries ply with any freque­ncy anymore? It is one of the downsides of being ruled from Delhi. I don't think they understand the life of the coast.
To what extent was the conception of the first part your trilogy, Sea of Poppies, driven by life on the river?
In Bengal, there is a whole literary tradition of "river novels" but the theme of Sea of Poppies also began with The Glass Palace, the story of indentured labourers and their long march from Burma. This took me into the history of the opium, the degree to which its trade underlined not just the history of India and China but also of the United States. We think of Franklin D. Roosevelt as the great aristocrat but his money actually came from his gran­dfather who was one of the biggest opium merchants of Canton; or the Coolidge family whose fortune was fou­nded on the opium trade from Bombay to Canton. These American merchants, the "Boston Brahmins", fed their profits into the railroad system which created American infrastructure. In fact, some of the best museums of the China Trade are actually in Massac­hu­setts. And these themes kept recurring.
Did you conceive Sea of Poppies, with its large cast of characters, as a trilogy from the start?
I started it with wanting to take on a big project but, six months into it, I realised that these characters would be with me for a long time and that's when I began to think of a trilogy. It was the opium trade, caste conflicts on the Ganges, the life of 19th century Cal­cu­tta—all of those things that became compelling because we do not read about those things in history books, it's not in our conception of the past. With every book, I discover new facts and ways of looking at things. Was I crazy to take on this monumental project? After you've written a lot of books your natural inclination is to be lazy, to coast along with what you've done and rush about from one litfest to another. But I became gripped by the life of the Indian Ocean, of the 19th century export of opium and Indian labour, infamously dubbed a trade in "drugs and thugs". Bombay, Singapore and Hong Kong were essentially created and sustained by the opium trade.
One of the fascinating aspects of your fiction is exploration of langu­age—from the non-verbal communication that forges a bond between Piyali the marine biologist and Fokir the fisherman in The Hungry Tide, to spoken Bhojpuri dialect, the Indian seaman's patois Laskari and Benja­min Burn­ham's Anglo-Indian "nabob-speak" in Sea of Poppies. How do you research and incorporate these?
"I was gripped by 19th century Indian Ocean life. The opium trade created, sustained Hong Kong, Bombay and Singapore."
I'm fascinated by language, that's one of the reasons I'm a writer. But I object to Bhojpuri being called a dialect, it's a separate language with its highly individual idiom, poetry and music. My father's family had settled in Chhapra so he spoke Bhojpuri with his siblings. It is so wonderfully expressive, with sayings like "Hagtey mein bater maar liya", which literally translates as, "sitting for a shit and killing a partridge", meaning "getting something without any effort!"
I'm also fascinated by dictionaries which introduced me to the Laskari patois of the Indian Ocean. During the course of writing the trilogy, I read 19th century letters. English, as spoken by the British in India with its mingling of Hindustani, was completely different from standard English.
I read that you are planning a fourth and fifth part of the Ibis trilogy but, for the moment, where will the Ibis take readers in its third volume? Also several of your books have been optioned for films, when is one likely to appear on screen?
I must have been mad to say I was pla­nning a fourth or fifth book of the Ibis series. I'm always wary of talking about books I haven't finished; I think it's very bad karma. As for films of my books, it is true that some titles are under option. But oddly the one optioned most often is The Calcutta Chromosome. It's at the moment with a Hollywood producer who's made a fortune out of a cartoon series! But who knows? These things are not in the hands of writers. Maybe our children, yours and mine, will one day see the movies.
---
Edited online to correct the meaning of 'hagte mein bater maar dena'