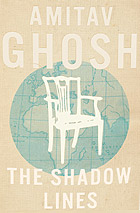 The Shadow Lines
Published by Penguin India  Pages: 288 | Rs. 1,499

For its deft layering of history and memory through the interlinked lives of three generations of a Bengali and British family, their lives shadowed by the violence of the freedom movement, World War II, the Partition and communal riots of the 1960s, The Shadow Lines marked a turning point in the writing of Indian historical fiction in English. In its way, it was our story, of an educated middle class grappling with cataclysmic change.
Amitav Ghosh steadily built on that reputation by exploring a diverse range of subjects and themes—for example, early 20th century malarial research in The Calc­utta Chromosome (1995), the exile to India of Burma's King Thibaw in The Glass Palace (2000) and the endangered ecology of the Sunderbans in The Hungry Tide (2005).